Mobile devices with exquisite hardware components are cheaper than ever. They have modern GPUs with amazing capabilities so that the user can enjoy games with intense graphics. Because people prefer using latest phones, Android developers create and publish complex apps for the pure Android experience.
Traditional launchers are being replaced by 3D Launchers, thanks to the rapid development and adoption of semiconductor technology in tablets and phones. 3D launchers demonstrate the power of the GPU in your phone. They allow you to customize transition effects and play with the 3D icons and widgets.
If you're bored with the default launcher in your tablet or handset, download one of the below best 3d launchers for Android on your device and enable it.
Next Launcher 3D Shell Lite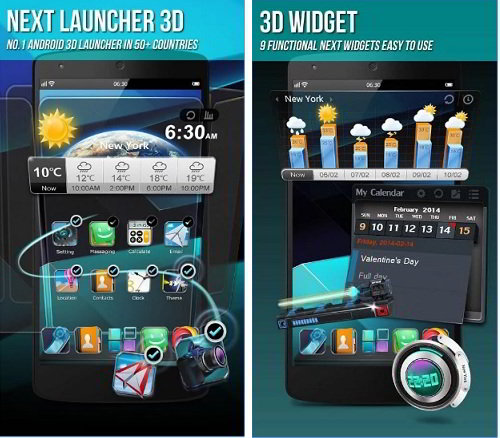 The 3D effects in NL3D are stunning and futuristic. The animations are fantastic, but the performance of the phone will be as good as it was earlier when the standard launcher was active on your device. If you don't like the current animation, you can change it quickly with the Effect Mix tool.
When you activate this 3D launcher, the icons will be modernized. Users can edit the icon's style, base, cover, animation, etc.
Next Launcher 3D allows you to add shortcuts to essential services, contacts, 3D launcher settings, and apps on your phone to the home screen.
NL3D adds several new 3D widgets to your phone. This launcher supports overlapping of widgets.
This application has the option to change a theme/wallpapers and add a new folder on the home screen. Themes in this 3D launcher are available for download from the Next Theme Store.
The launcher displays advertisements on the home screen when the internet connection is active. It will also show a popup to upgrade to full version of Next Launcher. You can install and use this Android app on a phone with Android JellyBean OS. NL3D will take 55 megabytes of storage memory, and it requires a small amount of RAM to function.
Download
Must read: BEST REVERSE PHONE LOOKUP APPS TO FIND, SEARCH OR TRACE NUMBER ON MOBILE
TSF Launcher 3D Shell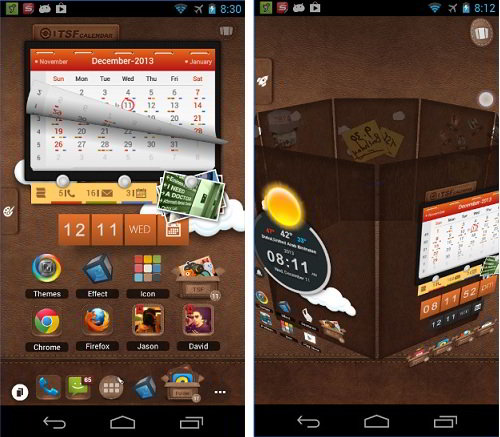 TSF is the best free alternative to many premium 3D launchers that you'll find on the Google Play Store.
TSF has the best app drawers among other applications we've shared on this list. The drawer can be customized to a great extent. TSF has the option to add visually stunning transition effects and sort/hide applications in the app drawer. The drawer supports batch operations. You can hide/show or move the icons in bulk. You can enable a top/bottom menu bar or change the grid size for the drawer. Users can easily change the background transparency for the app drawer.
The free TSF 3D launcher supports theme customization. You can change the theme's font, change the ICON style, etc. When enabled, this app adds more than eight attractive and unique 3D widgets to your phone. TSF supports third-party themes. It has a customizable dock bar whose size, icon/folder and effects can be changed.
The application allows you to add a unique effect for the drawer, desktop, user's clicking activity, menu, etc. It has a module that offers quick access to the favorite/most dialed contacts and TSF 3D launcher settings.
Download
CM Launcher 3D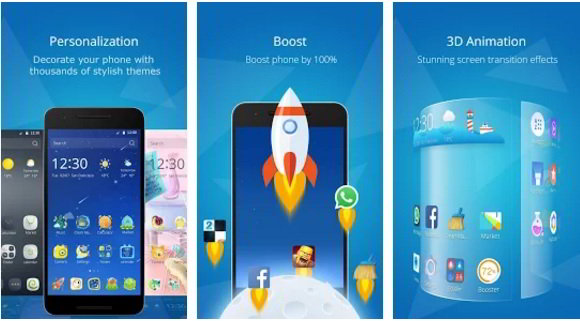 This is one of the most downloaded 3D launchers for Android. According to the Google Play Store, CML3D has 50 million users. Simplicity is the highlighting feature of CML3D. This application offers several smooth transition effects and stylish widgets to beautify your home screen. Cheetah Mobiles claims that your phone will be 100 times faster when you install and enable its free 3D launcher app on your mobile phone or the tablet. It will also boost the battery life by 30 percent, claims CM.
CML3D is a malware and virus free Android application. It supports multiple languages and hosts several features. Check the detailed review on CM launcher 3D here.
Download
Also see: BEST ANDROID FIREWALL APPS THAT WORK WITHOUT ROOT ACCESS
LightLaunch 3D launcher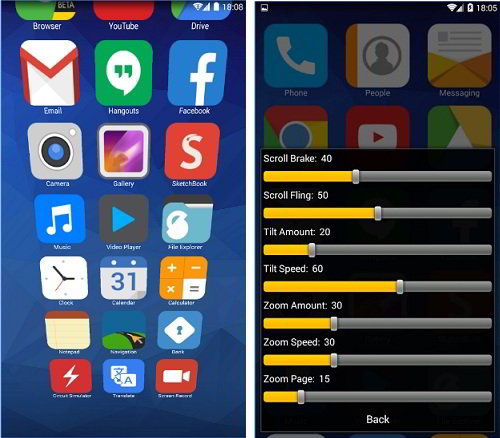 This is a lightweight Android app which doesn't use OpenGL libraries to render 3D effects and animations. LightLaunch allows you to create unlimited pages simply by dragging and dropping icons. Once a new page has been created, you can add your favorite widget to it.
LightLaunch app allows you to change the default values of the text size, margin and compression level. You can make text content bold or add a shadow to it via this launcher app.
LighLaunch has the option to resize icons or change its orientation. You are allowed to download Icon themes from the Google Play Store.
LightLaunch provides plenty of scrolling and animation effects. It has advanced settings panel where you can enable pinch to scale and transparent navigation/status bar feature.
Download
Conclusion: There are more 3D themes than Android 3D launchers on the Google Play Store. Thus, I've just 4 apps to recommend. Make sure that you try out the apps we've mentioned above. You'll love them!