The battery is the most important component of a phone/tablet. No matter what the mobile OS is, the low capacity or a defective battery is a frustrating problem. People think of replacing their device with another one when they are not happy with its performance.
The battery of a mobile device starts draining immediately after the display turns on. Display, games, and apps are three top power wasting modules in an Android device.
Games consume plenty of RAM and they require more processing power of the GPU and SoC than normal apps to offer a great user experience.
Apps running in the background are also responsible for the poor performance of the battery. You cannot interact with your favorite games or apps without a display.
People use the features of the phone carelessly. They open multiple apps at a time and forget to kill them when they finish using it and blame the device manufacturer for the poor battery performance.
Today, we have shared the list of best battery saver apps for 2017 with which your device will last longer on a single 100% charge.
Top battery saver apps for Android: 2017 Edition
Lux Lite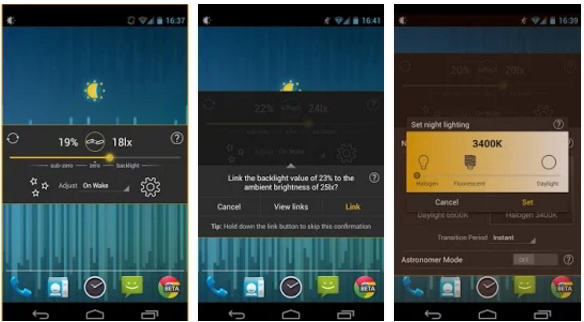 Lux is an app which adjusts the temperature and the brightness of the screen depending on the intensity of sunlight. It uses the ambient light sensor for the same. It keeps the display eye-friendly.
Suppose you set the screen brightness to 75 and keep it unchanged. The screen content is easily readable in the daytime if you set the brightness to 40 to 50. Because of the unnecessarily high brightness level, the battery's power will drain fast. Once you enable Lux Lite, the app will keep the screen's brightness at an optimal level. It will thus save the battery power.
I have been using Lux Lite for a long time on my phone. Although the app runs in the background, it requires low RAM and doesn't wastes processor. It is one of the must have apps.
Download Lux Lite
Must Read: Best QR Code Reader for your Android device
Du Battery Saver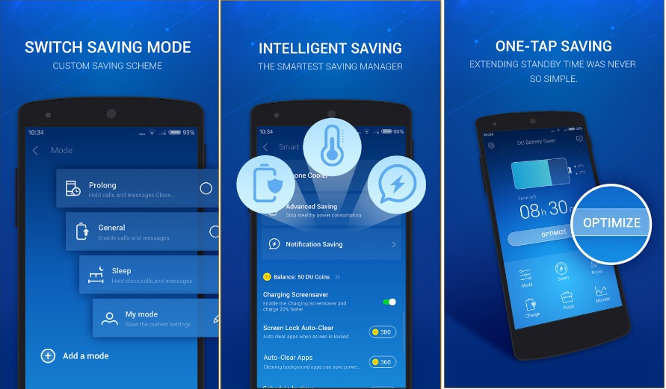 The undisputed king of all battery saver apps is DU battery saver. DUBS is an Android application with over 100 million active users. It is an effective app with a beautiful UI.
On startup, the app shows a message that it is world's best app with 400 MN users. It also displays a start button and two checkboxes for:
Joining user experience program
Creating one-click optimizer shortcut.
Deselect the UX program option and tap start. DU battery saver will now analyze your handset or tablet to find issues. Once it identifies the problems, the DUBS app will show options to fix them.
Make sure that you go through the list of services/apps that the battery saver app is about to kill. If you fail to do so, you may lose unsaved work.
The Battery saver app provides the below five power saving modes for automatic optimization:
Prolong.
General.
Sleep.
My Mode.
Custom.
The free version of DU power saver app for Android provides a smart charging feature. It has a phone cooler function which reduces the mobile's temperature by killing active apps of your choice. Du BS records the battery usage of all active apps in the device. You can check the report of the same in the Monitor section.
Download Du BS
Recommended Reading: Best 3D Launcher for Android with excellent effects
Purify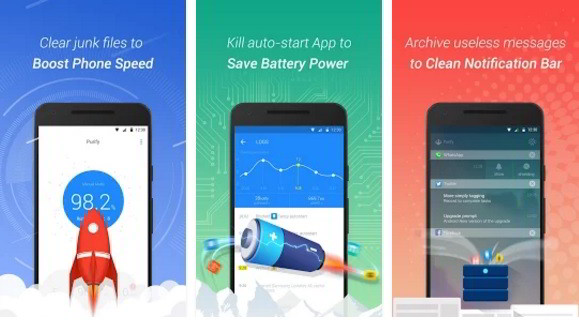 Purify is a tiny app which not only increases the battery life but also boosts RAM on demand. It claims to increase standby time of an Android tablet or phone by 30%. Purify scans various services and apps on your device and it displays a metric called "Purity percentage".
Below the metric, you will see a count of apps that are wasting battery power and a blue colored button to fix the problem. Tap on this button. The battery life will now increase. Purify is an ad free app.
Download Purify
You may like: Best Recipe Apps for Android and iPhone
Greenify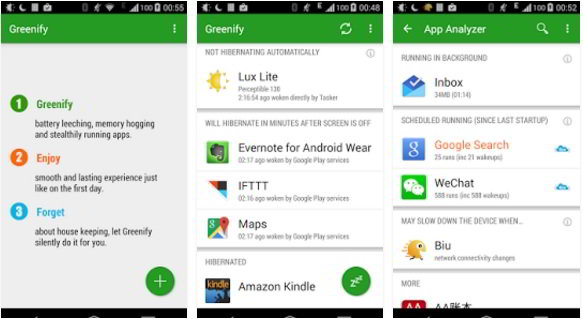 Greenify is yet another lightweight and effective power-saving application for Android. This app lets you configure hibernation rules on your device.
Greenfiy features an app analyzer module which automatically identifies apps that may slow down the system during important events. It allows you to hibernate such apps.
Greeenify supports auto hibernation feature. You will have to enable some permissions to use this module. This application works on rooted and non-rooted Android handsets and tablets.
Download Greenify
Conclusion: Android is a superb operating system. Google releases Android updates on a regular basis but unfortunately, none of the updates have helped users in fixing the battery problem which most users complain. Users have to rely on battery saver applications for the same.
If you want to improve battery backup of your phone free of cost, install the applications which we have mentioned above.