Calendar apps are one of the most important utilities on a phone. People use them to plan holidays, manage events and tasks. The apps are great alternatives to traditional paper calendars. They improve productivity by reminding you to complete pending tasks, attend important meetings, etc. The applications have a search option and you can access them anytime you want. Wall Calendars don't have a search utility. Most importantly, you can't carry them from one place to another.
If you'll explore the Google Play Store, you'll find a large number of calendar apps. Unfortunately, very few applications have a nice user interface and complete features.
Here's the list of most powerful and complete calendar apps on the Play Store.
Best Android calendar apps
Google Calendar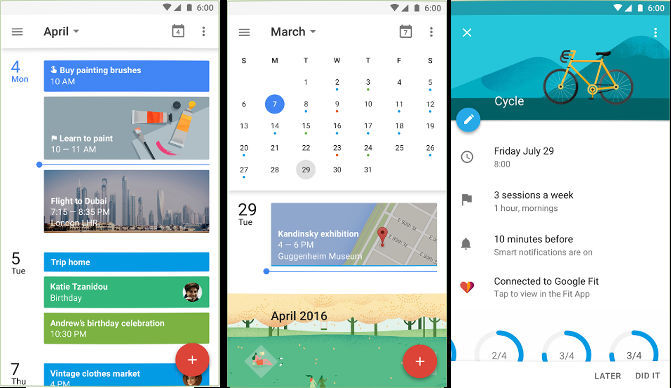 GC is a material design based calendar app that has a massive user base of 100+ million. The application employs a smart auto-complete system that recommends contacts, places, and titles when the user adds a new calendar entry. If the GPS service is on, the app highlights the place where the event will occur on the Google Map.
GC is integrated with other services of Google. Hence, if a Gmail user has booked a train or flight ticket, Google Calendar will display the date of flight, train, etc. The Google Calendar app makes you aware of upcoming public holidays and festivals. You can also see the festivals of previous years with this application.
GC enables you to see events for the coming day, week, and month. It has a search tool that allows users to find events or holidays by name. It lets you share the calendar entries with other users. The calendar app supports several mobile operating systems. You can also access GC with a desktop or mobile web browser app.
The Google Calendar app comes pre-installed on most Android devices. If you can't find GC on your phone, download it from the Google Play Store or iTunes.
Download Google Calendar
Also see: Best app killer and task manager apps
Business Calendar 2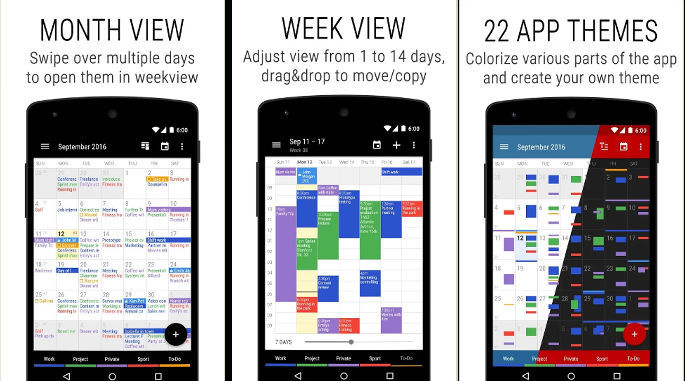 The Business Calendar 2 app is a great alternative to Google Calendar. It ships with two color themes. If you don't like the default themes, you can customize its appearance from the app's setting panel. The app can import events and other entries from third-party Android calendar apps. Like other applications, BC can remind you of upcoming events. You can also create recurring events with this calendar app
BC lets you save events as a template. Once you create a template, you can use it as many times as you want. Users of the Business Calendar 2 app can set a color for the event. Apart from events, you can create and manage tasks with this app.
Users of this app can export their tasks to local storage. This feature comes in handy when you're flashing an Android ROM or moving data from one device to another. BC is one of the few apps that allow users to bulk delete events from the calendar. It supports 15+ languages. Its settings interface has an option to set the first day of the week, start and end time of the day, etc.
Download Business Calendar 2
Must check: Best Android budget app
aCalendar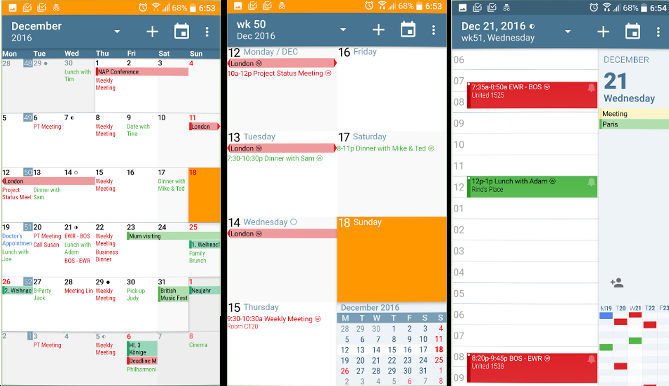 aCalendar is a tiny calendar app with plenty of features. The application supports the following four views:
Day.
Week.
Month.
Year.
This application lets you set a color theme for an event or view. You can mark an event as recurring in the aCalendar app. AC allows you to attach photos or files to an event. It has the option to show calendar entries of a given date. The app provides a search option, with which you can find events or agendas by name. It offers 10 free themes.
Users can change the font text size and configure AC to highlight the day's event and tasks with a solid color. If you want to open a view quickly, you can set a three finger tap action for it. The option for the same is located in the app's settings interface.
aCalendar provides an option to disable or enable hardware acceleration and animations. It can sync data with the default Calendar app on your Android device. The app supports multi copy paste function. It can import birth dates from the phone book (contact list). It can also display the list of upcoming birthdays, events, and holidays.
Download aCalendar
Must see: Best Live Wallpaper app for Android
DigiCal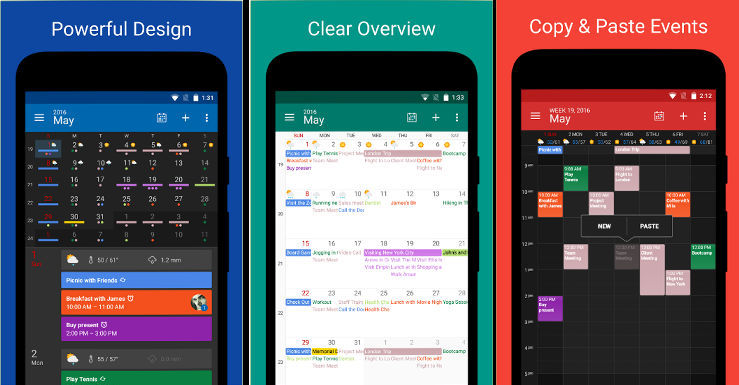 DigiCal is a powerful calendar app for mobile devices. It ships with 6 customizable widgets that allow you to add new calendar entries from the home screen. DigiCal provides a great user experience as its interface is based on material design. The app sets a background image for the events automatically. The image is based on the keywords you've used while creating the event. The app makes users aware of the upcoming public holidays.
DigiCal can sync data with the Google Calendar service. It has 30+ stylish color themes. The app enables you to create a single event for different time zones. As it is powered by Google Places service, the app will auto-suggest places when you enter a word or characters in its address text field.
DigiCal supports multiple calendar views. It provides an option to hide views that you don't want to use. It displays the weather forecast for the city you've mentioned in the address field.
Download DigiCal
Jorte Calendar and Organizer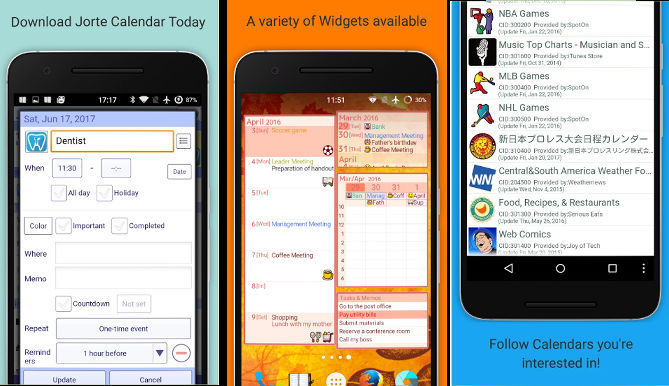 With over 30 million users, Jorte is one of the most popular calendar apps for Android devices. Jorte provides numerous customization options. It can sync data with Evernote, MS Office 365, Google Calendar, and many other services.
Jorte allows you to change the text font. It has a countdown timer that gets updated every day. The timer displays the number of days left for the event to occur. Jorte lets you attach photos to events. It gives you access to a calendar based on moon phases. The application supports the following three views:
The app lets you select the first day of the week. It has a beautiful slide menu and excellent user interface.
Download Jorte Calendar
Conclusion: Calendar apps are good alternatives to task manager and to-do lists apps. They remind you of upcoming meetings and help in holiday planning.