Bluetooth has become an outdated technology and if you're using a smartphone or a tablet, you should avoid using it for transferring files.
Although USB 2.0 and 3.0 can transfer data at a speed within 60 to 100 megabytes/second, transferring large files to the PC or a mobile device over an USB connection may take several minutes. This is because most mobile phone manufacturing companies install low-speed storage hardware in their devices. If you're using a cheap MicroSD card, the file transfer speed will be slow. If you move the same files to a faster MicroSD, the transfer speed will increase two-fold.
To move files at high speed, you don't have to upgrade your device or buy a new MicroSD card if you own a smartphone. Manufacturers equip their mobile devices with WiFi hardware. The speed of a WiFi connection can reach up to 100 MB/second.
Transferring files with WiFi requires you to install a file transfer app on your device. The applications provide a file explorer tool and they let you send multiple files and folders at a time. Below, we've shared the top Android file transfer apps.
Top 4 Best file transfer app for Android
Lenovo ShareIT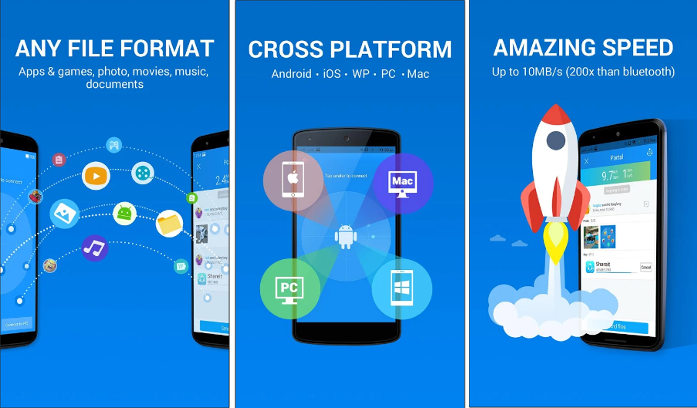 ShareIT is the world's most popular file transfer app. It is a lightweight utility that runs on a mobile device. The app can transfer files from mobile to PC or vice versa.
As the app uses WiFI technology, you can move large files with ShareIT in few seconds.
ShareIT app comes with the WebShare feature that enables you to send and receive files from a web page.
To use this feature, you must select a file which you want to transfer. The app lets you transfer images, music, app APK, video, and PDF files.
Once you have chosen the files, you must share the special URL generated by the app with your friend and ask him to your connect the hotspot created by the ShareIT app.
The mobile phone of your friend will begin downloading the file as soon as he opens the URL.
ShareIT has a My Share Zone feature that establishes shared hotspot connection on a mobile. When the app creates a hotspot, users can send files from one device to another.
The ShareIT app blocks other people from accessing your hotspot connection. It supports 25+ languages. ShareIT comes with an option to enable hotspot encryption. It supports WiFi direct technology.
ShareIT file transfer app allows users to go through the history of successful file transfers.
Download ShareIT
Send Anywhere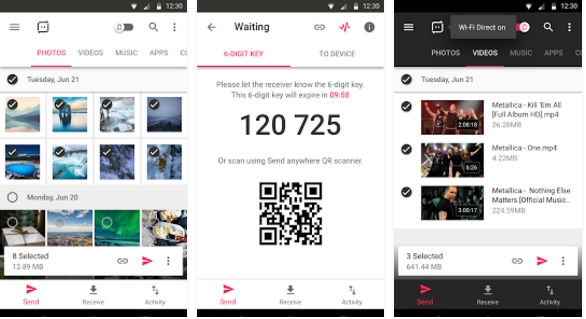 Like ShareIT, you can transfer file with the WiFi direct technology. SA requires storage access permission. The app won't work if you don't grant this permission.
The app sends the file as it is. It doesn't modify the file content or result in data loss. To receive files, the user must either scan a QR code or enter the 6 digit number generated by the Send Anywhere app.
The application supports file encryption. It enables you to preview the files before sending it to another device so that you don't end up sending a private photo or video. The app has a nice a tabbed interface. It doesn't require an internet connection to function.
Download Send Anywhere
Zapya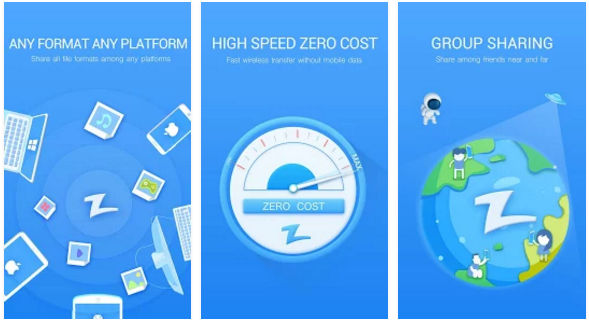 Zapya is a yet another popular cross-platform file transfer app. According to its developers, Zapya has 400+ million users.
The application allows users to send files to four devices at a time. It generates a unique QR code for a file transfer and displays the hotspot name and its password on the screen. You must share the two details with your friends or ask them to scan the QR code to receive the file.
Zapya enables you to select a WiFi bandwidth and it allows you to chat with friends within a radius of 100 feet in offline mode. If the WiFi module in your phone isn't working, you can transfer files with Bluetooth. It can also generate a special download link which you can share with friends on social networks.
Zapya identifies and groups files that users commonly share with their friends. The app has a function to take pictures from the camera of another smartphone over a WiFi connection. It features a media player tool and a gallery utility.
Download Zapya
Xender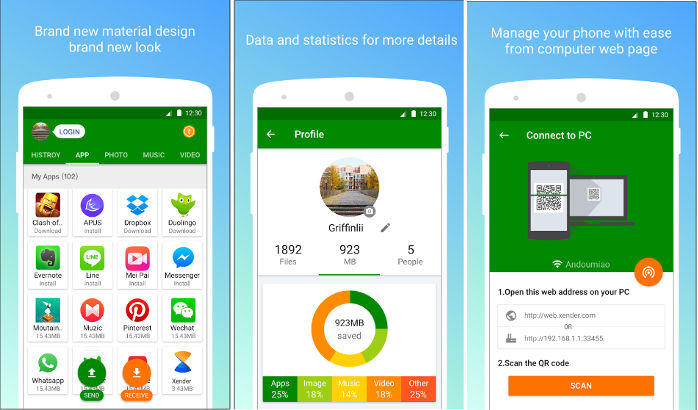 The app lets users create groups. A file shared in the group will be available for group members. Xender lets users manage and explore files saved on the SD card or the phone's ROM.
The app has two floating buttons to send or receive files. It has a phone replicate feature which you can use to copy data from one phone to another. Xender can transfer files to another device at great speeds. To send files, you have to install Xender on the device where the file exists. The app doesn't need to be installed on the target device.
The app supports cross-platform file transfer operations. You can send all types of files with the free Xender app without turning on the mobile data connection.
Download Xender
Conclusion: The above four apps work great on all types of Android devices. ShareIT should be your first choice. If you don't like it or find the app confusing, use one of the alternatives we've covered in this article.