Staying fit and healthy is important. If you don't concentrate on health, your body will be prone to all types of diseases, allergies. You'll visit doctors frequently. Eating unhealthy food items will make you suffer from diabetes, high blood pressure, heart attack, etc. An unhealthy diet is one of the major reasons for poor health and fitness of a person.
If you want to live longer, you should focus on improving your health. One of the smartest and cost-effective ways to improve fitness is to use smartphone apps.
There are plenty of apps that can turn your smartphone into a personal trainer or health coach. Among the plethora of apps available on the Apple iTunes Store and Google Play Store, below are the top fitness applications:
Best health apps for IOS and Android
Calorie Counter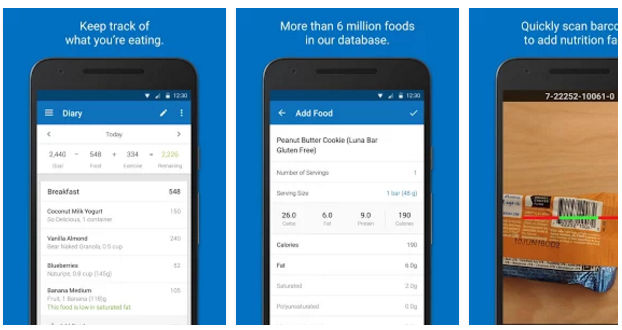 According to the developers of this Calorie Counter, if you track calories with this application, you'll shed some weight. The app gives you access to a community of health-conscious people that share tips to lose or gain weight, improve fitness, etc. It helps you learn and practice 300+ exercises. CC gives details on the number of calories a person may have burned after completing a particular exercise.
The app provides a barcode scanner module with which you can track packaged food items you have consumed. It gets information about calories, protein, fat, vitamins, cholesterol present in an edible item from a database that contains over 5 million records of various food.
Calorie Counter app functions as a pedometer and it has a utility that reminds you to intake water. It is one of the best health apps for mobile phones.
iTriage app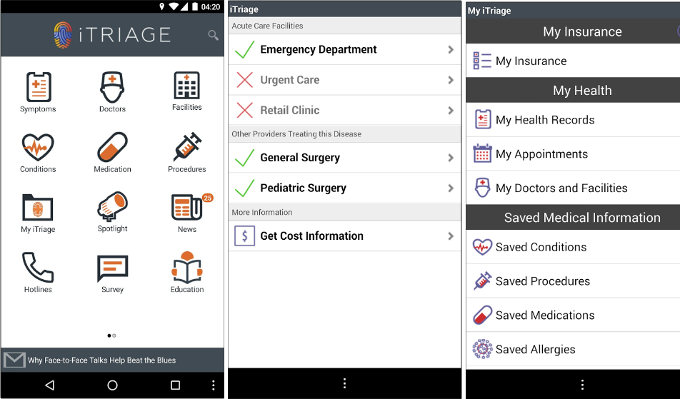 iTriage is a must have health app for Android and iPhone. It provides an interactive way to check symptoms of a disease. It displays an image of a human body. You have to select a body part where the symptoms are appearing.
The iTriage app allows you to find nearby doctors and health facilities. It provides filters to shortlist doctors by their specialty. The application offers detailed information on various health conditions and medicines. If you will be undergoing a checkup or medical procedure, IT will prepare you for the procedure beforehand.
iTriage health app for Android and iPhone allows users to create a free online account. If you want the app to save your settings or health data online, make sure you create an account with iTriage.
iTriage makes you aware of healthcare emergency numbers. It features a news section where you will the latest news on health topics.
Lifesum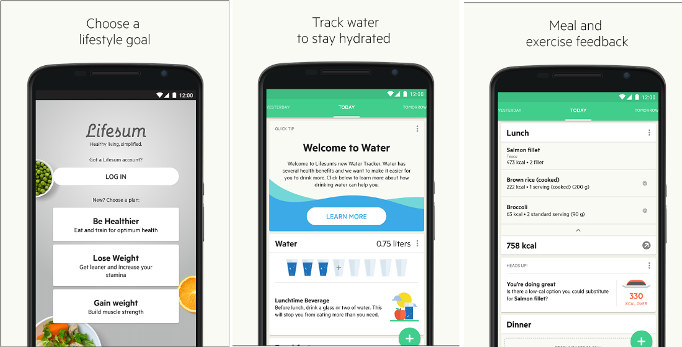 Your health and fitness depend on the type of food you eat. Consuming fresh vegetables and fruits daily ensures that your immune system will be great. If you intake junk food items, you may suffer from obesity, heart problems, etc.
If you want to remain healthy by tracking food intake, try out the free LifeSum health app. Lifesum is a must have app for the people who are looking forward to losing or gaining weight. When you run LifeSum, it prompts you to select gender, enter birthdate, height, weight. The application also asks you to select the food you've recently eaten. Then, it recommends useful tips which you must follow.
The app reminds you to drink water. It has a module that displays your health information. Lifesum supports integration with Samsung S and Google Fit health services. It has a superb design and several interesting features. It is one of the top-rated health apps for smartphones and tablets.
30 Day Fit Challenge Workout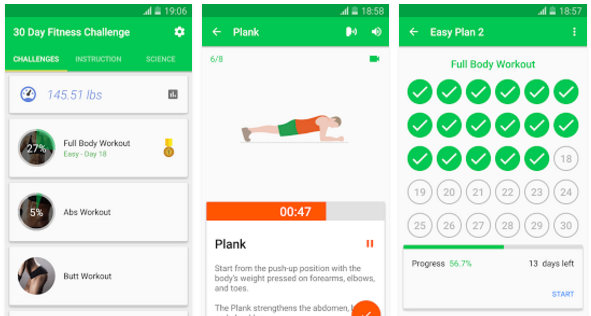 Want to lose weight in 30 days? Install and use this application. The 30DFC app ships with a weight tracker tool. It makes you aware of various exercises. To get started with this application, you must enter your weight. Then, you must choose one of the below workouts:
Full body, Abs, Butt.
Arm, Leg.
Once you select a workout, you'll be prompted to select a workout plan. Then, the 30DFCW application will display a list of exercises which you must complete. The app displays an animation that explains the exercise. It also shows the instructions. Once you complete the challenge/exercise, tap the round orange button to mark it as complete.
You have to follow the above routine daily to complete the 30-day workout challenge. The app is easy to use. It features voice guide and gives you access to workout videos on YouTube.
10 Daily Excercises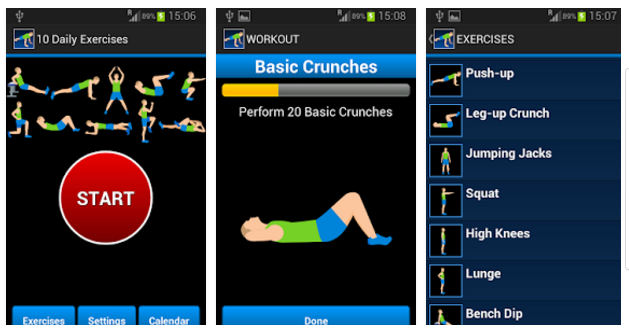 10DE is an app that allows you to learn various exercises for free. If you're using this application, you should practice the recommended exercises.
If you find an exercise too complicated, you can skip it. The app ships with a calendar utility. It offers three difficulty levels. It displays animations for each workout.
Download 10 daily exercises
7 Minutes Workout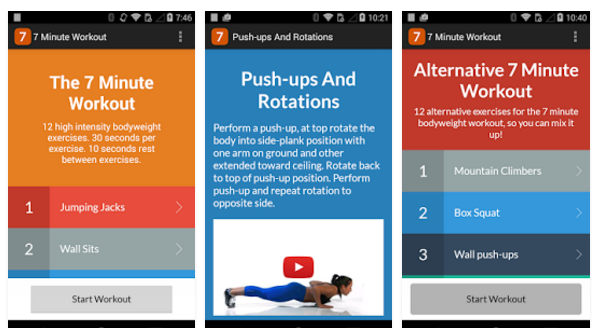 7MW is one of the most popular health apps for iPhone. It is a popular application on the Google Play Store too. The app expects its users to complete 7 minutes of training which includes the following exercises:
Jumping jacks, wall sits, push-ups, abdominal crunches.
Squats, triceps dips, plans, Start-ups onto a chair.
High knees running in place, lunges, push-ups, side planks.
Each exercise mentioned above lasts for 30 seconds. When you complete one exercise, the app lets you rest for 10 seconds.
People who don't want to exercise or go out for a walk should try out the best Yoga Apps.
Conclusion: Millions of people are using the above health apps on regular basis. The applications have superb ratings. They are effective and free.