A meme is an image that features an object, person or cartoon, and a text. The text can be a derogatory, offensive, or a funny message intended for a certain person/group of people.
People love sharing memes on social networks. Memes can make a person, pet animal or a thing popular overnight. The grumpy cat meme is based on a cat named Tardar Sauce. The cat and its owners appeared on the popular television news Channel CNN. Last year, Tardar won a lawsuit of whopping 700K USD over copyright infringement.
To create a meme, you need basic photo editing skills. If you don't want to waste your time learning new things, use one of the following meme generator apps on your mobile device.
Zombodroid's Meme Generator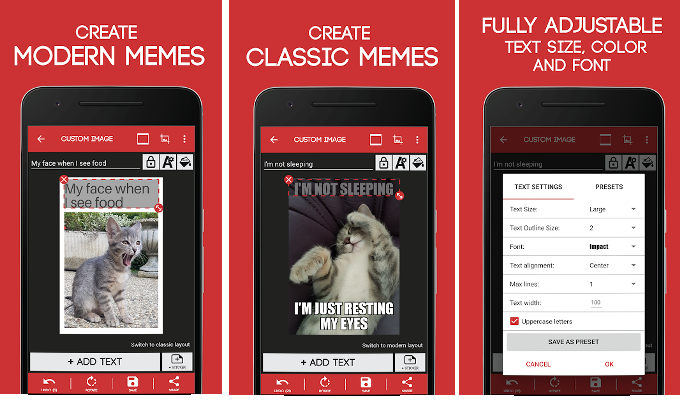 ZMG allow users to create personalized memes of various types. It provides a tabbed interface and a menu bar. To create a meme, users must explore the tabs and select an image which they want to edit. Once you choose a picture, the app will ask you to enter the text message which you want to see on your new meme.
When your picture is ready, you can either save it on your mobile device or share it with friends on social networks or messaging apps. ZMG enables you to change the interface language and turn on the quick scroll feature. It provides an option to set the quality of the exported meme.
ZMG displays advertisements when you turn on mobile data connection or connect your handset to a WiFi hotspot. Its size is 48 megabytes.
Download ZMG
Memes in Motion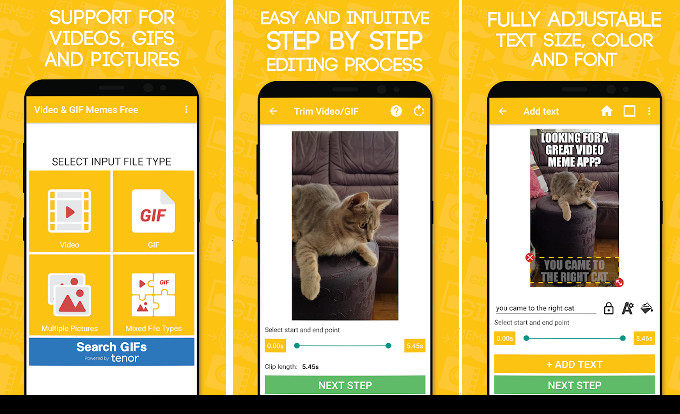 MIM is a widely used meme generator app. It has been developed by the company behind the above app i.e. ZomboDroid. Unlike ZMG, MIM enables you to create memes from the videos, pictures, and GIFs saved on your device.
MIM lets you change the order of the videos and pictures. It provides an option to rotate the picture and set an aspect ratio for the image. It allows you to add a solid/blur border to the pictures and videos. You can also specify the duration for which the GIF animation must last.
MIM enables you to specify the output format and meme quality. It also allows users to add a text message to the memes. MIM supports 9 languages and it consumes 38 MB storage memory.
Download MIM
Meme Creator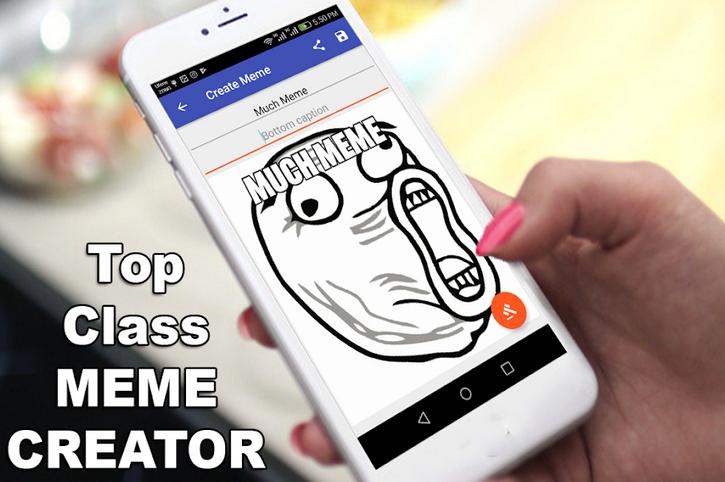 MC has 500k users and a good rating on the Google Play Store. It is a smaller app compared to ZMG. MC enables you to create human, animal, cartoon and rage memes on your mobile device.
The app's UI is divided into 4 sections. To create a meme, you must explore the app's various sections and select an image. When you do so, you'll see an option to enter a top/bottom caption for the picture.
The app lets users change the size, color, font of the text, and the orientation of the image. Once you're done with editing, you can either save the meme on the phone's storage memory or share it on social networks.
Download MC
MemeGuru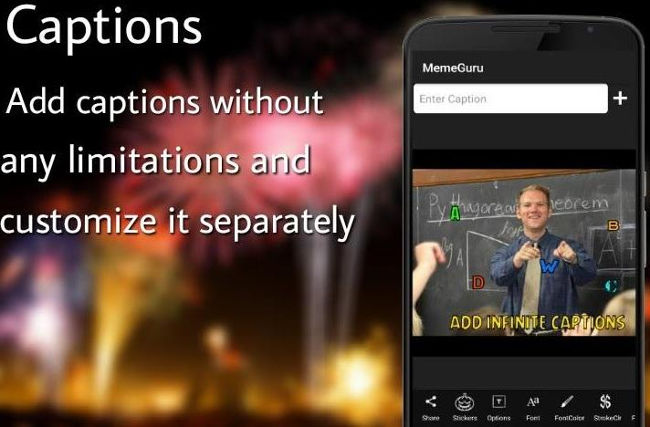 MG provides more customization options than the apps mentioned above. It offers 800+ templates. It also supports custom meme templates.
You can add stickers, logos, borders to photos, change font size/style and apply a stroke to text in this app. Instead of shipping the images in the APK file, MemeGuru downloads images from the web when you select a category. The app includes an option to delete the pictures it has saved on your device. Its APK size is 4 megabytes. It is the smallest meme creator app on our list.
Download MG
Also see: Best photo editing apps
Meme Faces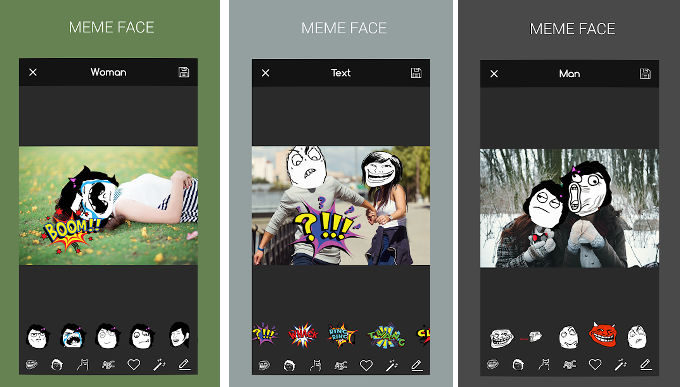 MF is a free rage comic maker app for Android devices. It provides tons of rage cartoon faces which you can superimpose on an image. The application allows you to add captions to the image and share the memes with other users. You can also apply filters and stickers to the pictures.
MF enables you to customize the text. It lets you preview the text customizations before using it in the meme. Before creating a meme, you can crop, zoom or rotate the image.
Download MF
Memasik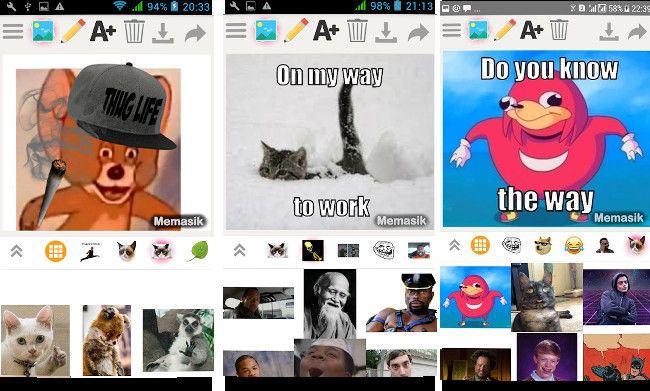 Memasik is one of the most powerful meme generator apps on the Play Store. It has 100+ unique templates and an option to use the image saved on the phone's storage memory as a template.
The app includes a live search tool through which you can find memes of specific types. It enables you to add stickers and draw doodles on memes. Memasik works in two modes – online and offline. The 1st mode enables you to find images which you can use in your memes on Google.
Memeasik is a great app. It has a stunning interface. The only drawback of this app is that the memes you create with it will have a watermark.
Download Memasik
Also check: Best apps to create videos from photos