Most internet users have switched from PC to cell phones because mobiles are lightweight devices that easily fit into the pockets. You may have been using PC or mobile device for several years now. Do you know that the color display of your computer and smartphone transmit different invisible rays of various wavelengths (intensity)?
Bluelight is one of the most harmful rays transmitted by a color monitor. Studies prove that blue light makes reading eBooks or content during the daytime a great experience. But after the evening, prolonged exposure of blue light to the eyes isn't good.
Some versions of Android OS allow users to turn on auto brightness feature which ensures that the brightness of the display is decreased automatically according to the time of the day. You can find this option under the display settings of Android OS.
The major drawback of this setting is that it doesn't have any impact on the blue light. Because of this limitation, the eye experts advise people to prevent themselves from using cell phones for several hours especially during the night.
In case you want to protect your eyes from intense blue lights transmitted by the mobile's display, try out the following top 5 best night mode app for Android.
Bluelight filter for Eye Care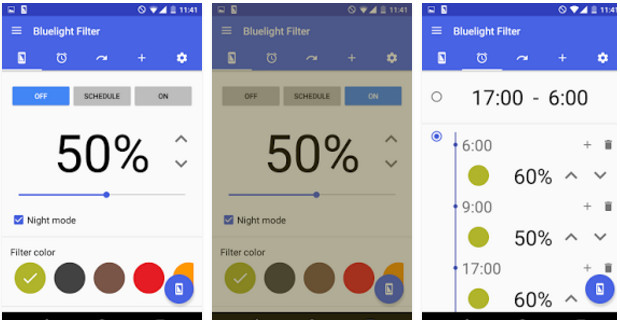 The app adjusts the display color temperature as soon as you run it. It provides the option to choose filter colors. Users must select a color that makes their eyes comfortable. BFEC allows users to set the display color temperature with a slider.
This application enables you to define the sunset time. It offers the option to set display intensity for up to four hours after the sunset. It provides opacity filter, with which you can activate or deactivate the app's dark or light UI.
The app adds a toggle option to the notification panel to let users turn on/off its core functionality.
Pros:
Cons:
Has plenty of premium features that should have been free.
Download Bluelight filter
Must read: WHAT SONG IS THIS? TOP 5 BEST APPS TO IDENTIFY SONGS
Bluelight filter by Simple Design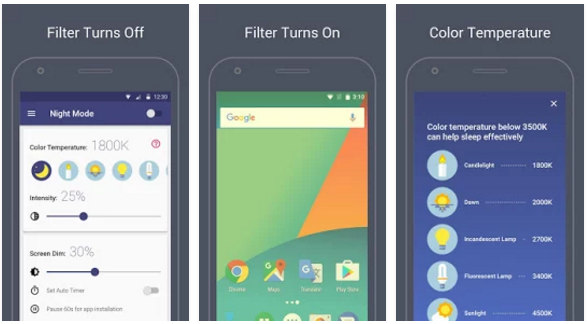 Yet another excellent application to fix Bluelight intensity issue on your smartphone, this app assures that your eyes won't feel tired or hurt when you're using the phone after the sunset. It lessens Bluelight emitted by the display and helps you sleep better.
BLF app allows you to alter Bluelight intensity manually. It also enables you to alter screen brightness.
Once you decrease the brightness, the battery in your phone will last longer. The app renders auto timer function. It has a quick switch button.
Download BLF app
Twilight app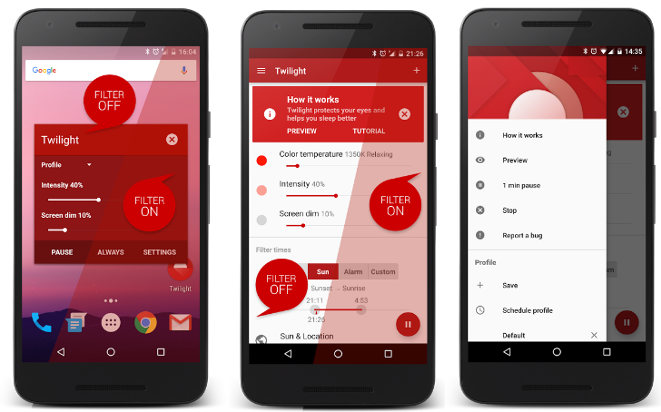 Unlike other Android night mode applications we've covered in this article, Redshift identifies your location automatically.
The app works great with smartphones armed with AMOLED displays. Users can configure Redshift to avoid changing screen color warmth when they're running a specific application.
This application enables users to save the settings to Google drive. It offers quick settings dialog box.
Redshift is a lightweight application. It comes with support for the Android 7 Nougat operating system.
Download Twilight
Also see: BEST BUDGET APPS FOR ANDROID TO TRACK DAILY EXPENSES
EasyEyes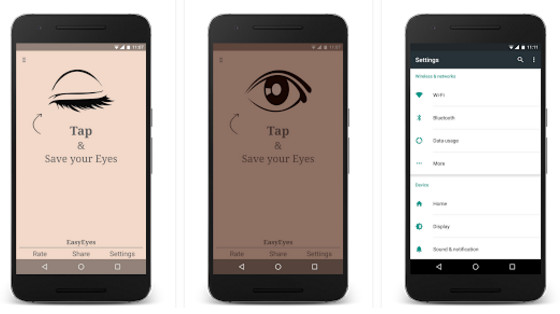 EasyEyes is a simple application that requires the following two permissions.
Draw over other apps.
Access device location.
Once you grant the above two permissions, run the app and tap on its main screen. EasyEyes allows users to revise the display color temperature and brightness level. It lets you revert the original brightness and temperature levels with one-click.
Download Easy Eyes
Flux (Rooted phones only)
F.lux is one of the most trusted Bluelight filter apps for Android. Millions of users use F.lux on Windows or Linux PC. The application made its way to the Google play store a few months back. It is in beta stage.
F.lux kills the deadly Bluelight colors from the screen during the night. The app shows its magic once the sun sets. As developers haven't released the official version of Flux, the application may not work on some devices.
Download Flux
Conclusion: If you don't want to suffer from impaired visions, headaches or vision loss, make sure that you install and activate one of the above night mode Android applications.
We've have shared apps that work well with all types of touchscreen displays. The applications are user-friendly. Although they run in background mode, the apps won't affect Android OS performance.