Push notification is one of the most intuitive and important features provided by the Android OS. It has also played a major role in establishing Android as the most widely used mobile phone operating system.
Like laptops and computers, the Android OS has become better with every new version released by Google. The earlier versions of Google OS offered an alerting system with basic functionalities. Google updated the notification pane with new functions every time it introduced a newer version of the operating system.
The latest version i.e. Android N 7.0 comes with a smarter notification system as compared to Android M, L, JB and its predecessors.
Like every app available on the play store, Android OS comes with some limitations. The problem with the default notification module is that you cannot customize it. The below apps are good replacements to the default notification app.
Notification Toggle app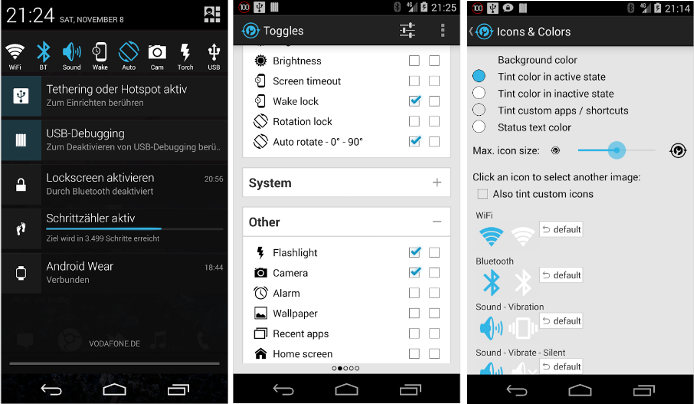 NT is a smart application that improves the existing notification bar on your device by allowing you to add new options to it. In other words, NT doesn't remove the Android notification center but lets you make it more intuitive.
How to use this application?
After you run the Notification toggle, put your finger on the screen and swipe right. Once you do so, you'll find plenty of checkboxes that allow you to select the following Android services:
WiFi (advanced settings, tethering).
Bluetooth (settings, visibility control, tethering).
Flight mode.
Mobile data
Data connection settings.
Sync now.
Radio info settings.
Sound mode
Brightness control.
GPS, data usage, reboot, lock now.
And more.
Select the services which you want to see on the notification window of your mobile device. The services will appear as a toggle button. NT app allows users to add a black or white divider between two toggles. It lets you add bookmarks or shortcuts to your favorite apps in the notification panel.
Notification toggles app lets users customize the appearance and order of the toggles. It enables users to modify the status text which appears below a toggle.
Download from Google Play Store
Must read: Best note taking apps for Android
Heads-up Android notification app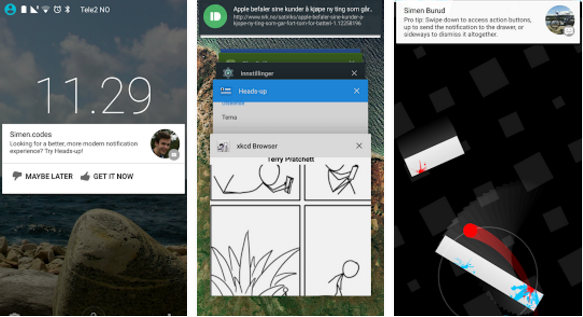 Google brought the heads-up notification feature to Android Lollipop OS. If your device is running an outdated version of Android, then this app is for you. HUN is one of the smallest applications I've come across. Its size is 245 kilobytes. It allows you to activate the heads-up notification feature on any device.
Once you activate this app and turn on a few permissions for it, HUN will show latest alerts from apps in the form of a floating popup window.
HUN offers a settings window, with which you can:
Turn off notification for any app.
Enable or disable don't disturb feature.
Set notification priority.
Show song metadata in case the notification is about the current track you're listening to.
Display time.
Remove notification on swipe
Android more.
This application comes supports over 18 languages.
Download HUN app
iNoty OS 10 Pro Notification app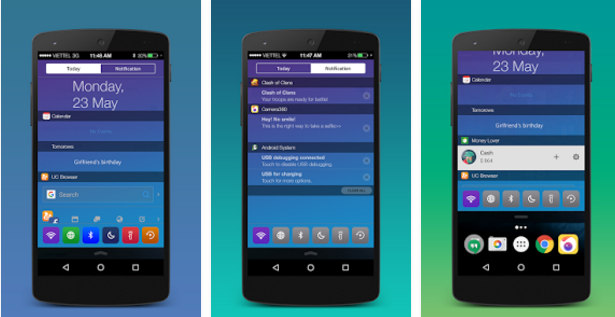 iNoty brings the IOS style notification panel to your Android device. You can configure this application to show IOS style signal strength, battery status, WiFi, time in the notification bar.
The app allows you to define a time format and lets you change the carrier's name. iNoty enables users to set a background image for the notification pane. It lets users change the color of the status bar.
iNotify shows the following objects in the notification window:
Date, search bar, calendar entry.
Upcoming events.
iNoty is a beautiful application. Like other apps we've covered here, it is free.
Download iNoty
Also see: Best iPhone launcher apps for Android
AcDisplay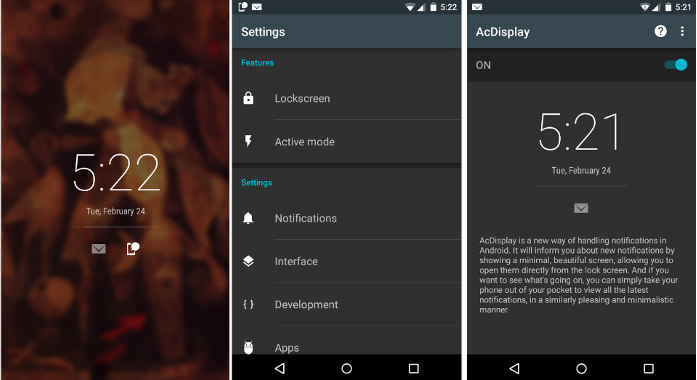 AcDisplay is the smartest notification app that you'll find on the Google Play Store. You can configure this app to show notifications only when phone's battery is charging. The app has the option to prevent showing full notifications which may have sensitive information such as OTP, bank transaction details, personal message on WhatsApp, etc.
AcDisplay lets you set active hours. It provides the option to show media widget when you're listening to music. The widget may have controls to change, pause, stop the current track, etc.
AcDisplay allows you to set corner gestures. It has an active mode feature that provides the following options:
Disable app on low battery, during the inactive period.
Wake the display when the user waves the device, etc.
AcDisplay supports emoticons and enables you to change the icon size. It has plenty of options. AcDisplay is the best app on our list.
Download AcDisplay
Shouter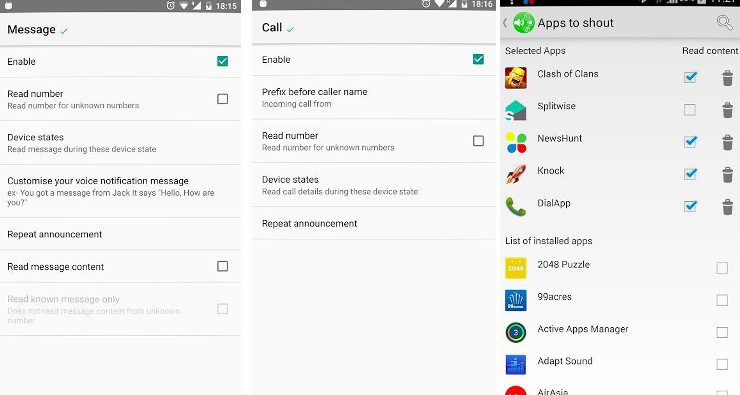 When the phone is in silent or DND mode, you may miss an important call or text message. To make sure this doesn't happen, you can use the free Shouter application.
This app reads aloud the alerts generated by other applications. Hence, you don't have to keep an eye on the phone's LED indicator when it is in standby mode. Shouter enables you to whitelist/blacklist apps. Once you add an application to whitelist, Shouter won't process alerts displayed by it. Users can configure this application to re-read the message. They can also set a time when it should read the notifications.
Download Shouter
Wondering why snowball app hasn't been mentioned?
Snowball is pulled off from the Google Play store.
Conclusion: Android Push notification is one of the most important features. To make full advantage of it, download and install the apps we've shared above.