Smartphones launched these days are no less than computers. Hence, you can use your phone for various purposes.
Most printers available in the markets carry WiFi hardware. To print photos or documents, you don't have to move files to the PC and fire print command. The printing apps make the task of taking printouts of files and photos a piece of cake for their users.  All you have to do is, find your printer with the application and select a file that you want to print.
As printer manufacturing companies know their hardware better than anyone else, you should first consider using the official apps launched by the companies. If you do so, you won't be disappointed. Third party apps may fail to identify printers.
Best Android printing apps for Android
HP All-In-One printer remote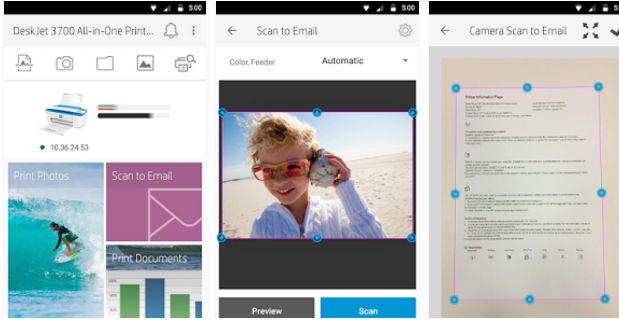 If you own an HP laptop, you must install this app. When you run HP AIO app, you'll see two buttons on the main window. The first button enables you to find printers and connect your mobile device to it. The 2nd button takes you to the main screen.
The app from HP lets you crop pictures before printing. It allows you to print PDF, Facebook photos, and document files. It can scan files with the phone's camera. HP AIO printing app can send the scanned document to your inbox.
The HP app lets you disable features you don't want to use. It can print files you've synced to your Dropbox and Google Drive account.
Epson iPrint app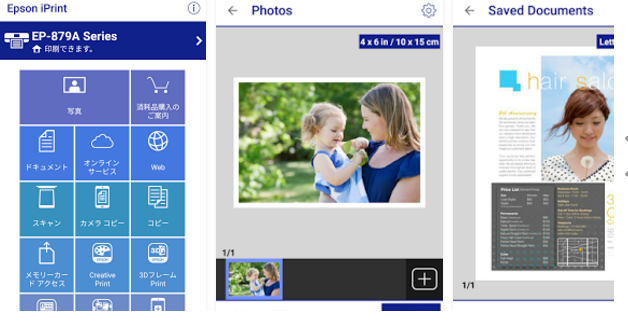 Like HP, Epson is one of the leading printer manufacturers in the world. The official Epson app enables you to select and print multiple files at once. Apart from printing files, iPrint makes you aware of the following details of your printer:
Remaining Ink/toner.
Components due for maintenance.
The Epson printing app has an option to update the firmware of your device. It supports the following cloud platforms:
Box, Dropbox, GDrive.
OneDrive, and Evernote.
iPrint comes with a document scanner tool and it can print web pages.
Samsung Mobile Print
SMP is a must have app for Samsung printer users. It supports wireless printing and scanning of documents, PDF, Text, and HTML web page files. It can queue multiple files for printing. To make sure that your photos fit perfectly in the paper, the app provides a rotate and crop tool.
Samsung Mobile Printing app enables you to scan and share documents on-the-go. It can scan or print large A3 size papers. It has an option to order printer ink and toner from Samsung retail stores.
Also read: Best browser apps for Android – fastest and reliable
Printer apps for Brother and Canon devices
If you're using a printer launched by a company other than the ones mentioned above, use the below two applications.
PrinterShare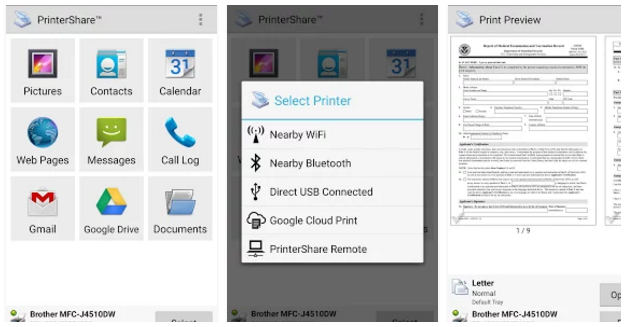 Want to print a picture, contact, SMS, call log, web page email? Use PrintShare app. PS is the most popular printing apps on our list. It is a tiny app that can print various types of files.
When you select a file using one of the 6 options displayed on the main screen of PS, the app will generate a print preview of the selected file and at the same time, the application will display an option to alter the default settings.
If you've selected an image, you can change the picture's size, default alignment, specify margin, change the page orientation or scale the photo.
Apart from images, PrinterShare can print documents, rich text format files, spreadsheets, etc.
The PrintShare app features an option to find printers using the phone's WiFi, USB or Bluetooth. It also allows you to print files using the Google Cloud Printing technology.
Cloud Print Plus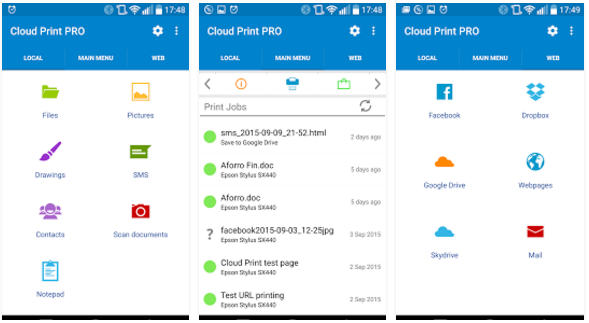 The Cloud Print Plus app has a better interface than PrintShare. It has a basic text editor tool for printing the text content you've copied to the clipboard. It includes a paint tool that lets you create and print doodles. The tool has five main components – canvas, pencil, color picker, eraser, and an option to clear the canvas.
CPP allows users to scan documents with the phone's camera. It enables you to see the list of queued print jobs and manage them. It can print photos and files from your Facebook album, Dropbox, Google Drive, SkyDrive, and email account.
The app comes with an option to share the list of printers with friends.
Download Cloud Print Plus
Conclusion: If you own a printer, make sure you install and use one the above seven apps. The applications mentioned above are lightweight and fast. They support WiFi technology. Hence, you won't have to wait for several minutes to grab your printout.
Also read: Best WiFi Signal Booster apps for Android to improve network strength