Social networking portals allow us to stay in touch with our parents, friends, and other people we know. Video streaming sites have 1000s of educational videos. Despite knowing the importance of portals like YouTube, Twitter, Facebook, and many other sites, some governments don't allow their citizens to access certain websites. Fortunately, you can access any of the blocked websites through a proxy website or a VPN app.
Proxy sites don't give a good experience on a mobile phone. Hence, you must consider using a VPN client application whenever you're using 2G, 3G, 4G, or WiFi internet service. A Virtual Network Private connection lets you visit 99.9% of websites active on the internet. Google Play Store has plenty of VPN apps for Android. You should download and use only the top rated ones because of the following two reasons:
Privacy: A server located in another country will handle your connection. If you're logging into websites through VPN app, you should make sure that the app is secure.
Speed: Once you turn on VPN service on your handset, the browsing speed will drop. The speed depends on the quality of service offered by the VPN provider. If a big company has offered the virtual private network connection, the upload/download speed will be good.
Apart from providing access to websites blocked by the ISP and the Government, the VPN apps allow users to surf websites anonymously and securely.
Here, in this article, we've compiled a list of the best free VPN apps. In case you're searching for a reliable VPN provider that doesn't charge a penny for visiting blocked web portals unlimited times, download one of the applications we've shared here.
Top 10 best VPN app for Android
Free Opera VPN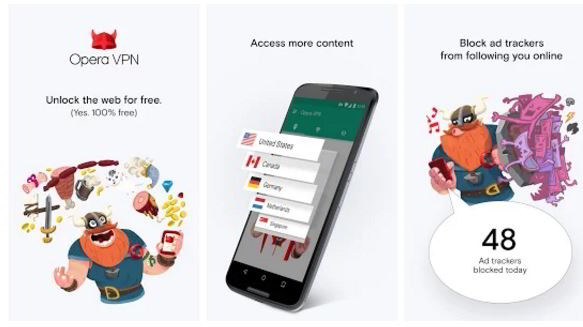 Over 300 million people across the globe use several popular internet services owned by Opera Inc on a regular basis. Opera had launched Opera VPN to let users enjoy unrestricted and unlimited access to the internet. It has set up its VPN servers at five different geo-locations.
Apart from the unlimited VPN service, the app allows users to check analyze a WiFi connection. If a connection is insecure, the app will warn about it to you. The app lets users block third-party advertisements to improve the browsing speed. The free VPN from Opera doesn't allow browsing of torrent portals. It is fast, stable, and reliable.
Download Opera
Must Read: Best root apps for Android to make phone faster, improve battery life
CloudVPN app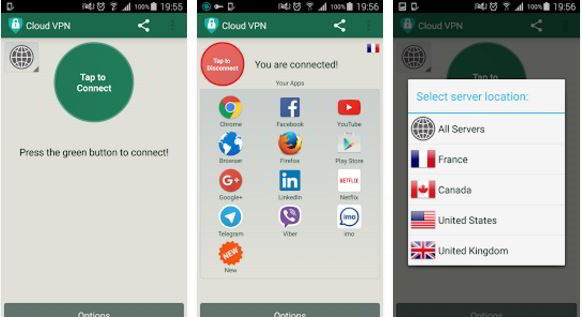 CloudVPN is one of the most downloaded free VPN apps for Android. This application works without registration. It is a powerful app that doesn't offer virtual private network service for a limited time.
CloudVPN works with all types of internet filters, firewalls, and mobile internet services. This application doesn't request you to enable root access for it nor does it require special permissions (with an exception of mobile internet). It doesn't prompt you to configure settings.
The app is easy to use. To use access blocked sites, install the app and tap on activate button to start browsing anonymously. CloudVPN doesn't work with sites that let you download copyrighted materials.
Download CloudVPN
Must check: Best video player apps for Android and IOS
Free VPN proxy app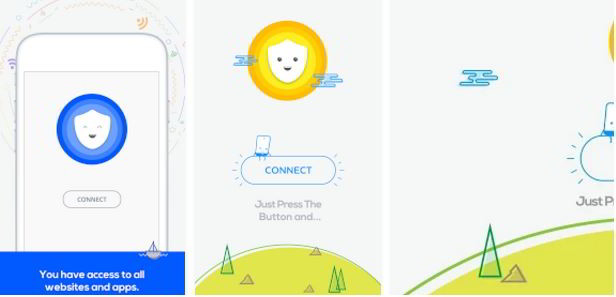 Yet another widely used VPN application, VP has a simple UI that lets users enable or disable virtual private network on a single click. It gives users the option of choosing a VPN server location manually. The app's premium version provides seven US-based, and other 4 additional VPN server locations. It doesn't allow free users to change the geo-location. This is the only drawback of the VPN proxy app for Android.
Download Link
Recommended reading: Best Yoga Apps for Staying Fit, Slim and Healthy
SurfEasy free VPN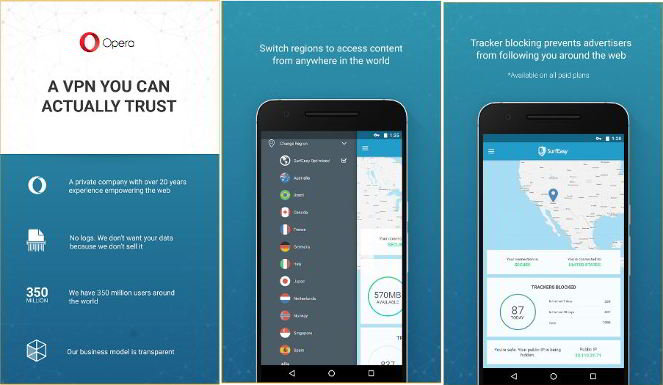 The SurfEasy app asks users to register an account before they start using VPN service. The app prompts you to enter the below details for the same:
Once you enter the details, tap on create account button. The app will now load your plan details and it will display a popup to enable/disable VPN service. The main interface of SurfEasy app is beautiful. The app shows a map of the region where VPN server has been setup.
SurfEasy offers a one-click option to block trackers. The app lets you add a home screen widget to disable or enable VPN on one-click. It imposes 500 megabytes data transfer limit on each account. It lets you earn data. To earn free data, confirm your email address, install the app on another device, or like SurfEasy fan page.
SeacureEasy has the option to encrypt data transferred over unsecured free WiFi hotspots. Like the above app, SE provides several locations. It is one of the best VPN apps for 2076.
Download SurfEasy
VPN master free unblock proxy app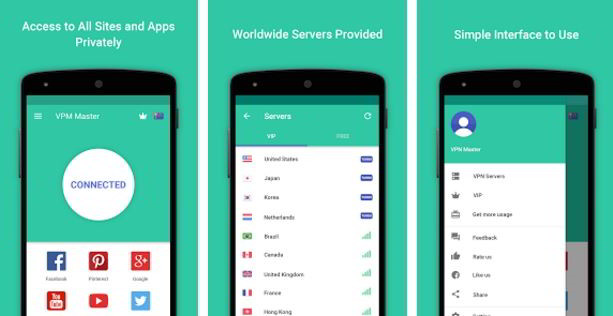 VM is one of the most trusted and lightest free VPN apps for Android. It has excellent ratings on the Google play store.
VM scans your connection speed/type, after which it prompts the user to activate VPN connection. Like SecureEasy, this app supports free browsing till 500 megabytes data transfer. VM offers the below four free locations:
United Kingdom, US.
Singapore, India.
VIP users of this app enjoy more than 8 locations. VM features a network diagnosis module which checks and makes you aware of various network problems. VM is user-friendly.
Download Link
Other best VPN apps for Android
Rocket VPN
Flash VPN
Speed VPN
Super VPN
Conclusion: Companies are setting up free hotspots at public places. They are also blocking websites that you may visit in leisure time. To bypass the restrictions, secure your connection and enjoy access to any website on the internet, you must download and use one of the above mentioned best VPN apps for Android devices.