You'll find free WiFi hotspots everywhere these days. Hotels, shopping malls, theaters, railway, gas, bus stations, airports employ them for keeping customers/visitors happy. As WiFi devices have limited range, users who have connected their handset or tablet to the nearby hotspot may experience connection drop whenever they come out of the range of the hotspot. In such cases, you can do two things to avoid disconnection:
Install WiFi signal booster app on your Android mobile.
Use WiFi only when you're in the range of the router.
The 1st option i.e. installing WiFi Booster apps is ta great choice because you don't have to keep yourself bound to one place. You can roam freely on the station or in the room without worrying about WiFi disconnectivity.
Once the connection is stable, you can:
Download your favorite files from the internet.
Enjoy uninterrupted browsing.
Make voice calls without experiencing call drops.
Find new WiFi hotspots.
Enjoy YouTube videos without buffering.
The WiFi booster apps improve the signal power of the WiFi module on your device. They are must have applications for users whose mobile shows 20 to 30% signal even if their device is within the router or hotspot range. They fix connectivity issues, poor download/upload speed problems, etc.
Best WiFi signal booster app
Network speed and signal Booster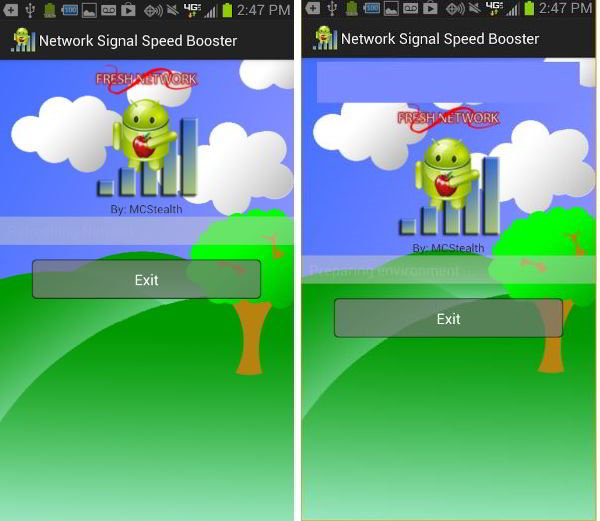 An incredibly small and powerful app, NSSB has an APK file size of 1.8 megabytes. It is intuitive and has one of the highest ratings in the tools category of the Play Store. A company called McStealth apps has developed it. When the application is first started, it scans your device and prepares it for finding the nearby hotspot with the highest signal power.
It then initializes the network and restarts the phone modem. After the modem initiates, NSSB displays a popup message with a connection success or failure message. The application has a settings panel, which you can access by tapping on the menu button. You can use it on mobiles with Android 2.2, 4.0, 4.1, 4.3, 4.4, 5, 5.1 and 6 operating systems.
Download NSSB
Must read: Best Voice to Text Apps for Android with 100% accuracy
WiFi master tools for Android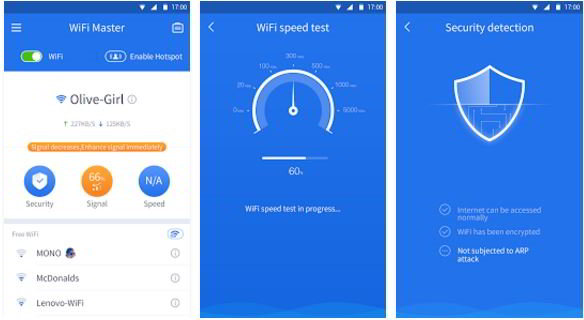 WM claims to be an all round Android application which boosts network signal and makes internet connection faster. It monitors the WiFi device on your phone and reports any issues with it. The free app also lets you set up a hotspot on your phone or tablet for sharing the internet connection. Once you run WiFi master, the app scans for WiFi hotspots within the range of phone. It then connects to the hotspot with good signal strength and prompts you to enter its password.
If you've already created a WiFi connection on your phone, WM will connect to the router automatically. The app displays the uplink and downlink speed of the connection. It has signal enhancement module and an inbuilt network speed tester. It also has the option of scanning WiFi for security issues.
Download WiFi Master Tools
Recommended reading: Best Real Estate Apps for Selling or Buying Property online
WiFi Connect Easy Booster for Android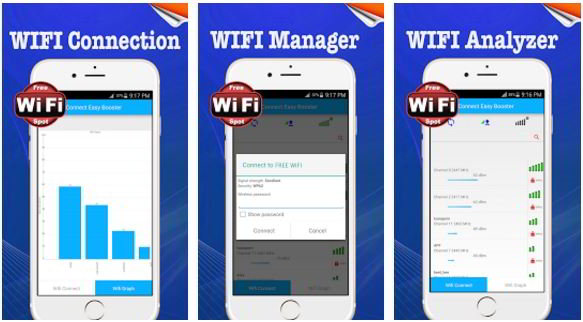 Yet another lightweight app with a decent number of users and good ratings, WCEB offers many functionalities. Its size is 3 megabytes. The app has an interface which flaunts advanced details of a hotspot. The detail includes encryption type, signal strength in dBm, channel, and frequency.
The WiFi booster and connect application can create a graph depicting the details mentioned above. It has a search tool to find a hotspot whose name has a specific word.
Download WiFi Connect Easy
Recommended article: Best Android battery saver apps
Easy booster app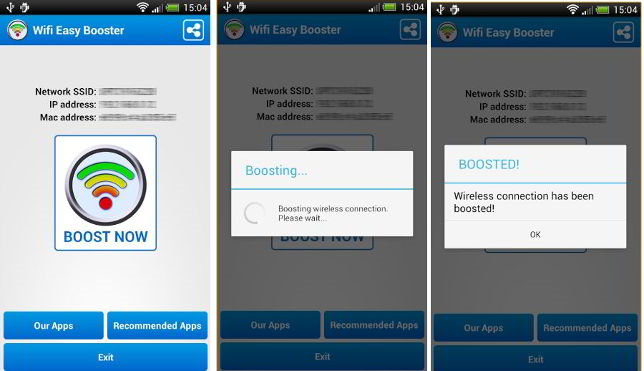 The app lets you optimize WiFi network signal strength, download speeds, improve latency between your handset and the router. It scans your device and displays the following aspects of your connection:
Network SSID.
IP Address.
MAC address.
Easy Booster shows a large boost now button too. Tap on the button and wait for the app to complete the signal optimization. Once EB improves connection, you'll see a success message.
Download Easy Booster
Must check: Best apps to download songs (MP3 Music)
WiFi manager app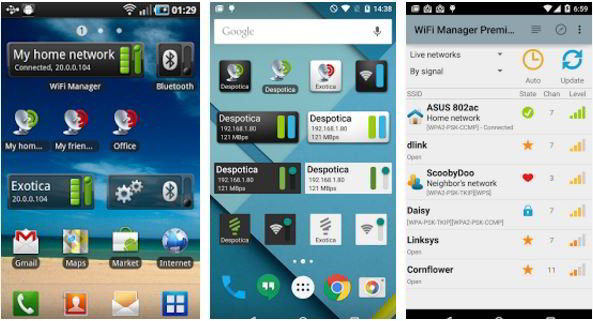 WM detects 99% of hotspots available nearby you. It is the most advanced and my favorite WiFi booster app for Android. WM shows the channel, signal level of a hotspot along with the encryption algorithm it uses.
The app allows you to delete information of the hotspots your device had found. You can sort the connection by their signal strength, name, and state (open, secured). WiFi manager includes settings to:
Display signal as an image, percentage value.
Set scanning interval.
Change theme to dark or light.
Set a default WiFi channel.
Enable radar mode.
Play sound or vibrate the phone when the app finds an open connection.
Set regex for ignoring specific hotspots.
Enable widgets for Android home screen.
The app is awesome and free.
Download WiFi Manager
Conclusion: The WiFi booster apps for Android mentioned above improves network signal strength by 30 to 40 percent on supported devices. They are tiny and user-friendly. The applications have good ratings on the Google Play Store.