Reading lengthy nonfiction books is not a cup of tea for everyone. Movies are fun to watch. Unfortunately, not all books are adapted into movies. In case you want to know the important points of the book without reading it, you must either get in touch with the person who has read the book or use an app called Blinkist. Why not listen to an audiobook? Frankly speaking, there's no emotion in the audiobooks and listening to an audiobook is like listening to a robot.
Blinkist is an application that has summaries of over 2000 popular nonfiction books. The app's size is around 13 megabytes and it requires account registration.
You can sign up for Blinkist with your Facebook, Google or email account. Once you log into your BK account, the app will prompt you to activate the free 7 days trial. If you're interested in premium membership, tap this option else tap the back button of the phone. If you opt for premium membership, the app will request you to select a payment method. Blinkist uses Google/Apple Pay service to process the payment.
Interface
The app's main interface has 3 sections – discover, library and profile. In the discover section, you'll find several mini cards of the best-selling books. The card displays the book title, thumbnail, and the author name. When you tap a card, you'll see a brief description of the book and the author. The application will also show a note explaining who should read the book.
If you're using the basic/free edition of this app, you can access only one book per day. This book is suggested by the app itself. You cannot choose one from the list.
BK gives you access to books of the following genres:
History, productivity, technology.
Inspiration, politics, finance.
Psychology, leadership, parenting.
Economics, health, entrepreneurship.
Relationships, marketing, science.
Corporate culture, self improvement, and communication.
Books in Blinkist are divided into up to 10 mini-chapters called Blinks. You can switch between blinks by swiping left or light or by tapping the menu and selecting the outline option. Outline functions as an index. It displays the heading/title of the chapters in a list.
Blinkist enables users to change the font size. It lets you switch from light to the dark theme. If you don't want to stress your eyes, you can switch to listening mode in Blinkist. When you do so, BK will read the book for you.
The app has a built-in audio player utility that allows you to pause, resume the audio playback. You can download the audio chapters and listen to them later in Blinkist. The "discover" interface of Blinkist makes you aware of trending and latest books. It lets users search books by their name.
Also check: Best Android note taking apps
The library section contains the list of books you've read. It provides an option to delete, filter, sort, and favorite books. Users can filter books by download status. They can sort the titles by their download date, name, etc.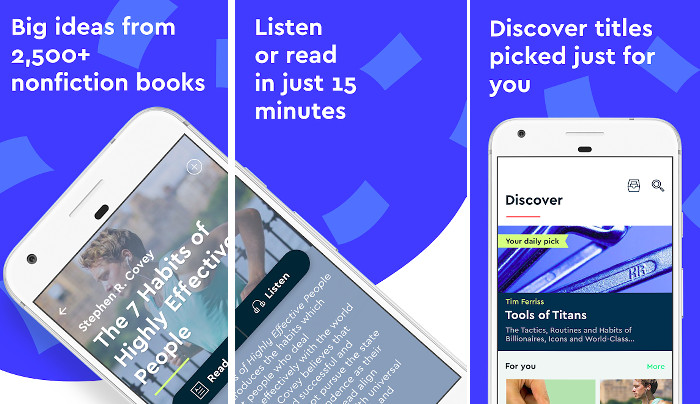 The Profile interface of the app is subdivided into two sections – favorites and highlights. It also has an option to open the settings panel through which you can :
Upgrade plan from basic to premium.
Manage logins.
Disable notifications.
Enable/Disable book synchronization.
Change language.
Turn on/off auto delete feature, etc.
Other features
By default, Blinkist will automatically delete outdated tracks. It allows you to specify the location where it should save the audio files.
With Blinkist, you can send the book to Evernote, Kindle, etc. You can also share the book with friends. The app allows users to highlight the text. The text you highlight will appear in its profile section.
Aso read: Top 5 Best bookstore apps for book lovers
Pros
User-friendly.
New books are added every month.
Cons
The subscription fee is a bit high (6 to 7 dollars per month)
Conclusion: Blinkist is a great app for the people who believe that reading long books is a waste of time and for the people who love reading but don't get time to pursue their hobby/passion. As the summaries are compiled by humans, the summarized version of the book might miss out some interesting things/facts.
Unlike some web/mobile application that accepts content from any person claiming to be an expert, Blinkist features books published only by seasoned writers. Hence, you won't find anything nonsensical in the app.
Features -

7/10

Price -

7/10

Peformance -

9/10
Summary
Blinkist is a nice book summary application. It makes you aware of the synopsis of 2000+ best-selling books.