Fortunately, watching television is not the only way to keep ourselves updated with the latest happenings in our city, country or in the world.
Watching news channels in the day time is impossible for the working people. Some companies may allow internet access, but only a few websites will be available to browse. To get news and cricket updates, you must use a news app on a data connection enabled mobile phone.
Play Store gives us access to plenty of news apps for android. One app that really stands out from others is the daily hunt (formerly called as news hunt).
I've been a user of this famous app since 6 months. I use Newshunt daily to read news from popular newspapers (TOI, DNA, Indian Express, etc).
Getting started
After installing the DailyHunt app on your Android mobile phone, run it and choose the country and the languages you're comfortable with. As of now, this application supports 6 countries i.e. India, Bangladesh, Africa, Sri Lanka, UAE and Nepal and many local languages.
Once the user selects preferred language and country, DH will ask the user to subscribe to newspapers of their choice, after which the app loads breaking news stories in its interface.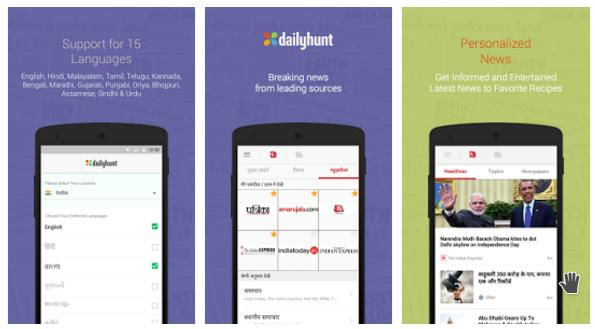 DailyHunt app uses Android notification module to alert you of the latest news. It has an examination section, through which students can prepare for defense, police, railways, bank, SSC/HSC board, UGC, UPSC, teaching related exams. The preparation materials have the topics like marketing, general knowledge, general English, aptitude, etc.
DailyHunt aka Newshunt app has a book section where you'll find books on various topics for purchase or free download. If your eyes are hurting while using the app in the evening or during the night, activate the night mode feature of Daily hunt.
DailyHunt application allows you to make the text in the news articles bold and disable the Android notifications. You can change the currency from INR to USD for buying books and exam preparation materials.
If you have activated limited 2G, 4G or 3G plan, you can disable the images loading feature of DH to save data.
DailyHunt is a small, but powerful app. Although Facebook feed makes us aware of news stories, FB feed is annoying for the users interested to read news from top publications. Newshunt is available for download on the Google Play Store.