UC web, the developer of UCBrowser has introduced a standalone news app for Android. The app, labeled as UCNews is free, smart and covers all stories of your interests.
UCWeb claims that its latest application is like an encyclopedia that has millions of stories to read. UCN is lightweight and quick. Here is my review of this new application:
Getting started
When you run the UC News app on your Android tablet or phone, you'll be asked to choose a language. As of now, UCN supports English and Hindi languages. Tap on Hindi if you want to read news in Hindi, else choose English.
After the default language has been set, the user will see a beautiful yellow color UI which displays the latest news from India.
UCN by default will load stories in the following categories – Recommended, Cricket, Entertainment, Education and Jobs, Trending, Offbeat, Gadgets, Business, Lifestyle, India, World, Sports, Movies, TV, Relationship, Tech, Health, Auto, Fashion, Travel, Health.
When a cricket match is going on, you'll be able to see the latest score in the app itself.
The categories mentioned above are easy to navigate. The app will show an excerpt from a story along with a thumbnail picture. If you find the excerpt interesting, tap on it to read the full story.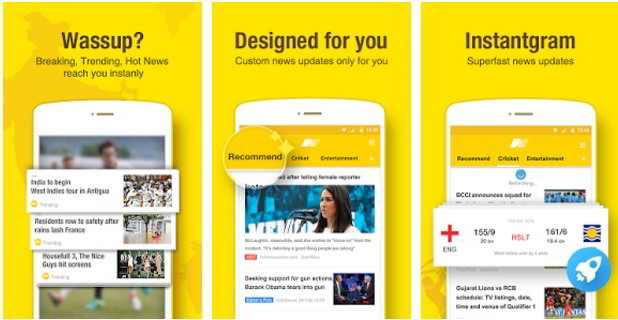 If you want your news dashboard to be less cluttered, visit the UC News subscription panel. Now, tap on the edit button. You'll now be able to manage the categories. Select the categories you don't find interesting and tap on the done button.
UC News app for Android supports infinite scroll feature. Hence, old news stories will be loaded automatically when the user scrolls down to the bottom of a page/category.
The Android UC News app doesn't allow you to download pictures displayed in a story. It lets you share your favorite story on social networks.
UC News doesn't support Android widgets yet. You can change the preferred language from the app's menu. This app is quick and doesn't have advertisements. Visit play store to download UC News.
Recommended reading: BEST DATING APPS FOR 2016 [HOTTEST GIRLS AND MALE PROFILES]