RSS has become one of the most important web technologies. It allows users to subscribe to website content. To go through the feed content, you'll have use a feed reader utility.
Google Reader, the most widely used feed reader was killed by Google and since then, several alternatives have emerged on the internet. Feedly, introduced in the year 2008 has become one of the most prominent RSS readers. Feedly has some cool features, but if you're searching for an alternative to it, then you may like gReader.
gReader is a free application which has been recently updated to 4.3.0 version. It is a gorgeous app with well-designed interfaces. Like Feedly, gReader has two panels. The app maintains the list of user subscriptions in the left panel and main content of the websites in the right panel.
To get started, users must click on the plus sign button to find feed, podcast and news channels and topics of their interest. If the user is new to RSS, he must enter the keyword of his favorite topic or the name of the website he wants to follow.
For example, If you're interested in reading crime related news, you must enter the word crime in the text box and then you must tap on the search icon. Once you do this, gReader app will display a list of websites that have published articles of your interest. To subscribe to the website feed, tap on its name from the list and select subscribe option.
gReader has an option to save the website for later access. You can also bookmark a feed item. To do so, long press the feed item and select add star option. This RSS reader app enables users to share the news item on social channels.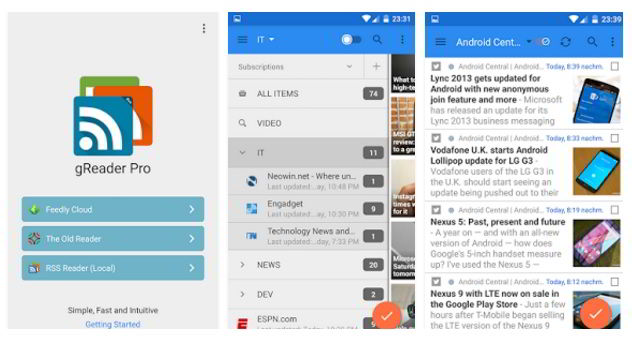 gReader has a search tool that allows you to find a feed with the keyword you enter. It has a function to mark feed items as read when the user scrolls down. This app supports 3 layouts i.e. grid, list, and card. It has a toggle button to display only the read or unread feed items.
gReader features a clear cache module which erases every bit of data the app has saved on your phone. Its default color theme is blue. In case you don't like this color, you can choose green, sepia, dark, black color themes. You can apply the dark color theme during the night if the blue sepia or green colors are hurting your eyes.
This RSS reader app for Android allows you to sort items by the date on which they were published on the website. To get the latest stories from the websites you've been subscribed to, the app provides a refresh button. This application supports notifications i.e. it will make you aware of new news stories via Android push notifications. You can turn off this feature from the settings panel of gReader.
In settings section, you'll find a module to back up and restore feed preferences and app settings. You can also change the location of cache folder and storage database through the settings panel.
gReader has plenty amazing features. Download the app from Google play store and use it for a while. If you do so, you'll fall in love with this app.