If you don't have a PC, then RAR for Android app can be immensely useful to you. You can use the app to create archives of documents, save pictures or videos that you don't require. One can use RAR tool for compressing backup files to free up the storage memory.
Budget smartphones usually have 4, 8, or 16GB ROM. They may or may not have an SD card slot. Android may take anything between 1 to 2GB storage memory on the ROM and you can't move the OS to the MicroSD card. The user may install games and apps on the phone. Thus, there will be little free space left on the ROM or the external MicroSD.
MicroSD cards are inexpensive, but they don't have as much as free space as a computer or laptop. I have an 8GB MicroSD card and I use the card to install apps, save photos and other files. When I back up the full internal storage on my device, the free space on the card is reduced to just 3GB. To free storage memory on Android without deleting files, I have started using the RAR tool.
RAR app review
RAR for Android is a useful and simple application. It has a simple UI, but its inbuilt compression utility is very powerful. You can use it as a file manager or as a compression tool because of the intuitive interface of RAR for Android. This app supports the default storage memory (ROM) as well as MicroSD cards. It has a neat UI that lists the files and folders on both the supported storage mediums.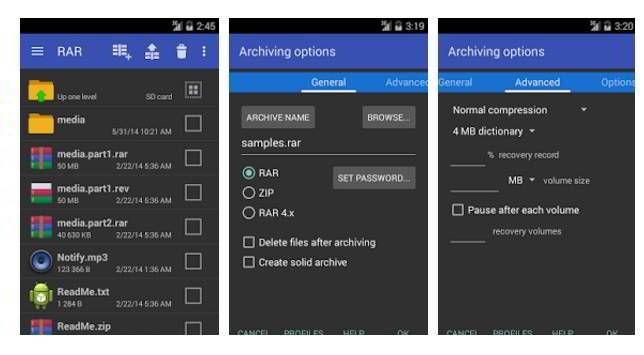 The RAR app has the add to favorites utility that lets you save a location or path to a specific folder or file as a bookmark. RAR allows you to organize the favorites. It has tools to send a packaged (compressed) file or folder to other phones with Bluetooth or messaging apps like Kik, Facebook Messenger, WhatsApp, Skype, Telegram, and others.
RAR supports various name encodings (languages). It can display hidden files and folders. It has options to show thumbnails. RAR app stores your archiving, sharing activities. The user should visit the history utility to get details on the same. He can specify a file extraction folder.
RAR for Android has the below important tools:
Create, test and repair archive (zip, SFX, RAR formats aka extensions are supported)
Benchmark, send the archive.
Settings, get details on the .rar or .zip file.
The free RAR tool features advertisements. If you don't want the app to load ads, you will have to buy the license (with the Android in-app purchase). You can also consider using an ad-blocker app.
Download RAR app for Android here.
Conclusion: If your phone or tablet has excessive junk files that you don't use or access, instead of deleting them, compress the files using RAR.