Doctors are very important professionals. When you're suffering from a disorder or an infection, it is the doctor who prescribes you medicine and helps you in recovering from the illness.
When your family doctor is out for a vacation, you may hesitate in visiting any other physician or health expert. In such cases, you can try out the free SeeDoc app for Android.
This app gives you an opportunity to seek medical advice from the best family doctors in India. The best thing about SeeDoc is you don't have to pay any fees to the specialist. Unlike local clinics or nearby hospitals, Medical consultation is free in seeDoc.
SeeDoc app's main interface features two options, video consultation and asking free questions. To chat face to face with the specialist, choose the 1st option.
Before you get in touch with the doctor, the app will ask you to select a medical problem after which you'll be prompted to enter the problem in detail. If you've got your blood, urine or skin tested, you can attach the report for getting better advice from the doctor.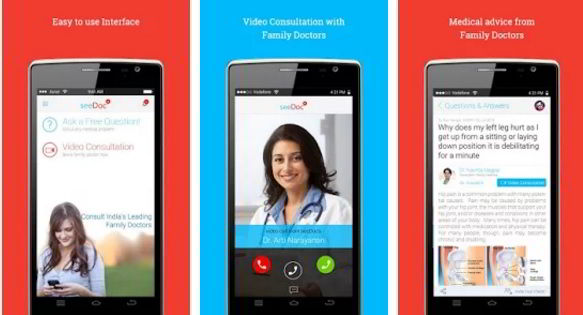 While asking a question, you'll have to enter the question, your name, phone and email address. Your details will not be made public. When a doctor finds your query, he may reply to your question. You'll be notified of the answer via a text message or an email. The doctor may take up to 48 hours to respond to your question.
You can consult a doctor anytime. If there's an emergency situation, you can use the app to get immediate help from a specialist.
You are allowed to explore medical content in the SeeDoc app. You can explore this section for getting knowledge on an illness or symptom. The application has specially designed assessment function which helps in reducing the risks of a disease. This function has been designed on the basis of research conducted on 1000s of people.
SeeDoc users are allowed to create and update their profiles. The profiles can be updated with various health related information.
Whether you're suffering from heartburn, cold, flu or stomach ache or any other illness, you can use SeeDoc for consulting a specialist.
SeeDoc is available for download on Google Play store. If you have a question to ask a doctor, make sure that you try out this free app.