SuperVPN has established itself as a great alternative to other similar apps available on the Google Play Store. The application has a superb rating of 4.5. It has up to 5 million users. It lets you access popular portals such as YouTube, Facebook, Twitter, etc without any restrictions.
The application is very similar to BetterNet. It doesn't inflict limitation on data transfer and provides access to 10+ servers.
Unlike many other Android VPN clients, SuperVPN doesn't prompt you to enter the credit or debit card details. It is a free service that protects your privacy when you're mobile device is connected to an unsecured WiFi hotspot.
Review of the free proxy app for Android
The Super VPN application is a tiny application. Its APK size on the Play Store is below 2 megabytes. Once you run it, SVPN shows a round button with orange color background and the label "Tap to Connect". To begin browsing blocked websites or to secure your mobile data connection, tap on this button.
By default, the location of the server will be France. You can change it by tapping on the flag icon.
The app provides 6 US server locations and has a server at the nine different locations across the world.
VPN client app offers different server regions to satisfy the user. If a connection speed is poor for one region, the user can switch to another location.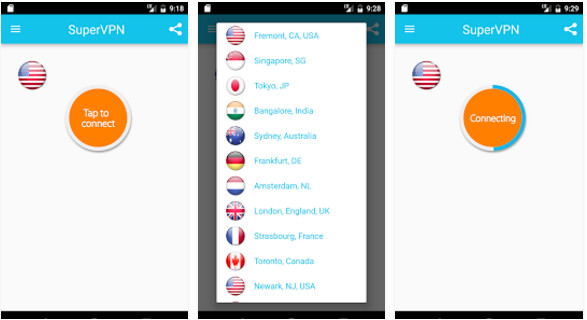 Once you tap on the connect button, the Android OS will display a popup with a message saying that the Super VPN application needs permission to intercept your network traffic. The popup also shows a checkbox which the user must select to enable the VPN connection.
After selecting the check box, tap on the OK button. The orange box will now turn blue to indicate that the application has established the connection.
According to the developer, the server encrypts the data before transferring it to your device. Furthermore, the application doesn't log your online activities. Hence, you don't have to worry about your security or privacy when the Super VPN client is running on your device.
SuperVPN uses the powerful OpenVPN protocol for encryption.
When you're using the application, you may experience a slight drop in download speeds because the data packets reach to your device from a distant location. For better speed, you should select a server nearby your proximity. The application is compatible with the best Android browsers and it comes with an advertisement.

Summary
Super VPN is a great free VPN client aka Proxy app for Android. It is fast and lightweight. The application establishes VPN connection to the server you've selected within seconds.