With a file manager tool, you can easily see the files stored on your phone or PC and manage them. Whether it's a computer or a phone, a file manager is a must-have application. On computers running the Linux or Windows OS, you'll find an Explorer utility. The default file explorer is intuitive and powerful and we don't think about replacing it with alternative software.
Android is an OS that gets new features each time Google introduces an update for it. Although the file explorer is fast and easy to use, some users may want to use features that the default app doesn't offer. If you're in search of an app that lets you manage files on Android, try out AFM.
Asus File Manager review
Note: The user should allow the app to access photos, media, and files on their mobile device else it may not work.
The Asus File manager aka AFM has been recently updated with 3 new features. It now features a customizable home panel, with which you can make the app display 9 or 6 categories. AFM gives you the option to add a shortcut to any folder on the home screen. Developers have improved the performance of the app when the user deletes or moves files/folders.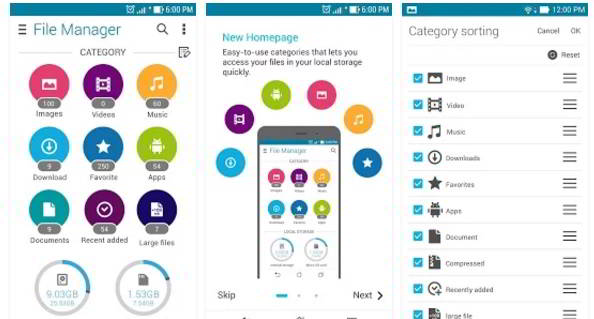 Asus File manager groups files into 6 or 9 categories automatically. Thus, finding a specific file becomes an easy job for the user. For instance, the app has a compressed category wherein it categorizes all your RAR, zip, tar files. AFM displays the number of files stored in a specific folder.
This free Android app displays the free and utilized space on the MicroSD card as well as in the ROM of the mobile device.
This app supports the list and grid view. You can easily create new folders on your phone with it. You can also manage files stored on a remote device connected by a LAN cable, WiFi, etc with AFM.
Asus File Manager supports OneDrive, Yandex, Asus WebStorage, Dropbox, and Google Drive cloud storage platforms. Thus, moving files between the tablet or phone to the computer is easy.
AFM lets you find files on your Android device. It supports the voice search feature that uses Google's speech recognition technology to interpret voice to a text command.
Final thoughts: Asus has launched some useful apps on the Google play store and AFM is one of them. If you're searching for a simple file manager with cloud backup/storage feature and network support, install and use AFM.