Although iOS and Android devices allow you to take screenshots, they'll only capture everything displayed on the screen. This method is quick, but sometimes you may want to save or share a single screenshot instead of multiple pictures. Imagine you found valuable tips on the internet and want to keep its copy on your phone. Although you can bookmark the website's URL, what if the person who owns the website deletes the page? If the page is very long, you will have to scroll down and take screenshots multiple times.
Another example is that sometimes you want to share a screenshot of the WhatsApp chat interface containing several messages. Instead of sharing numerous photos, it would be great if you shared a single picture that shows all messages. With the simple screenshot utility of the phone, you can only take a single screenshot at a time. The following applications can either take multiple screenshots as input and stitch them to generate one image file or take a scrolling screenshot to the specified point.
Best long screenshot apps for Android and iOS
Screen Master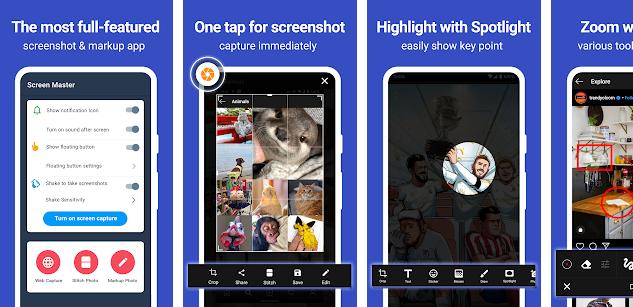 Screen Master is a photo stitching app that will join multiple images to form a single image so that the final image looks like a long screenshot. It can save screenshots in one of these two formats – JPG and PNG- and can set the output picture quality. What's the use of this setting? Well, low-quality pictures will consume lower storage memory. Screen Master, by default, will save the image with the filename having the prefix "screenshot". You can change this prefix in Screen Master. Before stitching the photos, you can set the order of screenshots and change the stitching method (horizontal or vertical). Screen Master also enables you to save the entire page of a website as an image on your phone.
Longshot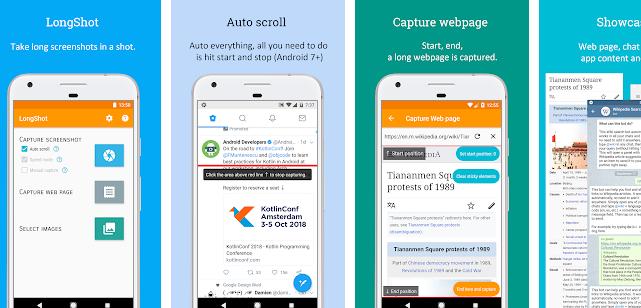 Don't go by its rating, Longshot is a great free app that can capture screenshots of a full page or app with a scrollable interface by scrolling down automatically. You should enable accessibility permission for Longshot else it won't work. If you don't want to enable this permission, you can enable the auto-capture mode of Longshot. Longshot will capture a screenshot each time you scroll down when you enable this mode. Once the app finishes taking screenshots, it will stitch the images. Like Screen Master, you can set the output image quality and format with this application.
Long Screenshot Capture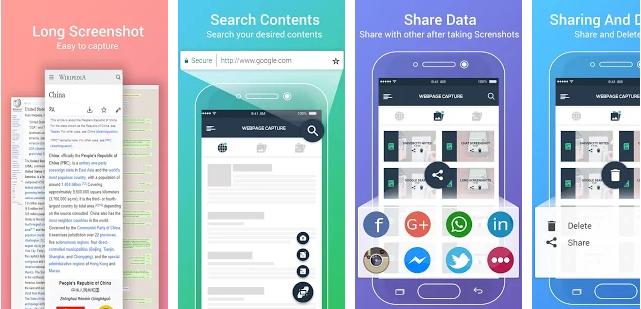 Like LongShot, this application allows you to take a full screenshot of a website page, no matter how long the page is. You can also save the website page as a PDF file with this application. This app has a built-in browser tool. You should open the page and tap the "Plus" sign floating icon. Now, the user should choose one of these three options displayed on the screen:
Capture image.
Quick PDF.
Inbuilt PDF.
This app lets you set the screenshot image quality.
Easy ScreenShot Master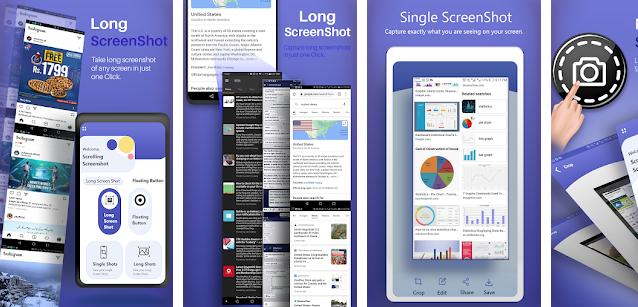 This application doesn't have the auto-scroll function. It will show floating buttons on the screen – one to cancel the task, one to take a screenshot, and another to stitch images. How to use Easy ScreenShot Master? The user must manually scroll down and tap the "capture" button. When you're done scrolling, you must tap the "stitch" button (indicated by check sign). When you do so, the app will automatically stitch all photos it has captured and display the generated image (the result of stitching). In addition to stitching images, you can edit, erase or crop the screenshot with this application.
Stitch It!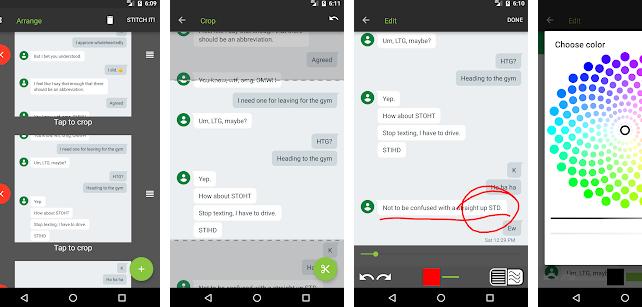 Stitch It!, the popular iOS screenshot stitching app, was published on the Play Store last year. It shows selected images one after another and displays the "crop" button next to each image. If you don't want to crop photos, tap the "Stitch It" button displayed at the top right corner of the application. You can change the order of the screenshots before tapping the "Stitch It!" option.
Stitchcraft Free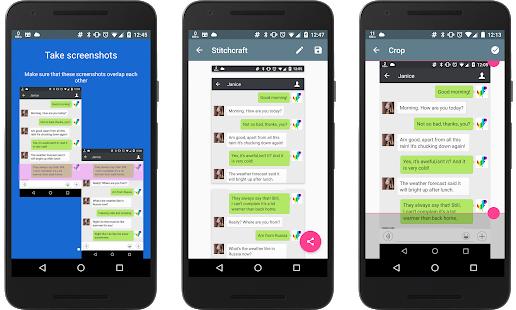 Stitchcraft is similar to Easy Screenshot Master i.e. it shows a floating button to capture the screen in a photo. Once you've taken enough screenshots, Stitchcraft will stitch the images to create one image. The application lets you blur a portion or full image or fill a part of it with a solid color. It also allows you to crop photos. Users can configure Stitchcraft to save the original image before they make changes to it.
Vivaldi Browser for mobile devices has the screenshot function built-in. Thus, if you don't want to use the built-in browser utility of some applications I've shared above, you can install Vivaldi and use it. As Vivaldi is based on Chrome, it is one of the most secure browsers right now. The option to take screenshots appears when you open any website and tap on the browser's menubar. It is named "Capture Page".
An alternative approach would be to use a screen recording app. The app will record everything that you see on the screen. Start the screen capture function of the application and scroll down slowly. Once the screen recorder is done recording, it will save a video in FHD/HD quality.