YouTube is a great entertainment app. It allows you to watch and share the latest movie trailers, HD, Full HD, 2K, and 4K video songs. Apart from movies and audio, YouTube has a massive collection of videos that you cannot watch with your parents or siblings.
If you are watching these videos, you may want to clear YouTube app history on your Android mobile phone or the iPhone. If you don't do so, your friends, parents or other relatives with whom you share your mobile phone may start having a bad impression about you.
One more good reason to clear YouTube history regularly is the recent changes to Google privacy policies. No matter what app or service you use, all Google Products now have access to your data. Google shares your data with its other services so as to provide a better experience to you. You can see what information Google collects about you in the Google Accounts section.
YouTube is one of the most downloaded apps to date. Over 500 million people access YouTube every day on desktops, phones, tablets, etc. Despite using it daily, many users forget to clear the app's search history before closing it. To restrict what data Google collects about you, you should follow the steps I've mentioned below.
How to remove Youtube app history?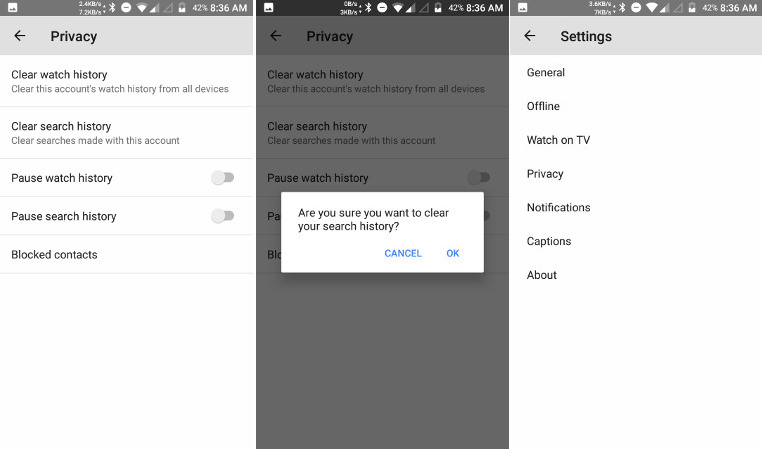 Open the Youtube app and tap on the menu option. Select sign in and log in to your account. Navigate to the app settings panel where you'll find these options:
General, offline, watch on TV.
Privacy, notifications, captions,
About.
Select privacy. You'll now be able to see these functions:
Clear watch history.
Clear search history.
Pause watch/search history.
Blocked contacts, etc.
Tap on the 2nd option. The YouTube application for Android or iPhone will now prompt you to confirm the removal of search data. Tap on OK and done!
Conclusion: As you can see above, clearing history from the YouTube app isn't a challenging task. All you have to do is tap on the options YouTube provides a few times.