Today, rather than using a dedicated scanner hardware, more and more people around the world are using their smartphone or tablet's high-resolution camera for scanning documents.
Being an Android user, I too started looking for an app, which would help me in scanning documents, receipts, visiting cards, all on the go. While browsing the Play Store, I found many related apps and one of them is Microsoft Office Lens.
Office Lens being a Microsoft product and a free app, has more than 1 million Android users around the globe. The app is available on the Google Play Store, where it is a decent download (APK file size) of 45.87 MB.
Being compatible with devices that run on Android 4.1 (Jelly Bean) or later, I chose to test the Office Lens app, by downloading its version 16.06920.3004 on a Motorola Moto G (3rd Gen), running Android 6.0.1 (Marshmallow).
After installing, when you first start/open the app, it brings in front one time animated introduction window for showing you what it is capable of doing. Once the intro reaches its end, you are right away taken to the camera view, which is the main screen of the app.
One admirable thing about Office Lens is that it does not ask you to sign in with your Microsoft account id nor hints to create one for using its features. You can right away use the app once it gets loaded.
User Interface
Whenever you start this app, it loads in the Camera mode, along with some very well-organized buttons for capturing a document, turning flash on/off/auto, scan, and a three dot menu which grants access to different options like Import, Recent History, Resolution, and Settings.
On pointing the device at a document, the app draws a box around what it considers is text. The Scanner symbol allows you to determine between Document, Whiteboard, Photo and Business Card.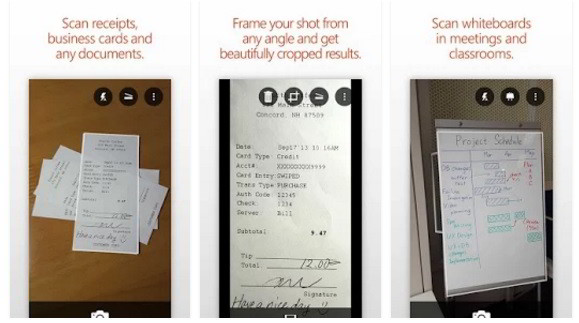 Using the Office Lens app on Android
It is quite an easy task to use the Office Lens app. Once you have picked the shot type, press the shutter button. The app will put in front a screen displaying your recently captured document, with options for saving, deleting, and cropping. Further, if you want to change the shot document type for instance from 'Document to Whiteboard', you can do so by tapping on the scanner icon.
Once you finalize the document, tap on Save. Doing so will bring out options for renaming the image and saving it to a preferred location/destination on the device.
One most gratifying thing about Office Lens is that it provides you an option for saving images to OneDrive, OneNote, Word, PowerPoint, and in PDF file format. But to do so, you will have to sign in with your Microsoft account id. However, if you do not want to save any of your images on Microsoft Cloud services, select Gallery from the list.
Pros
Free
Document Scanner
Option to store data on Microsoft Cloud Services
Cons
My verdict: Office Lens is an incredible pocket scanning app for Android devices. The app is easy to use and comes with all expected options that let you capture/save Whiteboard pictures, Business Cards, and scan documents on the go. Though heavy on storage and RAM, the Office Lens app is worth trying.