The Cleaner – Speed up and Clean app is a powerful tool for getting rid of junk files, malicious apps, and other unwanted stuff from your Android device.
The app is offered by Liquidum Limited (the developer of HexLock App) and is an in-app purchase product where per item costs Rs. 10.00 – Rs. 39.00. The app has more than 5 million downloads from the Play Store and supports any Android mobile phone or tablet that runs on 4.0.3 Ice Cream Sandwich and later versions.
To review and learn how The Cleaner – Speed up and Clean app works with devices that run on Android 6.0.1 Marshmallow, I downloaded this app's 1.8.3 version on my Motorola Moto G3, which comes in an APK file size of 5.50 MB. Further, once it got installed, The Cleaner app used a total space of 28.24 MB from my device's internal storage memory and on rare usage (40 %); it employed an average 32 MB to maximum 104 MB of RAM.
Using and setting up The Cleaner app is remarkably easy. The app comes with a very well-designed user interface (UI), which makes it look quite striking and attractive.
Every single thing on this app, whether they are buttons or options have been laid out properly. Performance wise the app works well. It does not lag anywhere nor gives a hard time to its user even on high usage.
Let us take a look at what all options does this app offer and how to use them.
Memory (RAM) Analyzer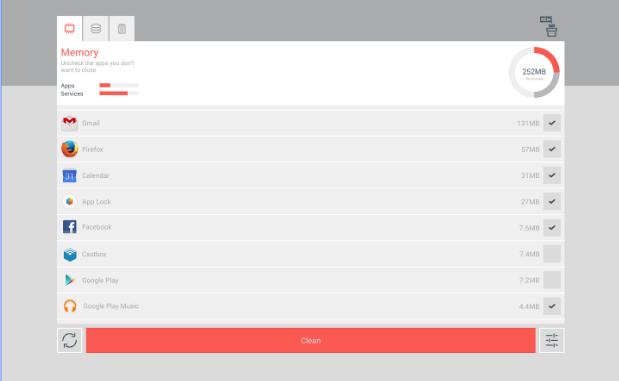 Whenever you start the app, it right away takes you to the app's main screen from where you can carry out the very first operation, which is analyzing and recovering your device's Memory.
To boost it (Memory), tap on the Analyze button. The app will initiate the process and within moments it will put in front a list of all those apps that are consuming your device's memory (RAM) together with an option to clean them.
Storage Analyzer
As storage (ROM) holds important files, folders, and other useful data, it is our duty to maintain it well. The Cleaner app comes with a built-in Android Storage analyzer and cleaning feature, with which lets its user to scan and remove junk items from their device such as cache files, downloaded APK files, etc.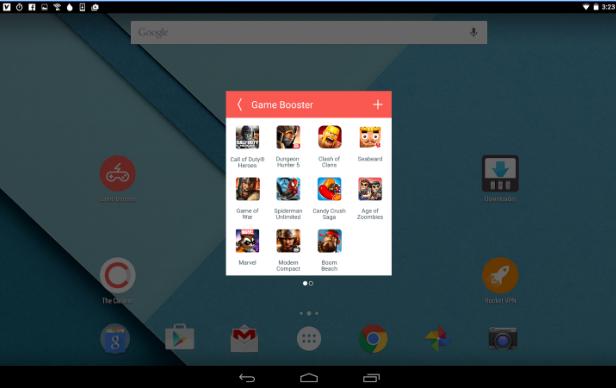 Apps Analyzer
In this section of the Cleaner app, you will find the App analyzing button. When you tap on it, the app will start to examine your on-device applications to find out what all apps do you rarely use or which app is consuming how much space. Further, it will also offer you an option to select multiple apps at once for uninstalling them in bulk/batch.
Another notable feature in the apps section is its ability to sort apps by permissions. Doing so allows a user to find and get rid of potentially threatful apps that are using permissions unrelated to their functions.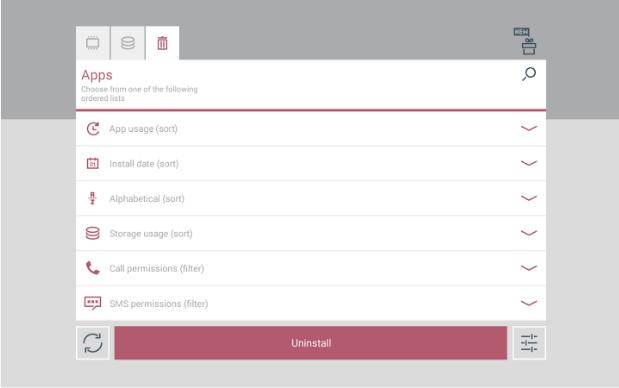 App Lock
The title explains it all. The Cleaner app comes with an app locking feature, which allows its users to protect all of their private stuff and data from unauthorized users.
To set it up, select the App Locker option. The app will spontaneously bring in front the 'Set PIN' window, asking you to set up/enter a 4-Digit PIN. When you do so, it will put in front a list of all those apps that require security/lock. From the panel, select apps that hold vital data or information (like WhatsApp, Youtube) and tap on the turn App Lock ON option.
In case, if your device runs on Android Marshmallow (6.0/6.0.1), you would not be able to complete the App Lock process until you grant The Cleaner app 'Usage access'. Thus, to aid the user in doing so, the app will open a popup window titled 'Enable Access to Continue' along with the 'Ignore' and 'Allow' options. If you do not want a lock over any of your on-device apps, tap on 'Ignore' else 'Allow'.
When you tap on 'Allow', the app will directly take you to the 'Apps with usage access' from where you would be able to grant the usage access permission to it. Doing so will allow it (The Cleaner app) to track what other apps you are using and how often, as well as your carrier, language settings, and other details. Now you are all set to protect apps on your Andriod device by setting a lock over them.
Pros:
Free
App Locker
Storage, Memory, and App Analyzer
Cons:
Ads
Can be uninstalled by anybody
My verdict: The Cleaner – Speed up and Clean app is without any doubt one of the best apps for getting rid of junk, other unwanted apps, and improving your device's performance up to an extent. The app is not too overloaded, but it does come with essential features.