In January 2016, CRIS and IRCTC had launched the UTSONMOBILE app that lets you book unreserved tickets in 4 metro cities i.e Mumbai, Chennai, Delhi, and Kolkatta. The app is very handy because it saves time as you don't have to stand in long queues.
To get started, download the UTSONMOBILE app on your phone through the Windows App Store or the Google Play Store. The app's size is around 3 MB on the Play Store.
Run the app once you've installed it. You'll find fields to enter the phone number/password, a login/signup button, and a link that opens the FAQ window.
New users will have to create their UTS account if they want to book unreserved tickets. Registration is a lengthy 4 step procedure.
In the 1st step, the UTSONMOBILE app will ask you to enter personal details like phone number, identification type, ID card number, name, and city. After you enter these details correctly, accept the terms and conditions, and tap on the generate OTP button. The unreserved ticketing system will now send you a one-time login password.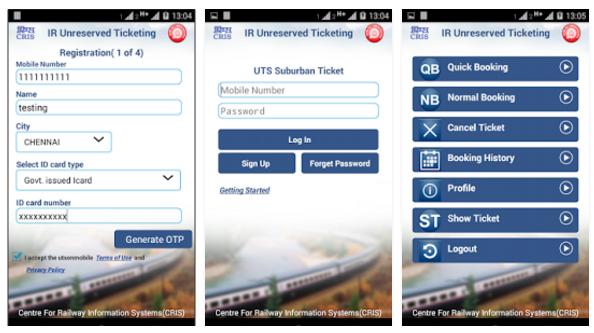 In the 2nd step, the UTS mobile app requests you to confirm the OTP after which it will display 3 dropdown boxes to select a train type, payment mode, and class. As of now, UTSONMOBILE supports the Railway wallet payment system and it allows you to book tickets only in the ordinary trains. There are 2 classes to choose from, the second and first class. When you select the options, tap on the Done button.
In the 3rd step, you'll have to select a ticket type and the number of persons/children that will be traveling with you. UTSonmobile app lets you book a return as well as an onward journey ticket.
In the 4th step, the app will sync stations available in the city you have selected. Then, it will ask the user to select source and destination stations along with a preferred route.
To confirm the ticket, the user must use RWallet to make the payment. The RWallet must have a minimum balance of Rs 100 else you will not be able to complete the payment.
The user can cancel booked tickets anytime before they get voided automatically. The users can check or see their tickets under the "booked history" and "show ticket" menu. When the TTE asks you for the ticket, you have to log into the app.
The UTS online mobile app requires GPS access permission because it checks whether you're located within a 5 or 10 kilometers radius of the source station or not. You'll not be allowed to book tickets if you're not near the station.