Wishbone is a poll/survey-based social networking application. It is one of the top 100 social networking apps on iTunes and Play Store. It is popular among youth and has a strong user base of 13 million.
With Wishbone, you can learn what your loved ones or friends like or dislike. The app also makes you aware of the things, movies, sports, actors, actresses, and TV shows that are popular in the public domain.
Getting started
To use Wishbone, you must tap the skip login option or log in to the app with your social network account/phone number.
Once you log in or select the 1st option, you'll see a pink colored tabbed interface that displays two images side by side. Above the picture, you'll find a question of the following format:
"This or that"
Below the image, you'll see an option to comment on the poll or share the poll with friends. Choose the image which you find interesting. That's it! Wishbone will display the poll result over the image.
Must check: Best reverse image search apps
Once you answer 12 polls, the app will display new categories of polls on the screen. You can either select the category and take the surveys or wait for the app to generate a list of new polls.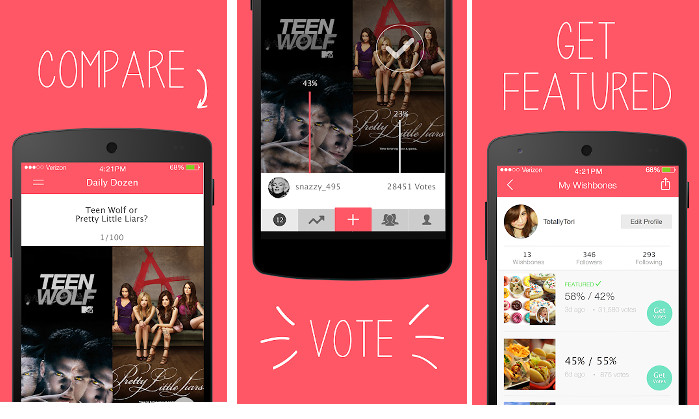 The app allows users to create a new poll. Surveys/polls in this app are called Wishbones. You can create as many Wishbones as you want. If your poll has been answered or shared by many users, it will appear in the Trending interface of WB. Your profile will also appear in the app's leaderboard section. If you're lucky, you'll get tons of new followers. WB will show a push notification when someone follows you.
As on Twitter, you can follow other users of the WishBone app. If your friends are not using Wishbone, navigate to the app's "Recommended" interface. Here, you'll find the list of most popular WB profiles. Apart from following users, you can send direct messages to another user.
Wishbone provides an option to block a user. It also enables you to set a profile picture. You cannot download the images in the app. However, you can take their screenshots. The app offers a search option that you can use to find surveys and other users. WB also includes a settings section where you'll find options to edit profile, share the app with friends, restore in-app purchases, etc.
Also read: Best reverse phone lookup apps
Pros
The color of the interface is eye-friendly and the concept of the app is great. Wishbone surveys are interesting. Once you complete a survey/answer a poll, you'll be tempted to scroll down and answer more questions.
What didn't I like?
The Wishbone social media app doesn't take the user's sex into account to generate surveys. Many times, it displays questions that are suitable only for men or women.
Example: Wishbone displayed a photo of a Hollywood actor and an English singer and asked me to choose a man with whom I would like to go on for a date. I skipped the question.