Posters are informational images that were once designed only by PhotoShop or CorelDraw experts. Now, anyone can create attractive posters with the following top post poster maker applications available on iTunes and Play Store.
Best poster making apps for Android and iOS
Canva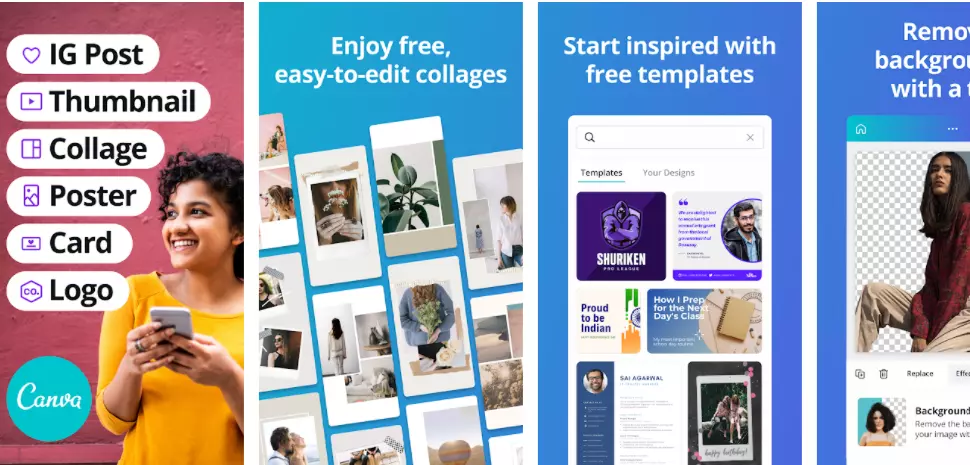 Canvas is the number 1 app in the art category of the Play Store. It lets you design and download attractive posters for free. You can use Canva after logging in to the application with your Google or Facebook account and save your designs online for free. The app has hundreds of templates, which you can use to design posters, resumes, certificates, Facebook posts, YouTube thumbnails, stickers, covers, etc.
Canva supports the most popular poster sizes and also supports custom sizes. Once you choose or enter your desired poster size, Canva opens its editor. The editor is a bit different than the one you'll find in drawing apps for Android. With the help of Canva editor, you can put another template, elements, images, text, styles, charts, videos, etc, on the poster you're currently editing/designing.
Canva includes 100s of free elements and features beautiful fonts. It lets you import your artwork from third-party applications such as Google Drive, Flickr, DropBox, etc.
Poster Maker by Photo Cool Labs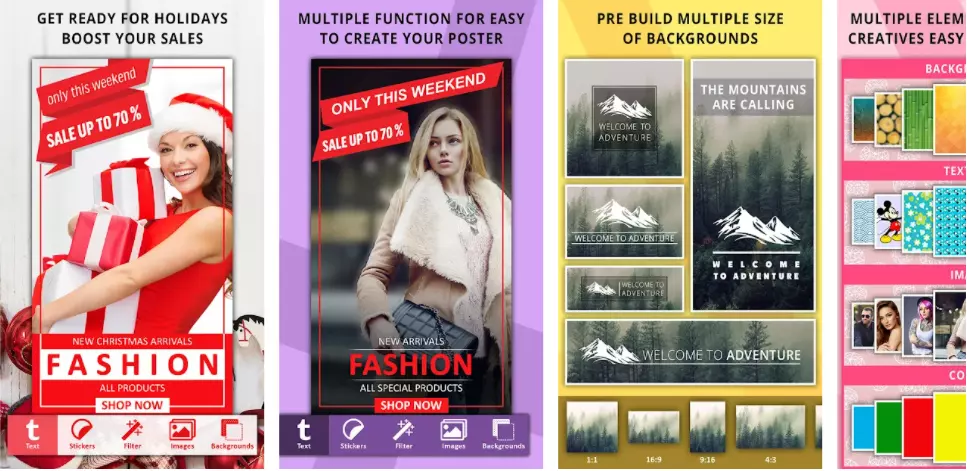 Unlike Canva, you don't have to register an account to use Poster Maker. The app is the 2nd highest-rated poster maker app on the PlayStore. The application shows four options – Create Poster – Designs, My Posters, and More when you open it. The Create Poster option lets you build attractive posters of various sizes. Some of the aspect ratios supported by the app are 1:1, 16:9, 3:4, etc.
When you select a poster size, you should choose a background, texture, or image and then use the Poster Maker app's editor to build your poster. The editor of this app lets you add text, and stickers to the poster. You can also apply the overlay effect to the poster and use one of the 50+ supported fonts to make the text look attractive. In Poster Maker, you can enable the shadow effect for the text and adjust the text color's intensity/opacity. You can also see the poster designs shared by other users.
Poster Maker by AZ Mobile Software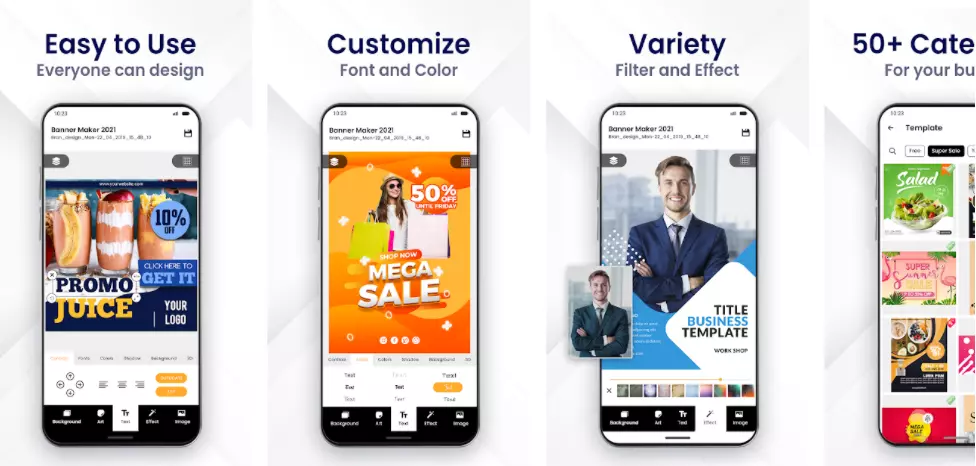 Like Canva and other apps like Canva I've shared above, this application has dozens of free high-quality templates. Using Poster Maker's built-in editor, you can modify these templates as per your requirement or design your poster from scratch. This application supports 40+ poster sizes and six aspect ratios. It lets you design posters in landscape and portrait modes and make the application show gridlines on its canvas.
PM has attractive clipart photos and comes with 100+ beautiful fonts. It ships with many background effects and enables you to set a texture or gradient color as the background for the poster. In this application, you can work with layers.
Brandspot365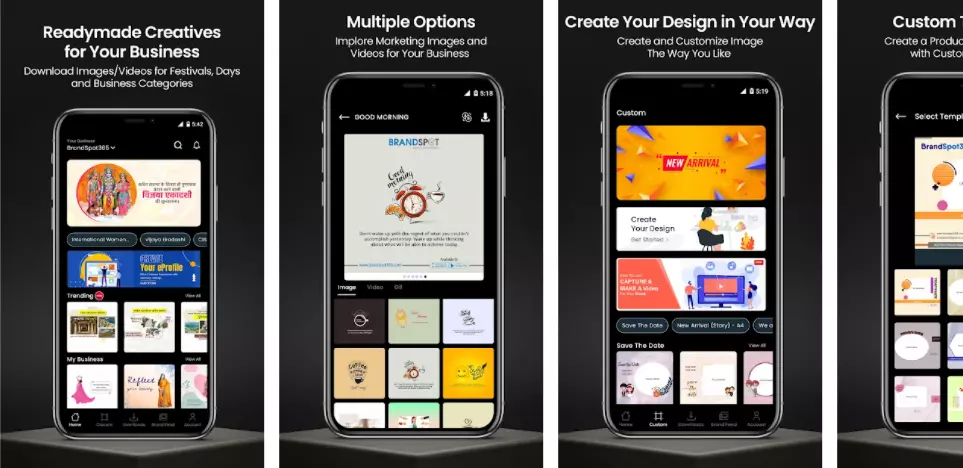 Brandsport365 is a free application for designing business posters. It is larger than Canva and the other two poster maker apps I've covered above. You must register an account in BrandSpot365 with your phone number and enter these details of your business – phone number, business name, city, address, etc when you're asked to enter them.
When you enter the required information and choose a design, you can put your business details on the template by simply selecting the styles displayed below the canvas. You can call these styles template parts. Brandspot365 doesn't have a photo editor tool but includes many templates.
Social Media Post Maker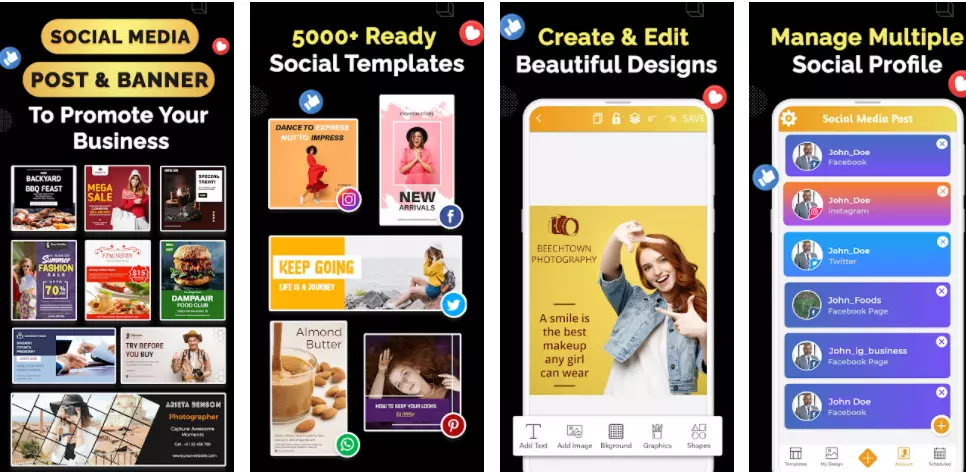 With this application, you can create posters for sharing on social media portals. To adjust the position of the sticker pixel by pixel, this app provides dedicated buttons to move the sticker/text up, down, left, or right. Social Media Post Maker enables you to crop and resize the pictures. It also lets you fill colors inside the stickers and add shapes to the posters.
Social Media Post Maker features hundreds of attractive images that you can put on your posters. It includes over 1000 templates and a search tool to find templates by name. Once your art is ready, you can make this app post the image automatically on these social media sites – Twitter, Instagram, and Facebook at a time of your choice.
Flyer Maker, Poster Maker by Apps You Love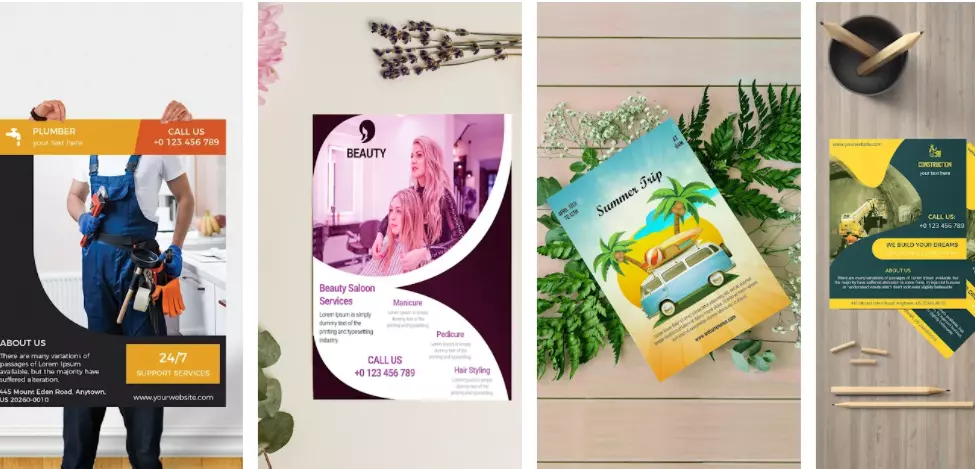 The FMPM application supports textured/gradient/color backgrounds, patterns, and transparent backgrounds. Some patterns resemble designs on shirts and dresses. The application includes many text themes and lets you install and use popular fonts such as Open Sans, Roboto, Lato, PT Sans Narrow, etc.
You can rotate, resize text and objects you put on the poster, and scale images in FMPM. You can download the poster as a PNG, JPG format image, or PDF file when it is ready. Before downloading, you can choose a dimension for the poster. The application gives you access to over 400 beautiful poster/flyer designs. You can download one, customize and use it anywhere you want.
Digital Marketing Poster Maker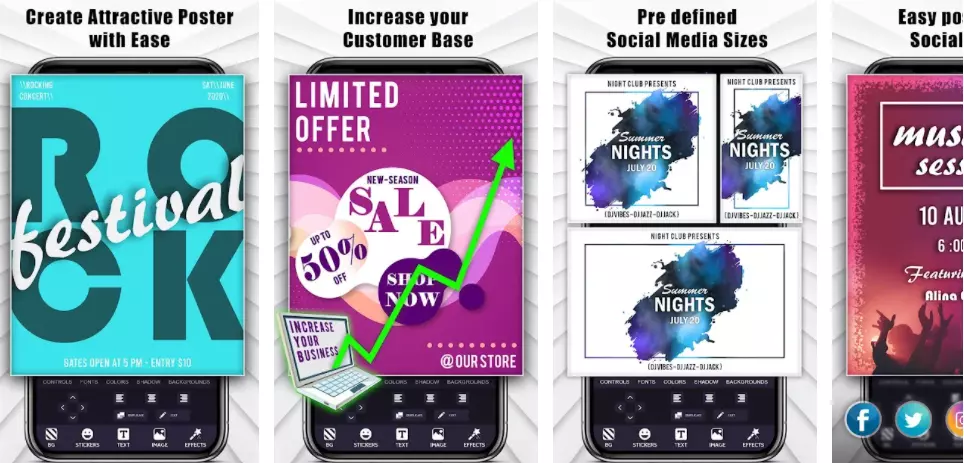 This application features black and white as well as colorful stickers. As the stickers are grouped by category, it is easy to find a sticker in this app. You can add shadow to text and a texture/gradient/image as the text background. Once you add a background, you can apply an effect to it. The app displays a watermark at the bottom right corner of the poster. According to the application, you can get rid of this watermark after watching an ad.
DMPM lets you resize or rotate text/pictures, and it can save your work to a MicroSD card or the internal storage memory of the phone. You can also share your art on social media sites with a few taps of a button.
So, these were the best poster-making apps for Android and iOS devices. As you can see above, the applications have many features in common. Some display several advertisements when you tap a template or any poster, while some let you work on posters without showing ads.