Out of the 7.6 billion people on earth, only a few million people are good at drawing. Gifted people use their imagination and observation to create mind-blowing paintings. The paintings are so good that art lovers don't hesitate to pay a considerable amount to own them. Pablo Picasso was one of the finest painters ever. One of his paintings was sold for over 100 Million dollars.
Some people pursue drawing as a hobby. Although these people are not good at drawing, they try to paint their thoughts on canvas. Professional painters will carry painting materials everywhere they go, but hobbyists or amateur painters won't. People falling in the latter category can use drawing apps to fulfill their dream of painting when they're not at home. Here's the list of the best Android painting apps:
Best drawing apps for Android
Autodesk SketchBook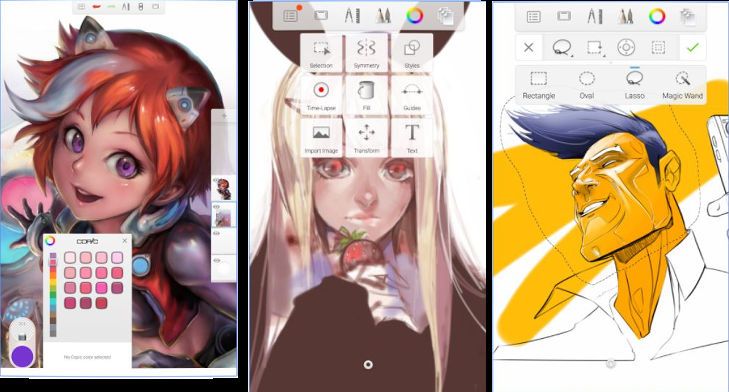 SketchBook lets you create and manage layers. It supports fullscreen drawing mode and ships with ten brushes, which you can customize as per your requirements. SketchBook provides an eraser, image cropper, zoomer, and blender utility. It also includes a color picker and ruler tool.
SketchBook allows you to insert a line, square, or circle in the picture. It lets users share their drawings on social networks. If you're a seasoned painter, you can participate in SketchBook's "Deviant Art Sketch This challenge" and showcase your painting skills. Sketchbook is a large app. Its APK size is 65 MB. SB consumes 95 MB of storage memory. It is one of the best Android drawing apps.
IBIS Paint X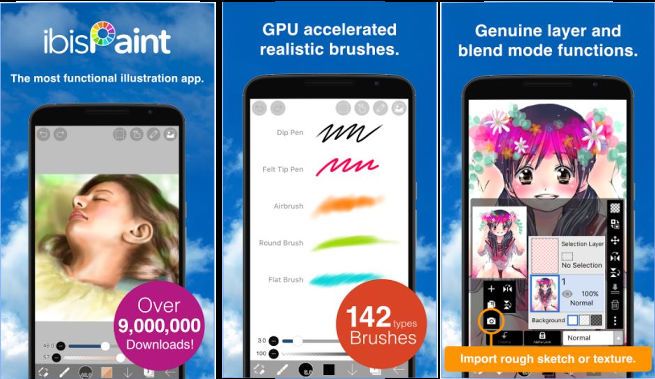 IBIS is a free drawing app for Android that you can use to draw manga and animes. It offers 140+ brushes. Paint X enables you to film your drawing. It allows you to change the brush opacity, angle, thickness, etc. Once you modify the brush parameter, you can preview the brush with IBIS Paint X.
IBIS PX lets you create unlimited layers. You can modify the layer parameters in this app. IBIS offers a palette tool that boasts 30 colors. It allows users to replace the color on the palette with the one they use frequently. The app provides an option to change the orientation of the canvas. It includes several filters. IBIS ships with a material tool that provides 750+ textures. Other utilities you'll find in Paint X are as follows:
Eraser, Smudge, Blur, ruler, blender
Color picker, bucket fill, zoom, image stabilizer.
Paint X has a nice UI, and it is free.
MediBang Paint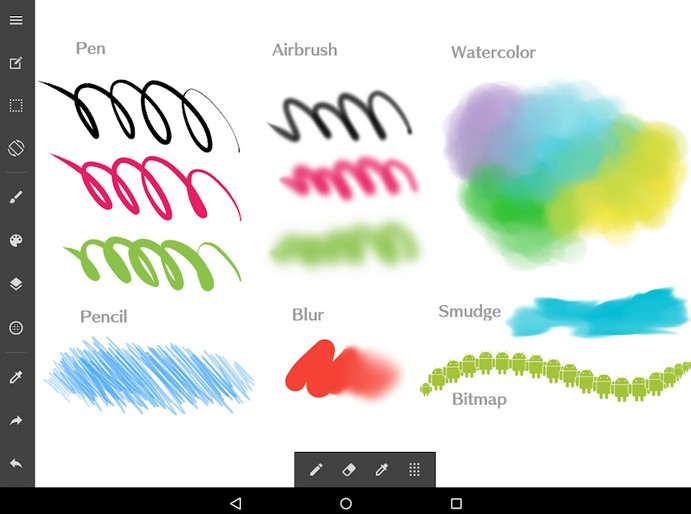 MediBang Paint is a free Android drawing app that displays the following options when you'll run it:
New Canvas.
Previous.
My Gallery.
When you tap the New Canvas option, MediBang will display a button and the option to set the canvas size, DPI. Once you specify the size of the canvas and tap the button, MediBang will display the canvas and a bunch of tools. If you want to edit the image you've created earlier, tap the "Previous" option. To edit the picture you've saved on the phone, tap the "My Gallery" button.
MediBang enables users to add text to photos. You can change the text size, font, and opacity before adding it to the image in this application. MediBang offers several brushes, and it supports multiple blending modes. It ships with a color mixer and a palette tool. It provides an option to insert an image on the canvas. By default, MediBang shows several shortcuts/tools at the bottom and top of the canvas. You can hide the tool/shortcuts you don't want to use from the application's settings interface. MB Paint ships with a paint bucket tool. It supports gradients, textures, etc.
Also see: Best Android Kids apps
ArtFlow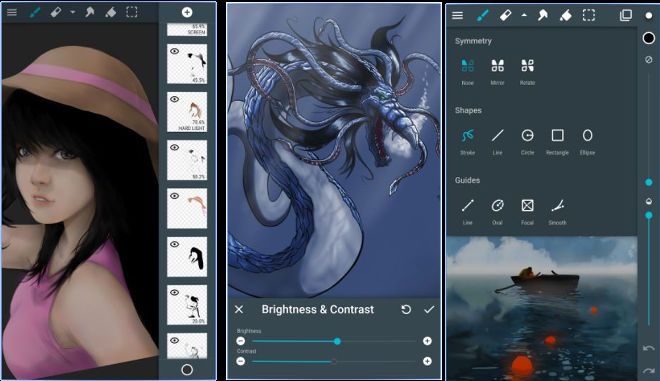 ArtFlow is a tiny material design-based drawing app for Android with several features. The app hides its navigation bars when you start drawing to ensure that you get enough space to draw on the canvas. ArtFlow lets users print photos. It also allows users to record a time-lapse video of their drawing. The app ships with 13 unique customizable brushes. It allows you to frame the canvas. You can also flip the canvas horizontally and vertically with it.
ArtFlow offers six shape tools. It uses the phone's GPU to handle graphics. The free version of ArtFlow lets you create two layers. It also enables you to export images as a JPEG or PNG file. If you want to remove the restriction and unlock additional brushes, you must buy the PRO version of this app.
Adobe Illustrator Draw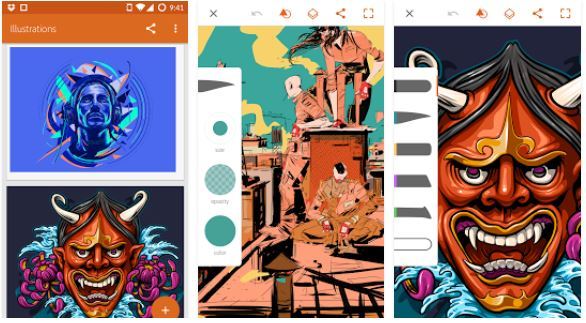 Adobe Illustrator is the best app for drawing vector images. It enables users to create and manage projects. A project can have as many drawings as you want. Adobe Illustrator comes with five brushes and supports eight brush shapes. You can add more shapes by installing third-party shape libraries. Adobe ILD provides an option to change the brush's angle, opacity, color, and size. It supports layers. The app enables you to flip the canvas and change the opacity of the canvas background. You can publish your drawing project to Behance or copy the image to Adobe Creator Cloud with this app. You can also rename or duplicate a project in Adobe ILD.
Must check: Top apps like Flipagram
Adobe Photoshop Sketch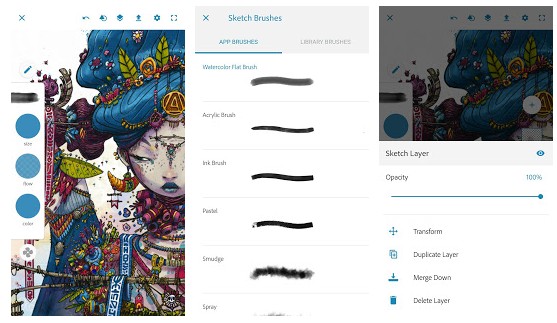 Sketch from Adobe Corporation is one of the most popular drawing apps on the Google Play Store. It has easy to use interface and many features. Sketch lets you set a background color for the canvas. It offers several unique brushes. The app allows you to edit pictures saved on the phone and create a new painting by drawing on the canvas. Sketch allows users to add text to pictures. It also lets you rotate the canvas and crop photos.
Sketch lets you change the width of brushes and change the brightness, opacity, or contrast of images. It includes a ruler tool and a color palette utility. The app offers a redo/undo function to rectify painting mistakes. You can backup or sync your drawings to multiple devices with Sketch. AS is one of the best drawing apps for Android.
Similar drawing apps:
Also check: Best collage app for Android