Buying a stock blindly is like catching a falling knife and listening to the so-called analyst and creating the stock buy or sell orders is risky. The best way to predict where the stock price is heading is to analyze the charts and keep an eye on the news related to the business. You'll find several business channels on the television and dozens of charting apps on the internet. One of the top applications out there is TradingView.
TradingView lets you see charts of all stocks no matter where the company is listed at. For example, you can see keep yourself updated with the price of the Tesla and Reliance Industries stocks at the same time. TradingView enables you to create three lists and add as many stocks as you want to the lists. It gives you access to community scripts and allows you to use multiple indicators. The free plan of TradingView supports 3 indicators + community scripts. The application can also generate data useful for trading or investing in the stock markets and allows users to their studies in the TragingView community.
TradingView is a useful application but has some drawbacks. For example, not many people will live the TradingView topbar, and some easy things in this application are made difficult. For example, it is not easy for newbies to zoom into the chart. Fortunately, TradingView isn't the only app that lets users monitor stock prices. Here are the top TradingView alternative applications you can use on your desktop or mobile device:
Best apps like TradingView
Investing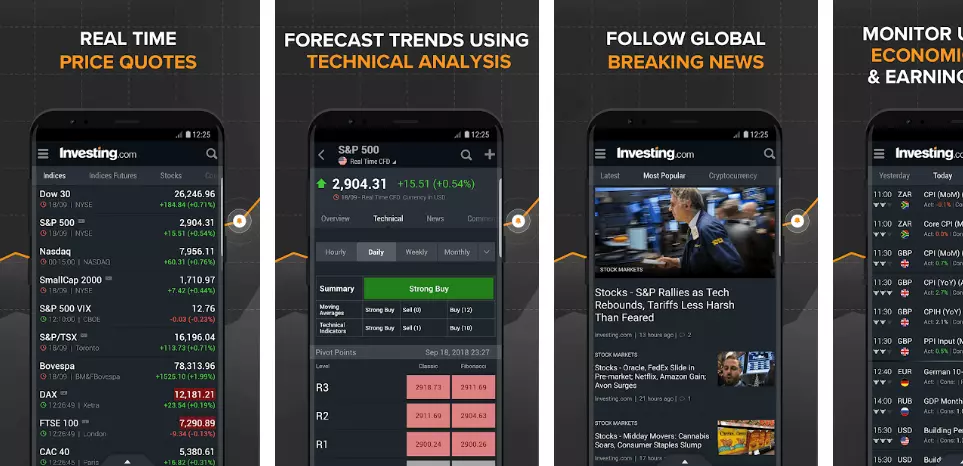 Investing is a good application to keep yourself updated with all major stock markets of the world. It lets you create alerts and allows you to go through the historical data of the stocks. The application uses technical data to suggest the action you can take with the stock and also shows the pivot points of a particular index/stock. In addition to stocks, Investing supports Cryptocurrencies.
The application enables you to create and manage a watchlist and has guides you can go through to understand how things in the stock market work. It also allows users to share their analyses with other users. The app covers news and markets of all major economies. You can switch to a country-specific version of Investing with one tap of a button. Like TradingView, Investing app ships with useful utilities. For example, it offers these four useful tools – stock screener, Fibonacci, currency converter, and fed rate monitor tool. The Investing app has a beautiful intuitive user interface and its app for iOS and Android have good ratings and reviews. It is the best alternative to TradingView.
Yahoo Finance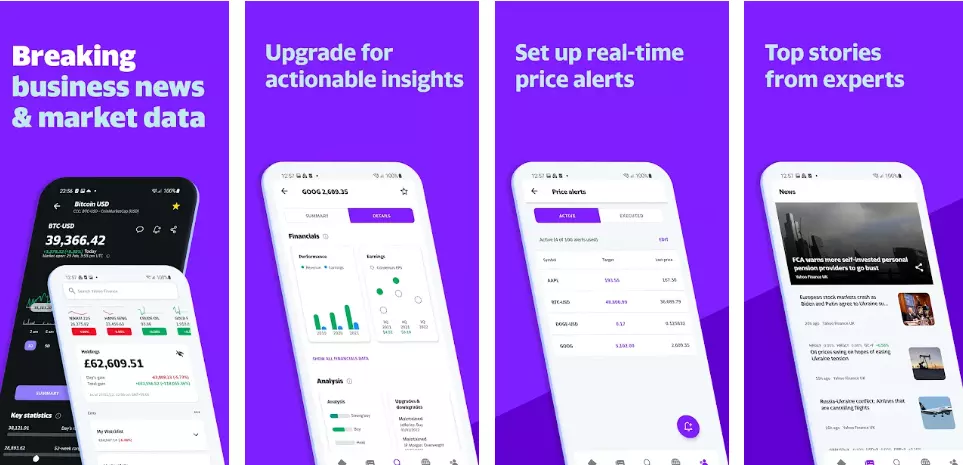 Yahoo Finance is one of the oldest stock market applications on the internet. Like Investing and TradingView, Yahoo Finance enables you to create watchlists. In addition, it also allows users to view your portfolio. To use the "my portfolio" function, you must link your broker's account with Yahoo Finance. When you do so, you can track the stock prices and profits/losses. This is a helpful feature for people who want to keep themselves updated with the stock market and business news while trading. Yahoo Finance app features equity, mutual fund, index, ETF, and futures screeners. It enables you to see trending tickers, stocks whose prices have dropped or increased substantially, etc.
Google Finance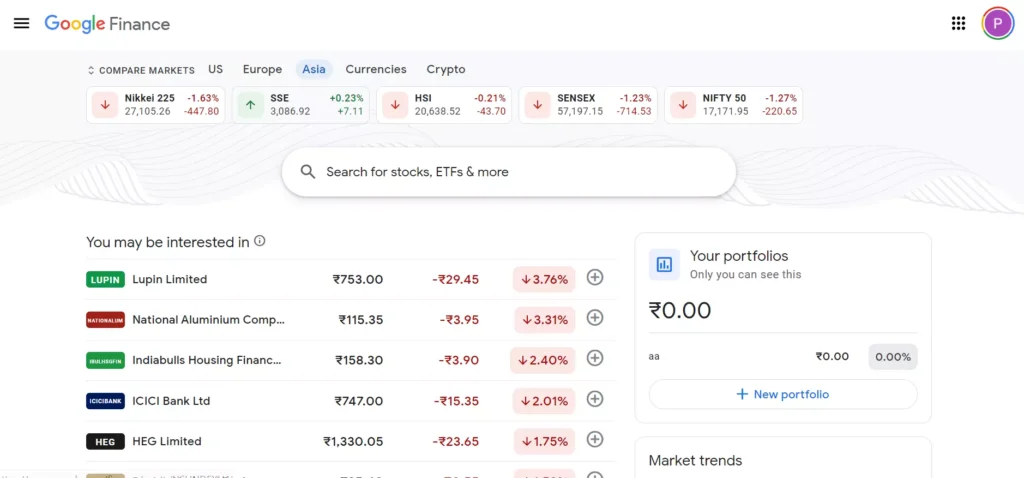 Google Finance is a great alternative to not only TradingView but also Yahoo Finance and Investing. It shows a list of the most popular or actively traded stocks during a given trading session. According to Google, this list is generated on the basis of the search queries of the users. Google Finance enables you to create a "virtual portfolio". If you want to get started with trading and you're looking for a tool to practice the same, this feature of Google Finance can be useful for you.
Google Finance enables users to see the current and historical pricing of ETFs, cryptocurrencies, stocks, indices, etc. Like Yahoo Finance, Investing, and TradingView, Google Finance doesn't have screeners. The application doesn't support indicators as well. However, you can pull its data to Google Sheets with the function GOOGLEFINANCE and play with stock market data. Google has not launched a dedicated Finance application yet. You can use the official Google application which comes pre-installed on all Android phones to access Google Finance on mobile devices.
ChartIQ
ChartIQ is a powerful charting library that is used by all major online brokers. If you have got a trading account with a broker that supports ChartIQ charts, you can switch from TradingView to it. ChartIQ supports indicators and its graphs are beautiful and updated regularly at a time of your choice. Can you access the charts on mobile? Yes, the charts are mobile-friendly. If the broker you're having an account with has a mobile device, you can access the ChartIQ charts.
Closing words: These were the best TradingView alternative apps you can use to monitor stock prices, set up alerts, perform free technical analysis, etc. Excluding ChartIQ, which can be a part of a brokerage's application, you can install any of the above apps from the Play Store and iTunes.