Android smartphones are equipped with two cameras, one at the backside and one at the front. When you take a picture with the front or the back camera, the mobile saves the image in two folders – DCIM and camera. DCIM stores pictures you've captured with the help of third-party apps, screenshots, etc. The camera folder saves the output of the imaging hardware on the phone. Depending on your phone's storage capacity, Android may save 1000s of images or videos to these two folders. Imagine you've saved several hundred pictures to your device. Will you use the file browser or explorer to go through the pics one after another? The answer is no. To overcome this problem, Android OS provides a gallery app.
The gallery application is a smart tool that organizes every image saved on the storage memory or MicroSD card. It does so to provide a pleasant experience to the users. Apart from displaying thumbnails of the images, the Android gallery app offers filters, sorting functions, and more. In case your phone runs on the outdated version of Android, and you're looking forward to replacing the old gallery app with a newer one, go through the list of best gallery apps for Android I've shared below:
Best Android Gallery apps to manage photos and videos
Google Photos Android gallery app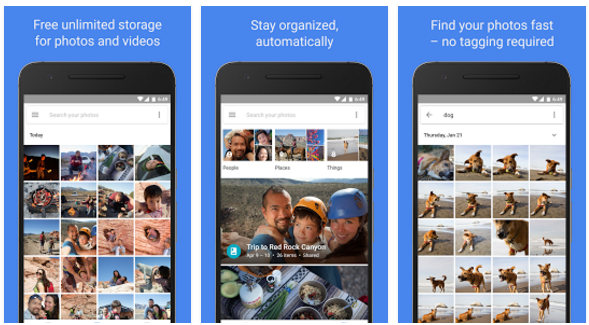 Apps introduced by Google come pre-installed with most Android phones. Hence, it is likely that Google Photos might be installed on your device, but you're not aware of it. Google Photos is an excellent application for people looking for a simple gallery app with which they can back up their videos and pictures to Google Drive. Google Photos categorizes your photos automatically, and it provides a scroll bar for locating old albums and images. The app ships with a visual search tool. It lets you create animations, collages, panoramas from the pictures. The Android gallery app by Google offers a photo editing tool. It lets users see their images and videos on the television. Google Photos allows you to save unlimited high-quality photos on a cloud disk for free.
Simple Gallery app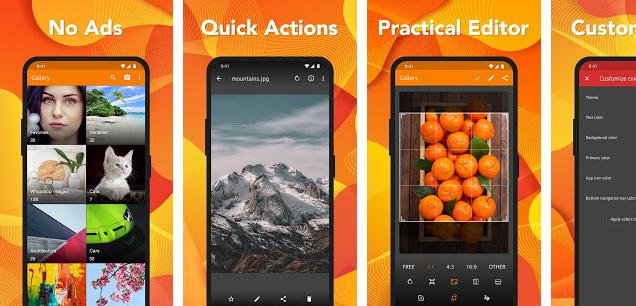 SGA is a small and feature-packed gallery application developed and maintained by Simple Mobile Tools. SGA has a modern UI, which gives a refreshing look to your device. It is fast as well. The app has the option to hide pictures/videos in the album. By default, the application will change the file/folder name and prevent it from appearing in the gallery. You can enable password protection from the settings interface. SGA supports two views – the grid and the list. It allows you to change the number of columns a grid should display. SGA can play videos in a folder/album automatically. It lets you control the video's brightness/volume with vertical gestures. If the folder has GIF files, SGA will animate the file. You can disable this feature from the app's settings panel. The Simple Gallery app for Android includes a "recycle bin" utility.
A+ Gallery Photos and videos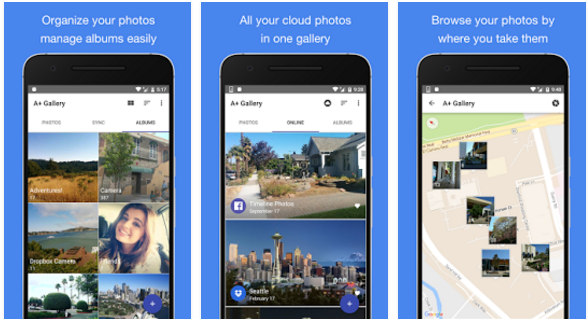 A+ is a top-rated Android gallery application that requires permission to access files and pictures saved on the storage memory. When you enable this permission, A+ will open its main interface. This interface displays the following three tabs:
Photos: Here, you'll find a list of thumbnails grouped by date. The interface enables users to scroll down and view older images.
Online: With this interface, you can sync your pictures with cloud storage providers like Dropbox, Amazon Cloud, or your Facebook album.
Albums: Here, users will find pictures grouped by their folders. A+ Gallery allows users to:
Update the album with new pictures or mark it as a favorite
Hide, rename or delete the album or create its backup copy.
Users must long-press on an album to access the above functions. The A+ Android gallery app allows you to see the pictures in a list or a grid. It can sort the images and albums by their name or date in ascending or descending order. By default, the A+ gallery app uses the dark theme. You can change the theme from the settings panel of the application.
Pros:
Fast, lightweight 3.9 MP APK size.
Processor and RAM friendly.
Essential features i.e. scroll, scan pictures.
Cons:
Only three free color themes.
Piktures Gallery App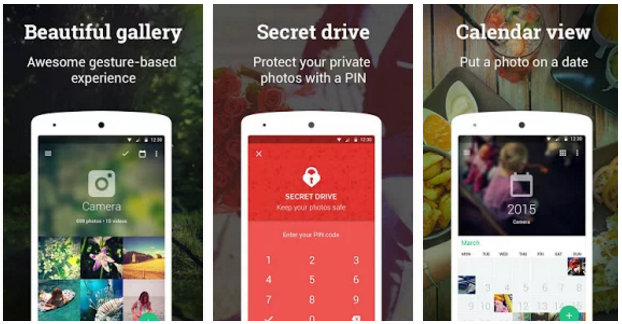 Piktures is a powerful Android gallery application that offers a great user experience. It has a stunning UI. The app shows small thumbnails of all images saved on your mobile phone in its main interface. It supports calendar view mode that lets users recollect the good old memories they've captured with the smartphone's camera. Piktures provides a location filter that allows users to filter pictures by cities they've visited. The app displays local albums when you swipe on the right side of the screen. It supports cloud syncing. Piktures gives users access to a secret drive/folder to store private pictures or videos. As in Android app lock tools, you can lock the secret folder with a PIN in the Piktures app. Other features offered by the app are as follows:
Slideshow preview of images.
Filter and sort function.
Option to hide the album, change its grid size, and define a sort method.
Link album to the home screen.
Enable or disable album cover or parallax effect in it.
Define maximum brightness for a video.
And more.
Pros:
User-friendly.
Beautiful and responsive interface.
Plenty of options.
Debugging mode.
Cloud support.
Cons:
Check: Best Android 3D launcher
Foto Gallery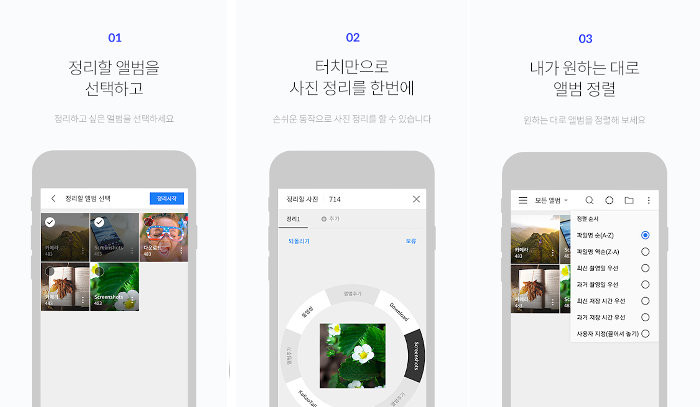 Foto is a lightweight gallery app for Android phones and tablets developed by Gion Labs. Its size is around 6 megabytes. Foto requires permission to read/write photos and videos. The app supports two color themes – dark and light. You can configure it to display 3 or 2 thumbnails in a row. If you don't want to see the thumbnails, you can switch to the list view in the Foto app. Foto allows you to organize albums. It provides sort and search options. The app includes a "Gallery Optimization" tool that can fix duplicate albums and the phone's corrupted/broken images error. Foto supports around 20 languages. It has a built-in video player utility and an image editing tool. Foto allows you to see the slideshow of pictures. You can tag images/videos and move albums from the ROM to the MicroSD card with it.
Photo Gallery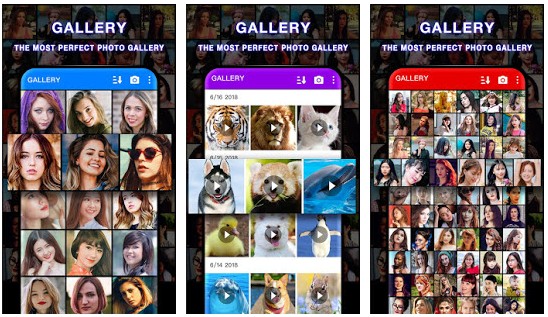 PG lets you filter media files by their type i.e. GIF, Videos, RAW format pictures, and Images. It allows you to change view type from the grid to list and sort files by their path, creation date, last modified date, name, etc. Photo Gallery supports UI color customization. The app offers a color picker tool in its customizer interface instead of displaying 3, 4 colors and includes an option to upgrade the app to unlock more colors. Because of the color picker utility, you can make the app look as per your requirements without paying a dime. You can configure the Photo Gallery app for Android phones to display hidden media files, autoplay videos, display GIF animation when you're browsing the thumbnails, or increase the screen brightness to maximum when you are viewing the photo in full-screen mode. The PG app's size is 4.8 megabytes.
Alternatives to Google photos and other apps I've covered above:
Also read: Best Android News apps
Final thoughts: If you don't like the existing gallery app on your Android mobile phone or tablet, download one of the applications I have shared above and say goodbye to old features.