Dropbox is a powerful cloud storage service. It offers free 2.0 GB cloud storage memory to the customers. With this application, you can backup your videos, photos, application APK files, and more. Dropbox provides an intuitive dashboard that allows you to manage files. The panel provides an option to upload, delete files or group them into folders.
Dropbox is easy to get started with and has an APK size of 48 megabytes. It lets users share large files with a person of any geographic location. The recipient doesn't have to install Dropbox on his PC or phone to access or download the shared files. Dropbox has an automatic backup option which ensures that the important stuff on your mobile phone is uploaded to the cloud drive automatically.
If you edit any file, Dropbox will replace the file it has stored with its newer version. Although Dropbox isn't a bad application, it offers 2.0 GB free cloud storage memory. Once you reach the free upload limit, you'll have to either upgrade to the premium version of Dropbox or use its below alternatives:
Best Dropbox alternative cloud storage apps
Google Drive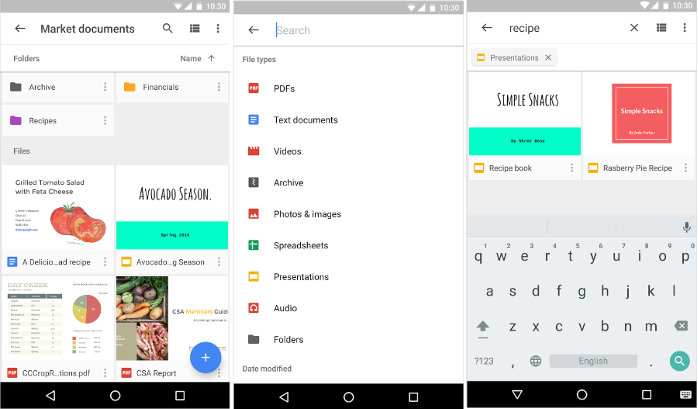 Unlike Dropbox, Google's cloud storage app aka GDrive offers 15GB storage space to the users. Because of the enormous free space it offers, GDrive has registered a billion downloads on the Google Play Store. Dropbox has 500 Mn users.
Once you register an account with Google Drive, you can access all your files from any device or computer. You can also share the uploaded documents, photos, and other files with other users.
The best thing about this app is that if you have already connected your Google account to your Android device, GDrive will not prompt you to enter the login details again. It will log you in automatically.
The Dropbox alternative has a robust interface and it supports Google Photo service. It allows users to make the uploaded files available for offline use and comment on shared files. It has a search utility that you can use to locate a file quickly.
Also read: Best Android Office apps
Microsoft One Drive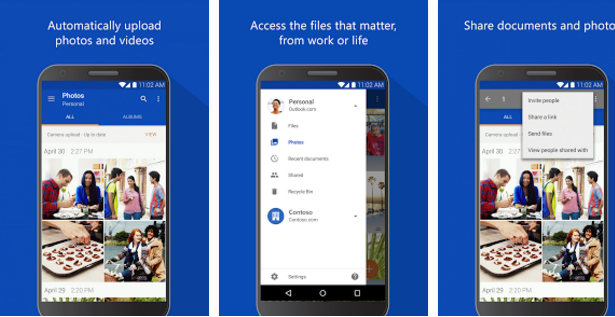 If you use services such as MS Office, PowerPoint, Excel on a daily basis, then you'll love the free OneDrive application from Microsoft Corporation. MS-OD is deeply integrated with important Microsoft web services.
Microsoft's OneDrive cloud storage app is robust and intuitive. Once you sync your important files to OneDrive, Microsoft's cloud service ensures that it is available all the time.
MS OneDrive tags your photos automatically to ensure that the user doesn't have to spend several minutes finding them. It allows users to access their documents offline. When a shared document is edited by any other user, MS-OD will let you know about the changes.
MS offers 5GB free storage on its OneDrive cloud platform. It lets you create photo albums and provides an option to share the album with friends.
Also see: Best Android file manager apps
Box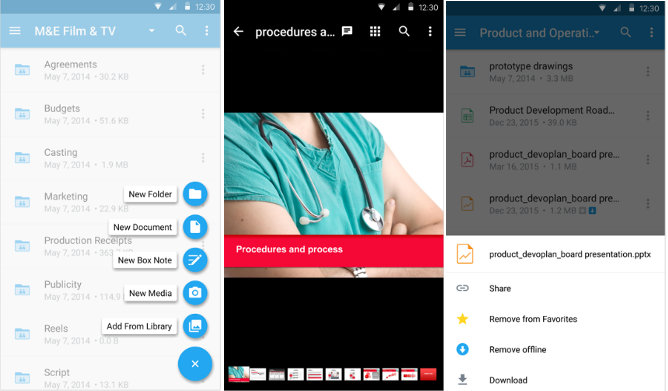 Although Box doesn't have as many users as Google Drive, OneDrive or Dropbox, the firm is trusted by over 1 million users. Hence, it is a great alternative to the 3 cloud storage services I've shared above.
Box supports over 190 file formats. It lets you preview the HD image files you upload. The cloud storage platform lets its user upload files until the used storage space reaches up to 10GB.
Box can generate shareable links. You can use this feature to share files with friends. The app allows you to manage the security of files you have uploaded to its server. It supports offline file sharing and has the option to print files on the go.
The free cloud storage app enables users to comment on their files. It also allows users of third-party services to do the same. It is one of the top-rated free cloud storage apps like Dropbox.
Must see: Best Android backup apps
Yandex.Disk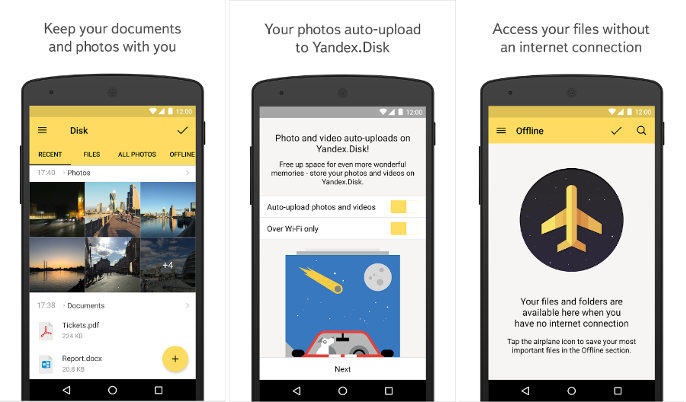 Yandex is an internet company owned by the firm behind several popular web services in Russia. It had launched the cloud storage service Yandex Disk in April 2012. Its app, which users can download for free has within 500k to 1 million users and a good rating of 4.5.
YD offers 20GB free cloud storage space to all users. Yandex claims that your files will stay safe even if they are synced periodically to its servers. Like Dropbox and other providers, Yandex lets users share files with links. For premium users, Yandex offers storage space up to 1TB. YD is one of the best apps like Dropbox.
Conclusion: Low budget and mid-range Android mobile phones/tablets and iPhones have 4GB to 32GB storage space. In case your phone doesn't have enough room for new storing new files, download and use one of the above top cloud storage apps on your iPhone/iPad or Android device. The apps are free. You can use them as long as you want.