Ever since Uber, the taxi booking and ride-sharing application surfaced on the Google Play Store, several companies followed the suit and launched their Uber-like apps on the Play Store and iTunes
These applications have similar fare as Uber. They also provide good experience. Frankly speaking, Uber isn't a bad app. But as its several competitors exist in the markets, people love to check the cost of traveling from one location before booking a ride on Uber. People do so to save money.
Google Play Store and iTunes have a listing of over 100 ride-sharing and taxi booking apps. The top applications like Uber are as follows:
Best ride-sharing apps to book a taxi online
LYFT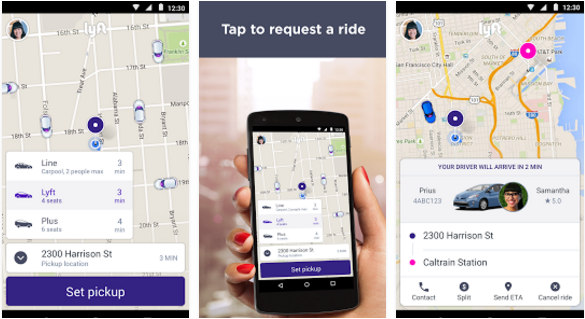 Lyft is one of the top competitors of Uber in the United States. To make sure that the passengers don't get hurt by rash driving, robbed, or molested, LYFT hires drivers only after testing their driving skills. The company also checks the background of employees.
Lyft allows you to rate the car driver. Hence, you can easily find a driver with the highest ratings and get in touch with him or her quickly. Lyft lets users share the cab with other passengers. Once a new passenger gets on board the car, you can split the charges.
LYFT has an easy to use interface. As over a million people use this app every day, it is possible to find a taxi quickly and travel for cheap. The app supports over 199 US cities. It lets you schedule rides.
Also see: Best Android SMS apps
BlaBlaCar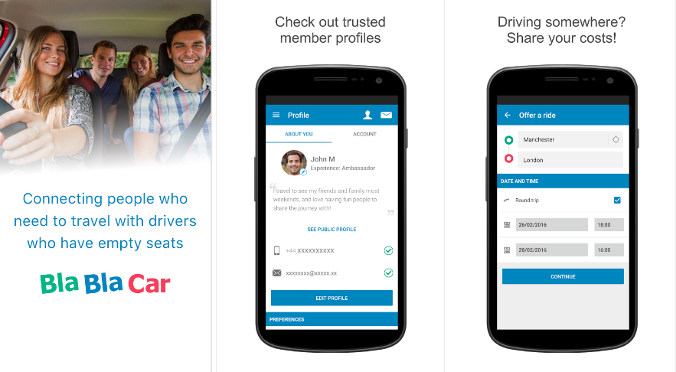 BlaBlaCar is one of the largest ride-sharing services in the world. It has a presence in up to 25 countries. It was founded in 2006 and has 24.9 million users. People use BlaBlaCar to travel from one city to another.
The great thing about this platform is that it allows passengers that are traveling to the same destination to share the Taxi. Hence, traveling to a distant location gets cheaper. Thus, BlaBlaCar is a great alternative to trains and buses.
BlaBlaCar enables users to check the profiles of the drivers. It doesn't let drivers register an account unless they submit their Government-issued ID. The free application provides messaging feature so that you can quickly get in touch with fellow passengers or your driver. It is available in many European and Asian countries. E.g. United Kingdom, France, etc.
Ola Cabs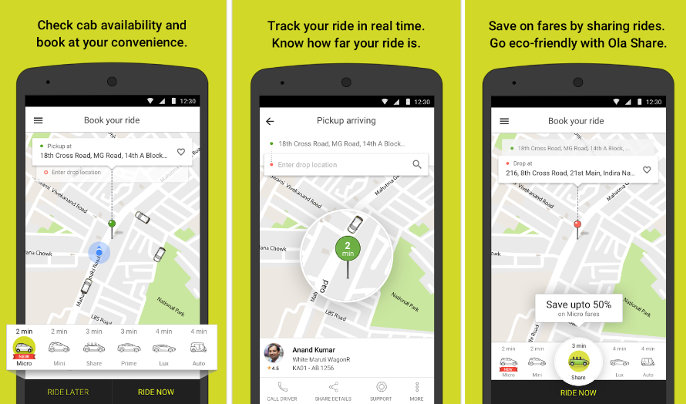 If you're traveling to India, Australia, New Zeland, UK, make sure that you install Ola on your mobile phone. Ola is the best taxi app like Uber for traveling from one place to another. It is ideal for short as well as long journeys.
Ola cabs bought TaxiForSure in 2015 and became the most dominant player in the taxi sharing industry. It enables users to find drivers in over 95 cities. It lets them get in touch with over 250K drivers.
Once you install Ola cabs and book a taxi, the app makes you aware of the taxi location in real-time. Ola supports mobile wallet payment. It offers four types of taxis as per your budget.
Must read: Best navigation apps
Grab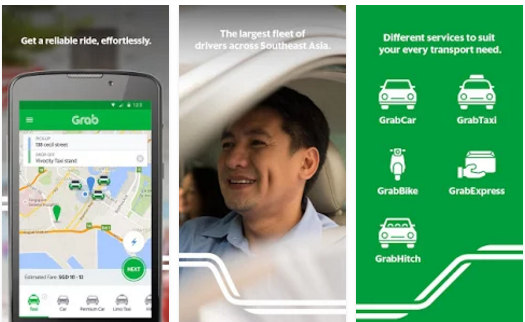 GrabTaxi is one of the major players in South East Asia. It features a massive listing of 75K drivers and has a user base of up to 4 million.
GrabTaxi allows you to book cheap or premium/luxury cabs. To ensure the safety of its passengers, GT verifies the driver's identity before taking them on board as drivers. It also lets you track the current location of the taxi in real-time. GrabTaxi offers its online taxi booking service in the following countries:
Indonesia, Philipines, Vietnam.
Malaysia, Thailand, Singapore, etc.
Must read: Best travel planning apps
inDriver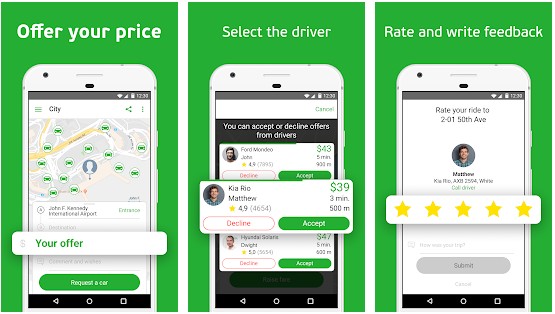 inDriver is a top-rated taxi app that operates in over 399 cities. Unlike other ride-sharing or taxi booking services that have a fixed rate for each kilometer you travel, you can set your price and negotiate the same with the drivers in inDriver.
The app enables you to go through the previous trips and check the location of a taxi in real-time. It lets users store their credit or debit card details securely.
inDriver lets riders see the details of the driver and his vehicle. It enables you to share your live location with friends on social networking services or via text messages. inDriver was launched in 2013. It is growing in popularity each day.
Conclusion: Ola, Lyft, Grab, BlaBlaCar, and inDriver are the most used and liked taxi applications. Use them and cut down expenses while traveling.