Below, I've shared apps that most women and teenage girls will find helpful. My list includes the top applications in these categories – health, entertainment, safety, and more. Girls and women have different requirements than guys. I have compiled the list of best apps for teenage girls, keeping this in mind. 99.9% of the women will find the apps I've covered in this article beneficial.
Best apps for women and girls
Hairstyling
Like many other young girls/women, you may like to try out new hairstyles and hair colors. Hairstylists, being in the industry for several years, have a good imagination. They are probably the best people to suggest a haircut. Unfortunately, hairstylists may charge hefty fees for styling your hair. If you want to save your hard-earned money or pocket money by avoiding expensive parlors, download and use one of these best hairstyling apps. The apps make you aware of unique and exotic hairstyles. They provide step-by-step guides that you can follow to give your hair a new look without spending a dime.
iTriage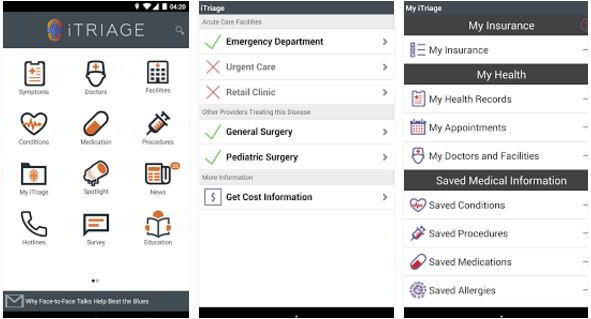 A teenage girl's body may undergo various changes. You can use iTriage, the best symptom checker application to understand the changes. Scholars at the prestigious Harvard University reviewed articles and tips you'll find in iTriage. iTriage is easy to use. On its interface, you'll see the following options:
Symptoms, doctors, facilities.
Conditions, Medications, Procedures.
Spotlight, News, hotlines, education.
Tap on any of the above options to start using the app. iTriage is one of the best apps for girls and women.
Also see: Best online shopping apps
Life 360 Family Locator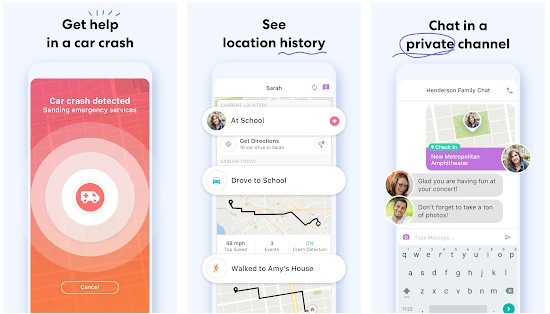 Life360 is currently the best personal safety application for mobile devices. It allows users to create private circles/groups. The circle offers two essential features:
Tracking: Only you and members added by you can see the location of each other on Google Map.
Chatting: Life360 lets users chat with their relatives in real-time. This feature is useful when you're out of the house, and you're unable to call your parents and tell them you'll be arriving late.
Unlike SOS apps that send alert messages only when you tap a button, Life360 automatically makes the group members aware that you have reached the destination or have left the source. Apart from tracking the user's location, you can use Life360 to find a lost phone, see the location history, etc.
Ride-sharing/Taxi
Don't want to commute alone? Feel uncomfortable traveling with your colleagues? Missed the office bus/cab? Download one of these taxi booking apps. Are the apps safe? Yes, companies that offer taxi booking services check the drivers' backgrounds before onboarding them. Drivers are also asked to register themselves with the local authorities. Most importantly, if you use this app, you can see the driver's profile before booking a ride. Companies such as Uber and Lyft have a vast fleet of drivers. Thus, whether it's daytime or night, you'll always find a driver ready to pick up or drop you at a location of your choice.
Cooking
To become an expert cook like master chefs of top hotels, download one of these best recipe apps. Why use an app? Well, most girls learn cooking food from their mom and other relatives. The dishes they know are limited and are eaten daily. To learn to cook various food, you'll have to enroll yourself in a paid cooking class near you. Why spend money when you can get free access to 1000s of incredible recipes on an app? The recipe applications display a list of ingredients required to prepare a dish. It will show step-by-step instructions for preparing a dish. Recipes that you'll find in these applications are tested or compiled/published by world-class chefs.
Period Tracking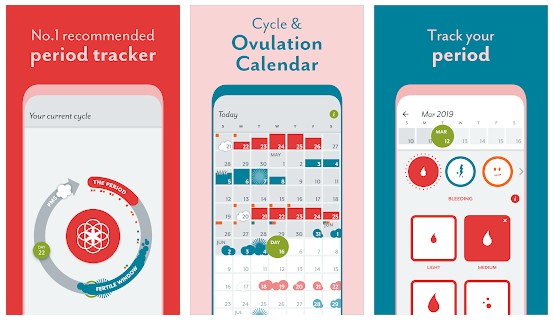 Instead of remembering dates, use Clue, the best period tracker app. Clue enables you to set pill reminders. It also lets you track your mood, weight, pain, menstrual flow, etc. Once you use the app for a month, it will make you aware of the start and end date of your next period so that you can buy sanitary pads, cups or doctor prescribed medicine beforehand.
Music
Life is incomplete and uninteresting without music. If you agree with this statement, download one of these best music streaming apps. The applications will let you play or download your favorite tracks in HD or SD audio quality. They work on Android or iOS devices. They let you listen to country, rock, hip-hop, rap, classical, metal, and many other genres of music. The applications also allow you to create/manage playlists for free.
Social networking
Facebook: The world's biggest social network, Facebook, will keep you in touch with your buddies. FB lets you chat with friends, join groups, and like pages of your favorite actor, actress, sports personality, politician. If you don't want to miss the latest updates from the people you know, download Facebook on your device.
Instagram: Want to have fans? Install Instagram on your mobile. If you're a model or an aspiring model, Instagram can get you many fans. All you have to do is post attractive selfies and pictures. Instagram lets users hide their images from other users. It allows you to comment on the photos uploaded by other users.
When you're traveling alone, you may want to avoid roads that don't have traffic or buildings nearby. To find such routes, you must use a GPS navigation app. The applications are powered by GPS technology. They display the traffic on the road. They let you see what things are nearby the road and the areas the road connects.
Reminders
Sometimes we plan to complete some work on the following day but forget to do so. Forgetting things can make life complicated. For example, if your husband or son had asked you to cook something and you fail to buy the required ingredients, you'll have to re-visit the store to buy the ingredients. If the store is far away from your home, you'll not only waste time, but you'll also lose some money (gasoline or traveling cost). The best reminder apps will make the life of women easier by reminding them of scheduled tasks.