Top 10 Best Android Wear OS Apps
Wear OS is a toned-down version of the Android operating system. It powers 1+ million smartwatches. Although Wear OS belongs to the family of Android OS and supports APK format files, you should install the apps designed for it. If you don't do so, the OS or the application might crash.
Once you buy a smartwatch, the first thing you should do is install apps that will keep you connected with the online world and improve your productivity.
Here's the list of top Wear OS applications you can install on your Android smartwatch:
Best apps for Wear OS
CityMapper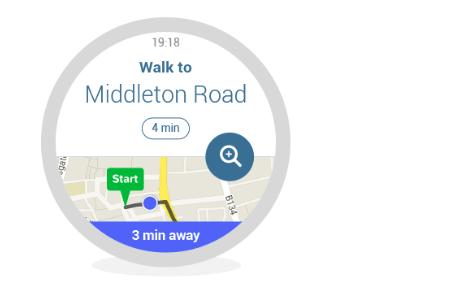 CityMapper is an award-winning application that allows users to find restaurants, bus, metro and railway stations near them. It gives users access to a detailed map of over 100 cities.
Like other top navigation apps, CityMapper can display the shortest route between two places. Hence, if you don't want to travel in a vehicle or transport facility, you can follow the route suggested by CM. The app can save the map to the storage memory of the smartwatch.
Apart from maps, CM displays the arrival and departure time of local transit facilities. CityMapper is fast and lightweight.
Download CityMapper
Facer Watch Faces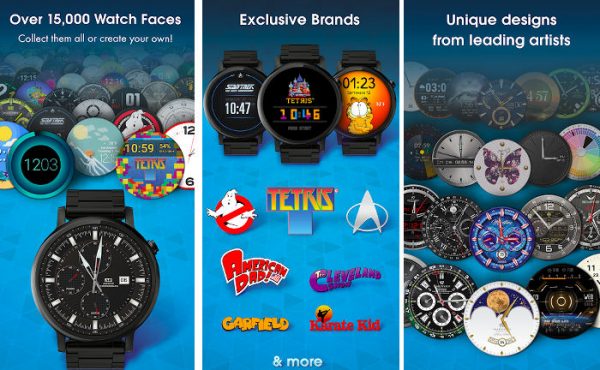 Facer is a tiny app that gives you access to 10000+ watch faces. It enables you to download watch faces and customize its colors, fonts, etc. It lets users change the layout of the date, time, etc. The app displays eye-soothing animations when you install and apply one of its themes.
Facer provides a DIY tool with which you can design your own watch faces. Once you create a WF, you can share it with other users of this application. Facer supports smartwatches that have a round, rectangular or square display.
Download Facer
Must see: Best food ordering apps
Strava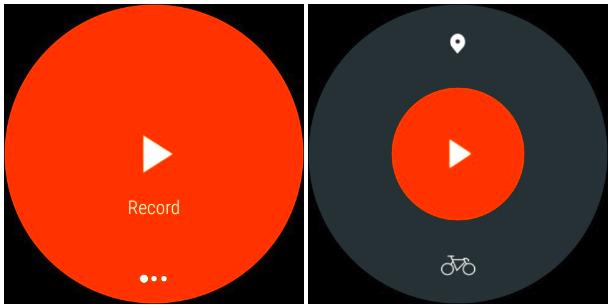 Strava is a fitness tracker application with many features. It tracks your steps, speed, etc. It also monitors your heartbeat and marks the route you take on a map.
Strava runs in the background and monitors your activities in real-time. It has the "Training Challenges" feature that allows users to test their limits. It syncs the user's fitness data to the Strava servers. To see your health report, you can either log in to the Strava website or Android/IOS app.
Download Strava
IFTT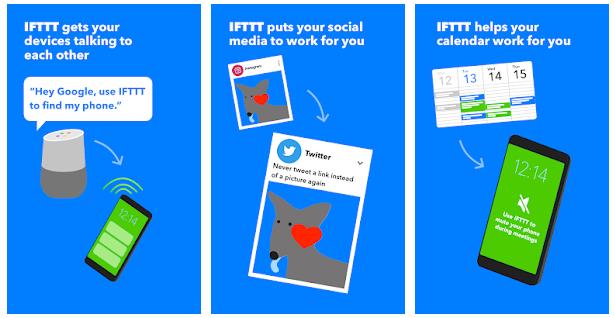 IFTT is one of the most powerful Android tools right now. It is a small utility that allows you to automate things with "Applets". IFTT supports 500+ service and popular smart devices such as Amazon Alexa, Google Home, etc. You can configure it to display weather, missed call, SMS, email notifications on the Wear OS powered device.
IFTT enables users to explore the Applets built by other users. Hence, if you are unable to create an Applet, you can refer to the Applets created by other users of IFTT to get inspiration or learn IFTT.
Also see: Best Note Taking Apps for Android
Photo Wear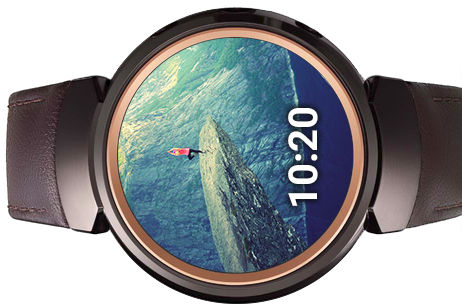 PW is an app with which you can set your favorite gallery or Instagram photos as the background image of your wearable device's display.
PW lets you crop pictures. It also allows you to apply filters to the images. It changes the photos at random intervals. The free version of PW supports 9 images. It doesn't sync pictures from Instagram automatically.
Download Photo Wear
Uber
Uber is the most popular taxi booking app. It allows you to book taxis with your smartwatch even if you're not carrying the phone. The application uses the GPS service of the wearable device to locate the, calculate fares, etc.
Although the display of wearable devices is tiny, Uber's smart interface makes it easy to specify the destination/place where you want to travel. Uber allows you to see the details of the driver. It displays the driver's ETA and your current location when you're in the taxi.
Download Uber
Also read: Best GPS Navigation apps for Android and iPhone
Google Pay
Want to save time on offline shopping? Use Google Pay. GP remembers your credit and debit cards so that you check out quickly in your favorite store. Google Play supports NFC technology. It doesn't WiFi or Bluetooth technology on a smartwatch.
Download Google Pay
Google Keep
Google Keep is a free app through which users can create notes and to-do lists. It is easy to use, lightweight and powerful. Users can tag notes and set reminders in GK. They can insert audio recordings, images in the notes.
Google Keep can extract text from images. It enables you to share the note/list with other users. Once the task is over, you can archive the to-do list or note with Google Keep.
Users can pin notes. They can also search for notes by name in GK. You can use this Google application to remind you to take pills, go out for a walk, bring kids from the school, wake you up in the morning, etc.
Download Google Keep
Google Play Music
GPM is one of the top music streaming services in the world. It allows you to control the music played on the phone with the smartwatch.
GPM enables users to select albums or radio stations they want to listen to. It displays the track name on the display of the wearable device. It makes users aware of the next track in the queue. Users of the Play Music application can save the currently played track to their Android device. Hence, they can listen to their favorite songs offline. GPM provides an option to shuffle songs in the playlist.
Download Play Music
Must check: Top 5 Best free MP3 Download apps
Google Fit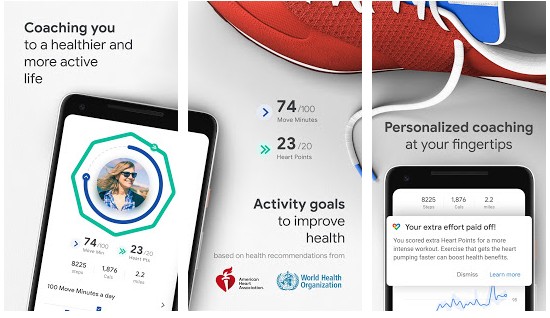 Fit is a free app that has been designed to keep the Android Wear users fit. It suggests health tips, tracks your workout while you're exercising, records the number of steps you've walked, etc. Google Fit allows you to set health goals and helps you achieve them.
Fit can sync your data with other third-party health services. It can import data from third-party sleeping apps. GF is a cross-platform app. Thus, uou can see your health data on Android or an IOS device that you own.
Download Google Fit
In addition to Google Fit/Pay/Play Music/Keep, CityMapper, Facer, Uber,  Photo Wear, you should use Tinder and Polaris office on your Android Wear device if you're interested in dating or want to access documents. For more details on Tinder & Polaris, please go through our best Android dating apps and the best Android office apps articles.
Conclusion: Uber, Google Keep, Play Music, Google Pay, Fit, Facer, Strava, Photo Wear, and IFTT are the 10 best Wear OS apps.