Tracking daily spendings or expenses and planning a household budget can prevent financial problems. People can save money only if they track expenses and find a way to save money on bills, fees, rent, etc. Smart people know how to keep the family happy and save money simultaneously. To cut down on expenses, they buy the entire month's groceries from Walmart, Amazon, or other stores offering discounts. These people use credit cards at gas stations, online retail stores, etc. The bank rewards the users with free points. Users can use the free points to get free movie tickets, special discounts at restaurants, etc. Budget tracking helps in many ways. If you plan expenses wisely, you could save a large sum of money by the end of the year. One good way to track expenses and save money is to use one of the below mentioned best budget apps on Android phones or tablets.
Best Android budget app to track expenses
AndroMoney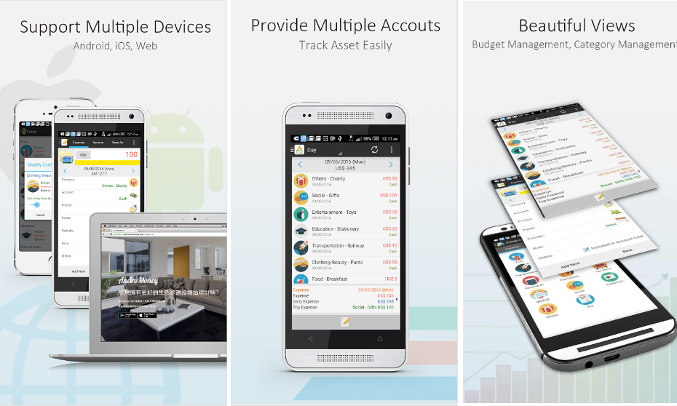 AndroMoney is a free financial planning app for Android that has an excellent rating of 4.7 on the Google Play Store. Over a million people have installed it so far. The application's APK size is 9 megabytes. On startup, AM shows a brief overview of what features it offers. To enter the main screen, the user must tap on the back button (on the top menu bar). The main interface shows a beautiful UI with the option to add a new expense. Once you tap on the Next button, you'll see a calculator module along with options to select the following:
Expense category, account, project
Expense payee, note, status.
The Account is nothing but the payment mode i.e. cash, credit, or bank. AndroMoney detects your country automatically and sets currency accordingly. The user can add as many expenses as he wants. Apart from expenses, AM lets you track your income and money transfers. AndroMoney shows calendar-wise or day-wise spendings. It has a filter module to shortlist expenses belonging to a specific category, project, payee, etc. It has a smart budget calculator and reporting section, with which you can see a pie, bar, or trend chart of daily spendings or income. AM can back up your data automatically.
Must read: Best recipe apps for Android and iOS
Money Manager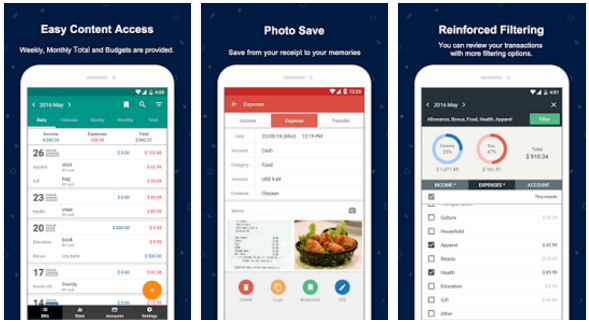 Money Manager is a lightweight app with one million registered users and a great UI. The app flaunts its important functions on the main window. Hence, budget tracking becomes an easy task for new users. To get started with Money Manager, tap on the plus sign icon, and enter your expense. While entering the expense, the app asks you to enter the date, amount, category, amount, and account type. On the same interface, you'll also see the option to enter income details or money you've transferred from your account. Money Manager displays the information you enter into the modules mentioned above on the home interface. It features a tabbed interface that lets users see their daily, calendar, weekly, monthly expenses, and total expenses to date. MM has a beautiful settings panel where you'll find options to manage:
Configuration, accounts.
Backups, access money manager on PC.
Change the UI color theme.
The Money Manager budget app for Android lets you set a passcode to prevent other users of your phone from accessing your financial details.
GoodBudget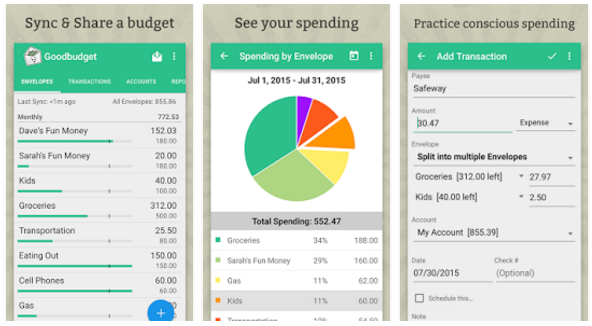 GoodBudget is a popular envelope budgeting app for Android. It is the smallest application on our list with an APK size of below 4 megabytes. GB stores your information on its server through a secure channel encrypted with a 256 bits algorithm. Once you run GoodBudget on your device, you'll see an option to log in to the app or create a new account. Before the app registers your a/c, it prompts you to enter the following information:
Monthly expenses for groceries, gas.
Savings per month.
Monthly income.
After you enter the above information, tap the next button. Now, enter the email address and a strong password. Once your a/c is activated, you can start entering your expenses, bills, and other financial transactions. GoodBudget generates real-time reports of your spendings. It lets you sync information across multiple devices and allows users to track account balance, expense, budget envelopes throughout the day.
Mobills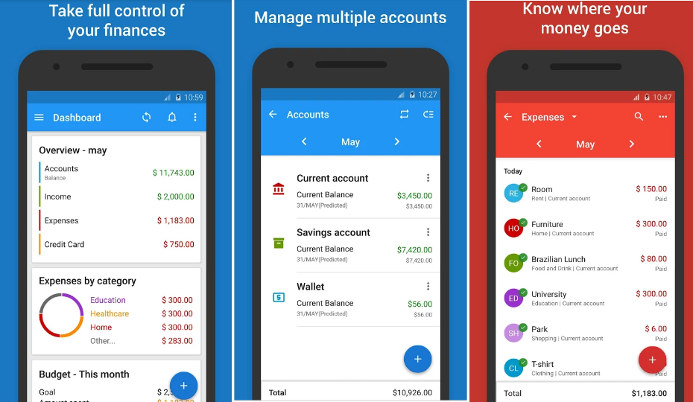 Mobills is an online Android expense tracker app that displays its users' daily, monthly, quarterly, or overall expenses on one interface. It lets you set money-saving goals and allows you to see various financial reports, including the monthly statement of your expenses. The app has the option to add proof of expense in the form of a file or image, and it allows you to set due dates for bills. It sends alert emails to users when their bill reaches the due date. Mobills enables users to see credit card transactions. It has various filters and many powerful tools.
Also see: Best note-taking apps for Android
Expense IQ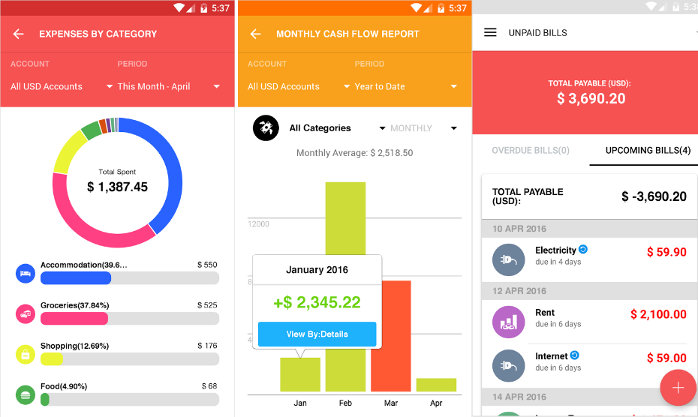 Expense IQ is an award-winning Android budget app. It gives users the freedom to manage every important thing related to their budget. Expense IQ functions as an excellent bill reminder system. It has a powerful reporting tool that gives you a clear picture of your spendings. The app supports the cloud sync feature. Hence, you can access your financial information on devices other than your Android phone or tablet. Expense IQ prompts users to enter their preferred currency and language on startup. The application also requests the user to enter a time so that it can alert them to enter the expenses for the day. EIQ supports widgets and ships with three color themes.
GnuCash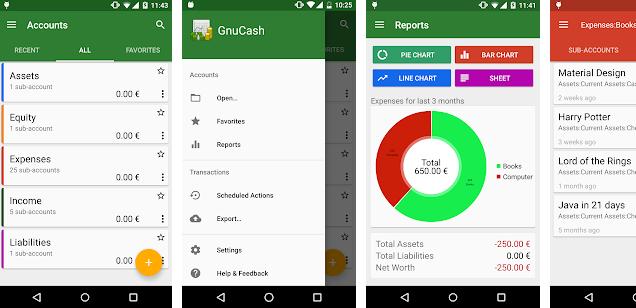 GnuCash is an open-source application. It is popular among Linux users and is growing in popularity among Android operating system users. GnuCash comes with pre-created categories. All you have to do is tap on the category and enter the expense for the given day. If you're switching to GnuCash or have saved expenses to a spreadsheet, you can enter the past expenses in this expense tracking app. GnuCash can generate and display various types of reports. I've been using GnuCash to track my spendings since 2013. The application has never disappointed me, nor have I felt the need to switch to another expense tracker.
The 6 Android budget apps I have shared above have important features and tools. If you know of any other high-quality, widely used app other than the ones mentioned above, please let me know.