If you don't want to be stranded in a foreign country, you must use a travel planning app. Confused? Let's have a look at the example of a traveler named John. John has booked an international tour package online. To board the flight, John reaches the airport. He's asked to present the tickets at the ticket counter. The airline had sent a copy of the tickets to John's inbox. John enables mobile data connection. Then, he opens the email client application to show the ticket confirmation email. John is given a clean chit to board the flight.
John reaches the destination, a foreign country where English is not the official language. He knows that the taxi drivers in a foreign country may take a longer route intentionally to make more money. Before booking a taxi, he opens the navigation app to find the shortest directions to the hotel. Although John is brilliant, he assumed that his mobile service provider supports international roaming. Unfortunately, the mobile operator doesn't recognize John's Sim card. John is now stranded.
Benefits of using a trip planner app:
Discovering new places: The most significant advantage of using a trip planning application is that you can read the review of places you're planning to visit. You can also get directions to the destination with the app.
Discounts: Restaurants and hotels companies hike their tariffs during the holiday season. If you book hotels one or two months before checking in, you'll enjoy a good discount. Also, booking a flight in advance can save you 100s of dollars.
All tickets in one place: The apps can analyze your emails and display the tickets you've booked recently in a single window.
Offline: Some travel planning apps can save your tickets and directions on the phone. Hence, you can use them in offline mode.
Best trip planning apps for Android and iPhone
Google Trips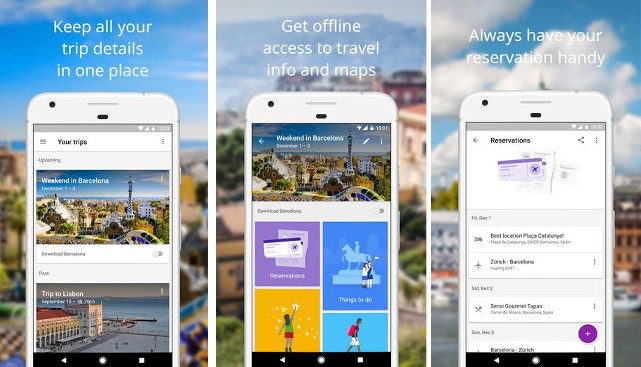 Google Trips is powered by two Google services – Maps and Places. It is one of the top travel planning apps on the Play Store. GT scans your Gmail inbox and displays the tickets you have booked recently. It also shows the locations you've saved on Google Maps. Google Trips can save maps and directions on your phone. It allows you to find the best deals on flights, hotels, restaurants, etc.
Google Trips scans your location and displays a list of the coolest places near your current location. It allows you to share your reservation details with other users. You can bookmark places in Google Trips. You can also create a list of places with this application. You must sign in to the app with your Google account to use Google Trips. GT is one of the best travel planning apps.
Must see: Best Android speedometer apps
Tripit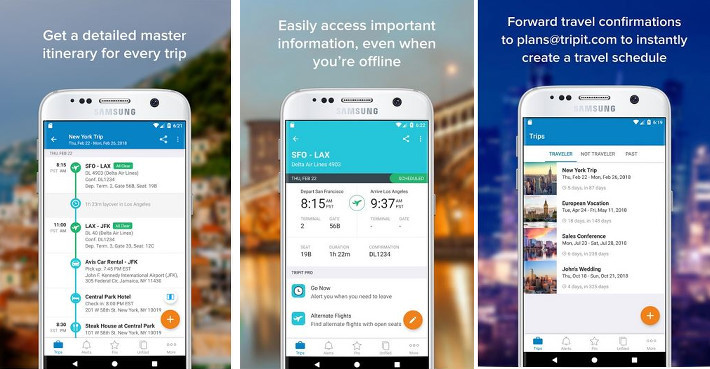 Tripit is a powerful trip planner app. Its interface is divided into three sections – Traveller, Not Travelled, Past. The Traveller section displays a list of upcoming trips. The 2nd section boasts trips you're planning for the future. Tripit won't delete the journey from its database when you've completed a journey. In the Past section of the app, you'll find the completed trips. To use Tripit, the user must forward the flight, train, booking ticket to a particular email address. Users can also link their email account with Tripit. Once the user forwards the email or links their account, Tripit will analyze the email. Then, it will create a robust itinerary.
Tripit allows you to add a new plan to an existing trip. It also lets users merge trips. It enables you to discover the famous tourist locations in the place where your train, bus, or flight will stop. Tripit allows you to share the itinerary with other users. Users can sign in to Tripit with their Google, Facebook, or Yahoo account. Tripit is a cross-platform service. You can access your trips and plans on devices that support internet connectivity.
Tripit is available in two versions – free and pro. Its Pro version provides the following features:
Flight status alerts, check-in reminders.
Seat tracker, refund monitoring, trip sharing, etc.
Also see: Best food ordering apps
TripAdvisor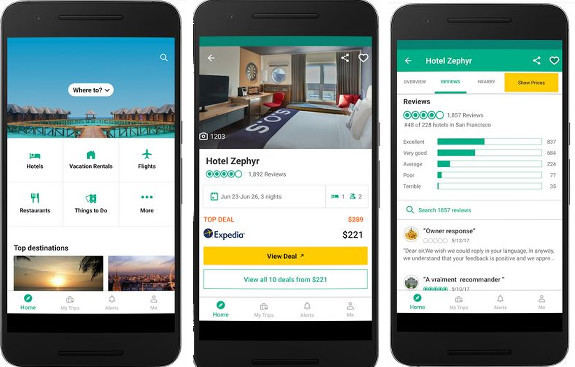 TripAdvisor is the most popular travel planner app. It has 10+ million users. TripAdvisor scans 190+ hotel websites and displays a list of websites with the lowest fares. It allows you to read reviews of business places and lets you find the best places to visit nearby you.
TripAdvisor features a forum section where you can discuss your favorite topics. The app maintains a list of businesses or tourist locations you've recently viewed. It also allows you to bookmark locations. TripAdvisor provides an option to add new trips. While creating a trip, you can add places, restaurants you might visit.
Must read: Best ride-sharing apps
TripCase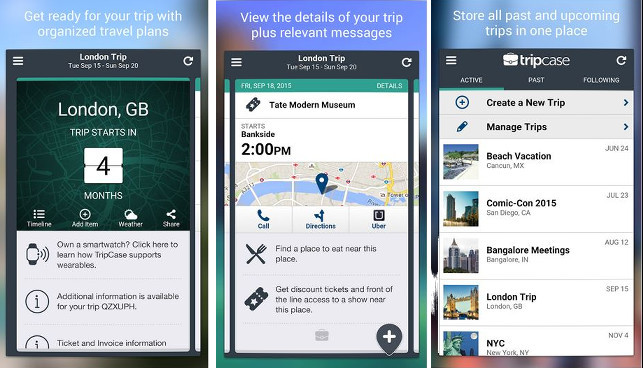 TripCase is a cross-platform trip organizer app with a user base of 1 million. To add trips in the TripCase app, users must send confirmation emails to [email protected]. The app will analyze the forwarded emails. Then, it will display the trips in one of its following three sections:
TripCase features a contact section. Enter their first name, last name, and email address to invite people to the trip. TripCase will send alert emails to the inbox of contacts you've added. It can automatically merge trips that are scheduled on the same day. TC supports 9 languages.
Also check: Best weather apps
Sygic Trip Planner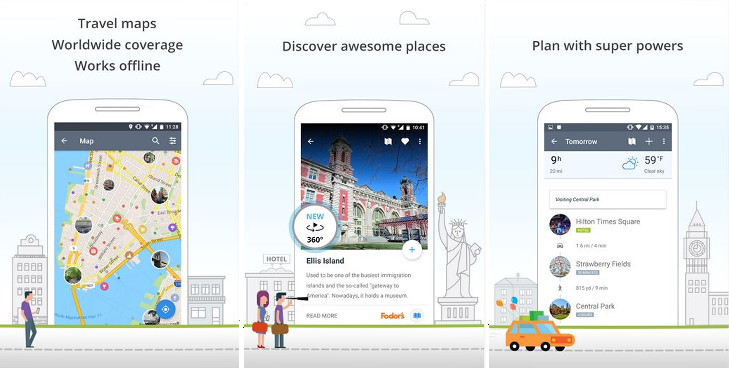 The Sygic Trip Planner app has 500K users. It has an intuitive user interface and brilliant features. The app prompts users to enter the name of the place they want to travel to. Once the user enters the destination, Sygic recommends the top sites, hotels, restaurants, gas stations, hospitals, ATMs, etc. Sygic allows you to find a place by its name. If the place is a popular tourist attraction, you can read its details on Wikipedia.
Sygic allows you to book tours and hotels. Before booking a room, you can check its daily tariff. You can also read the review of the hotel with Sygic. The app lets users filter hotels by their name, rating, price, rooms, etc. Sygic is a great application. You can use its trip planner feature for 7 days. If you want to plan trips far in advance, you must buy the app.