A presentation, aka slideshow, comprises 1 or several slides. The slides may have images, paragraphs, or both. Although presentations are short, they give a clear idea of the bigger picture. For example, it can explain 60 to 70% of the project or a task within a few minutes.
Slideshows are not only used by professionals but they are also created for various other reasons i.e. fun, sharing a memory with other users, etc. If you want to create a new professional/video/photo slideshow, use the following applications on your Android or iOS device (iPad/iPhone).
Best slideshow apps for Android and iOS
Microsoft PowerPoint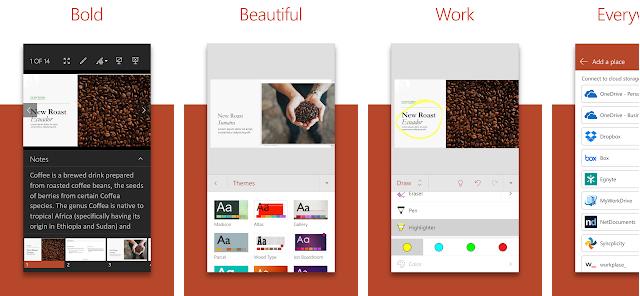 PowerPoint is one of the most important tools of the Microsoft Office Suite. It offers many features, several templates and has over a billion users. PowerPoint lets you create presentations offline and share the same with the people you know online. Before sharing the slideshow, you must configure the application to let the user make changes to the presentation. PowerPoint allows users to export slides to a PDF document. It also lets you print the slide of your choice. When you're creating a presentation, the application will save the presentation at random intervals so that you don't lose your work if the phone shuts down unexpectedly.
Microsoft PowerPoint enables you to find a block of text containing specific words. It has a commenting system with which you can discuss the topic covered in the slide with the person you've shared the presentation with. The option to comment on the slide will appear when you're viewing a slide. PowerPoint offers text formatting tools. It allows you to add shapes, tables, images, etc to slides. It is one of the best slideshow apps for Android and iOS.
Google Slides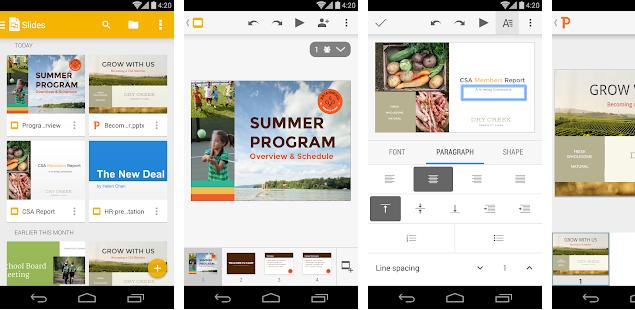 Google Slides is yet another widely used slideshow app for Android, iPad, and iPhone. It has a simple user interface and many options. The app's main interface displays a list of presentations you've created and a plus sign icon. To create a presentation, tap the "Plus" button. When you do so, GS will prompt you to create a new presentation or edit an existing template.
The templates that ship with this application have a professional design. In addition to templates, Google Slides provides 10+ slide themes. Each theme has a different design. GS provides an option to make the slideshow available for offline viewing. This application can create slides with title, section header, body, columns, text, etc.
Google Slides allows users to insert numbered/bulleted lists or links in the slides, change the foreground/background color of the text, align the position of the text, etc. Once you create a slideshow, you can view it by tapping the play button or share it with friends/co-workers.
Zoho Show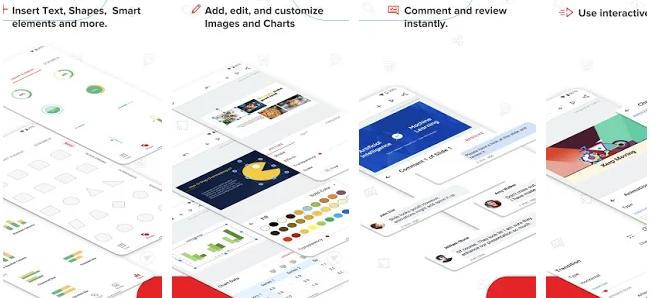 Zoho Show offers more features than Google Slides. It enables users to add animations to presentations and insert various shapes in the slides. Zoho supports 99+ different shapes. Like Google's application, Zoho Show offers several templates. ZS allows you to create presentations with animated/still images, links, Dailymotion videos, and charts. It also enables users to build custom shapes and use them. You can import PowerPoint files created with other applications in Zoho Show and edit them as per your requirements.
Zoho's slideshow app for iPhone, iPad and Android allows you to bulk replace text in the presentation. You can flip text and images in Zoho Show. Users can tile a picture or rotate it by 360 degrees in this application. They can also comment on the slides.
Also read: Best Android office apps
Want to create a slideshow from pictures? Use the following applications:
Music Video Maker: Slideshow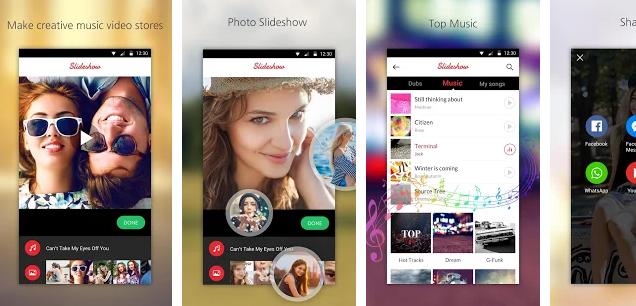 Music Video Maker allows you to create a slideshow and Instagram/TikTok story video from images stored on your phone. It allows users to customize the video transition effects, add background music, add frame/personalized text/sticker to the video, etc. Once you finish customization and tap the "Done button", MVMS will prompt you to choose the video quality. Once you select the quality, the application will save the video to your phone's storage memory. The saved videos don't have a watermark.
Scoompa Video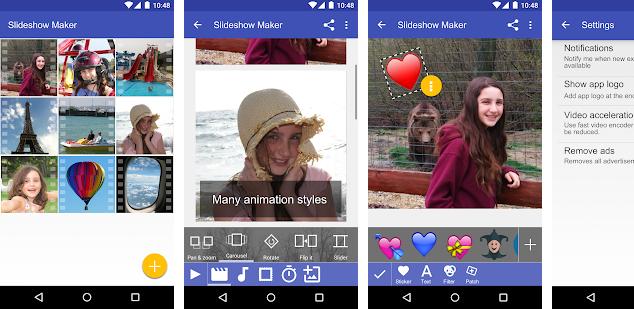 Scoompa is one of the most popular photo slideshow maker apps on the Play Store. To create a slideshow with Scoompa, you must select photos saved on the phone or import images you have added to your Facebook or Instagram album.
Once you choose the photos, you can configure animations, set the time for which the slide should be played, and add sound effects, stickers, custom text, etc to the images. Scoompa lets users change the order of the photos in the slideshow. It adds a watermark to the videos.
Photo Slideshow with Music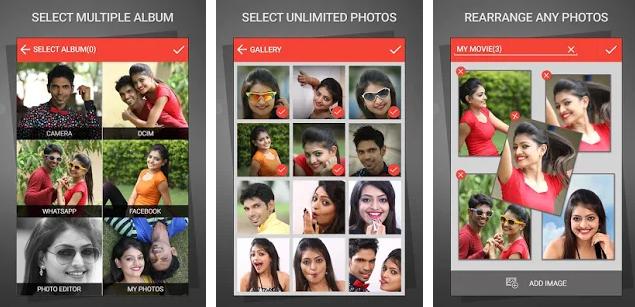 PSWM features several themes. It also allows you to download templates and use them. PSWM lets you swap images. It enables you to add custom text that will be displayed at a predefined position on the video. PSWM, the slideshow app, supports custom background music. Like the above application, it adds a watermark to the videos.
Must see: Best apps like Flipagram to create videos from photos