Robots can work continuously for the entire day without complaining, but human beings cannot. After working for a couple of hours, humans get tired and bored. To give 100% at work, you'll have to relax your mind by taking short breaks, chatting with friends or co-workers, etc. If you're not a social person, you can entertain yourself or calm your nerves by installing fun apps on your Android device that will kill your boredom, loneliness or make you happy.
Best Android fun apps
YouTube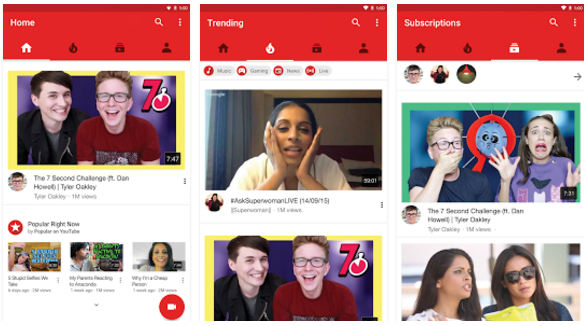 You are bored because you haven't used YouTube or explored cool YouTube channels yet. YouTube hosts tons of funny videos, documentaries, short clips, funny discussions, prank call videos, etc. To find a video, you must use the app's search tool. Whenever I'm bored, I kill time by listening to prank call videos shared by my favorite YouTube channel. I also watch shows that I've missed on the television, upcoming movie trailers, scenes from my favorite movies, etc. YouTube enables users to create channels. Once your channel is ready, you can upload as many videos as you want.
Must see: Best apps like YouTube
9GAG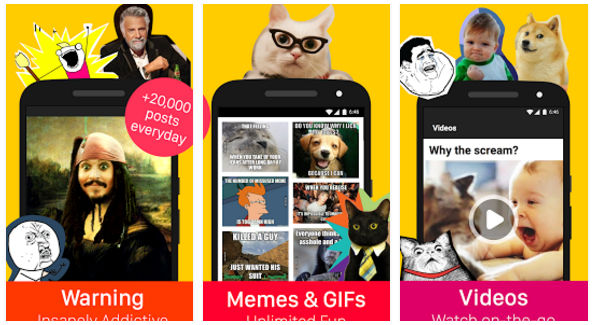 Gifs have taken the internet world by storm. Several social networking websites allow you to share GIF images. 9GAG enables you to find and share the coolest GIFs. Apart from the animated images, you'll find short clips, MEMEs, etc, in 9GAG. 9GAG is a community-driven application where users share stuff they find interesting. It lets you download interesting or funny images and videos. It also allows you to leave a comment on them. The app categorizes published posts into several categories. You can subscribe to your favorite categories.
Must check: Best paid apps for Android worth buying
Curiosity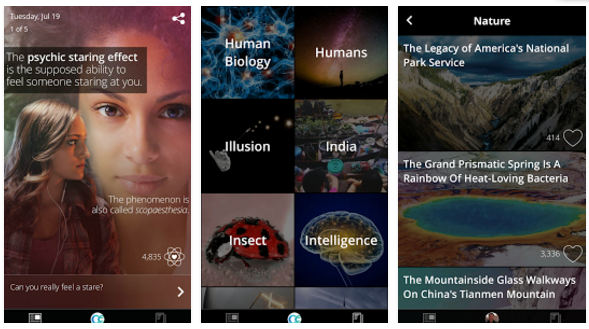 The Curiosity app packs 10000+ amazing facts that will surprise, thrill, entertain, or shock you. Once you've read a fact, you must swipe downwards or upward to load new facts. You can also browse the app's category to find facts. Curiosity has answers to the questions that you can't answer. It lets you watch interesting videos. You can bookmark or share the fact that you find interesting. Curiosity kills your time, and at the same time, it makes you learn something new.
Reddit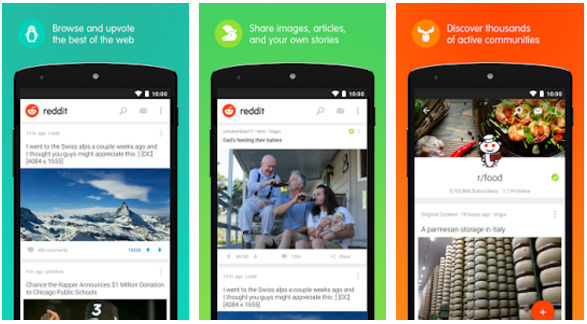 Reddit is one of the few apps on the Google Play Store that can give you a healthy laugh. It is the ultimate app to waste time and refresh the tired mind. Reddit has 200+ communities called subreddits. It provides an option to subscribe to subreddits. If you want to use Reddit for self-entertainment, create a Reddit account, and subscribe to subreddits that allow Redditors to share funny videos, images, jokes, stories, etc. When you do so, the app's main interface will be flooded with posts shared in the subreddits you've subscribed to.
Reddit has a beautiful UI. Unlike 9GAG, it plays GIF files automatically. The app also enables you to share new content. You can share the existing posts on social networks or other sites with this application. You can also save posts that you've enjoyed reading. Reddit is a free fun app that you can use without registration. It doesn't ask users to verify the email address during the account registration process.
Also read: Best apps like Reddit
TikTok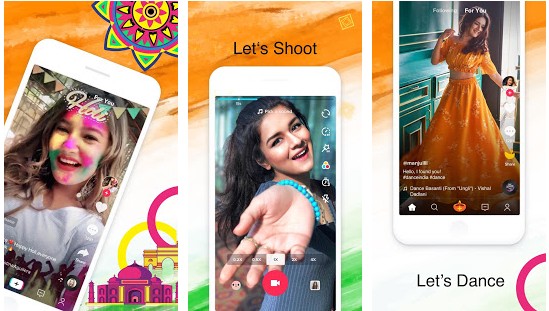 TikTok is a video streaming service owned by ByteDance Inc. It enables users to record and share short 15-second lip sync videos and gives you access to videos that will either surprise you or make you laugh. TikTok is powered by Artificial Intelligence technology. It had registered over a billion downloads in 2019. As TT is a hugely popular application, 1000s of videos are shared on it every minute. TikTok supports hashtags. It provides many filters that you can use to make your video look incredible. This fun app for Android has an easy-to-navigate interface. It lets you browse the vast collection of videos and favorite/bookmark videos that you have enjoyed watching. TikTok supports Android 4.1 devices.
Must read: Best apps like TikTok
Motion Fart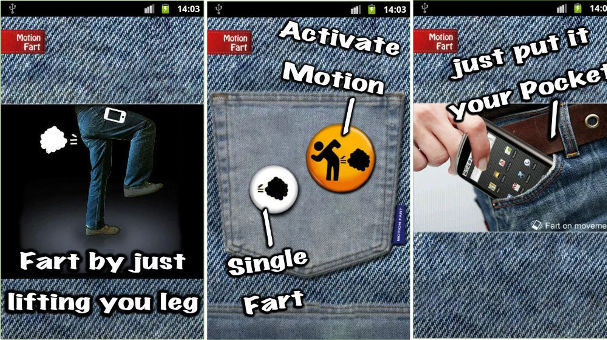 MF is a fun app for Android that turns your phone into a farting machine. It detects the motion of the user. When the user lifts their leg, it will play a random fart sound. MF provides a button to enable the app's Motion Fart module. When you activate this module, put your phone into the pocket of your dad, mom, wife, co-worker and wait for them to get off the chair. The app will play a fart sound when the person gets up, and everyone standing beside you will burst into laughter.
BuzzFeed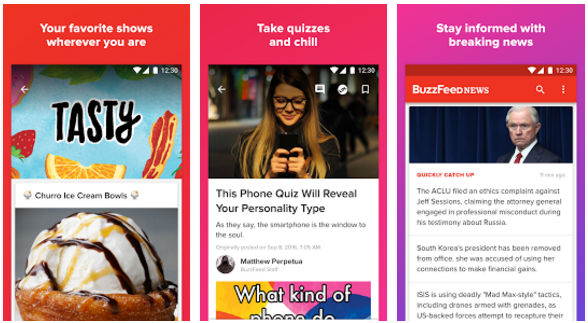 BuzzFeed is a fun app for Android that allows you to go through interesting content shared by talented content writers. It lets you play interesting quizzes and watch hilarious videos. BuzzFeed has a news section where you'll find the latest news. The app has a search tool, and it enables you to bookmark your favorite posts. It lets users share their favorite posts and images embedded in the posts on social media sites. BuzzFeed supports push notifications. It allows you to comment on stories.
Zili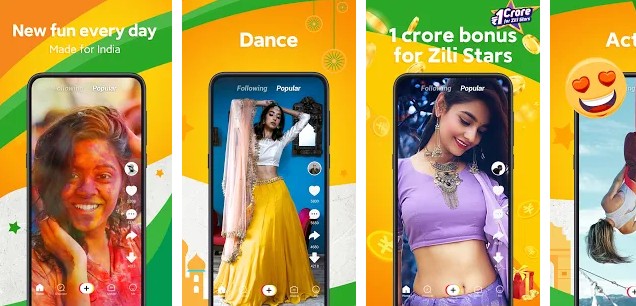 Zili has a massive collection of short funny videos that you can watch with/without creating an account. The app will play the funny clip as soon as you open it. You should swipe up or down on the screen to open the following clip. You can download the funny short videos you find with Zili to your phone and share the same on WhatsApp or other applications. You can comment on videos and follow other users' profiles in Zili. If you've created a funny video, you can upload it on Zili. If people like your video, they'll follow you on Zili.
Funny Quotes and Memes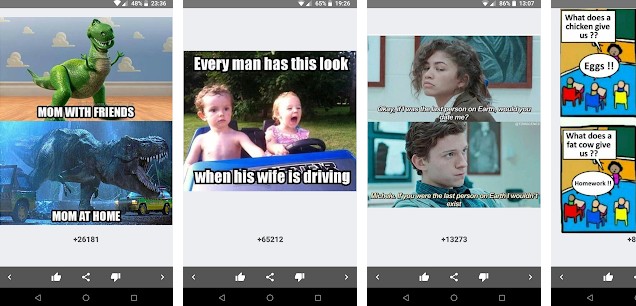 If you love funny memes, this application is for you. Quotes/Memes in FQM are divided into three main categories – Hot, New, Fav. FQM lets users like the memes/picture quotes and enables you to download/share the photos with other users. You can configure it to display a notification whenever new funny content is available in FQM. FQM can enable offline mode and allow the preloading of images. It is one of the best fun apps for Android.
Ugly Camera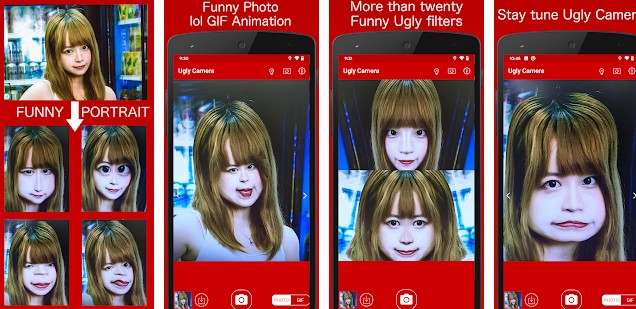 The Ugly Camera app will bring a smile to your face with its funny real-time filters. It can generate a GIF or capture a still filtered image. It can also apply funny filters of your choice to the photos saved on the phone.
Also read: Best prank apps for Android
Final thoughts: The 10 Android fun apps I've shared above will entertain you whenever you're bored. Make sure that you install and use them during your free time.