Flipagram is an app-based online community that allows you to create videos from photos. Videos created with this application can have background music. Flipagram is an app similar to YouTube. The only difference between the two services is that Flipagram provides a photo to video converter tool, and it allows you to share videos, whereas YouTube is a video hosting site. Like YouTube, Flipagram supports hashtags. It lets you comment on videos. A comment form accompanies each video published on Flipagram. Flipagram has an option to bookmark videos. It allows you to find and follow interesting profiles.
According to App Stores, Flipagram has about 100 million users. If you create an interesting video story with this application, your video will be viral within a few minutes. Flipagram allows users to report inappropriate videos. It is no doubt a great app, but if you want to reach a wider audience, use the following best Flipagram alternatives on your device.
Note: Flipagram was acquired by a Chinese firm in 2017. Currently, it is not available on the Play Store and iTunes.
5 best apps like Flipagram for iPhone and Android OS
Snapchat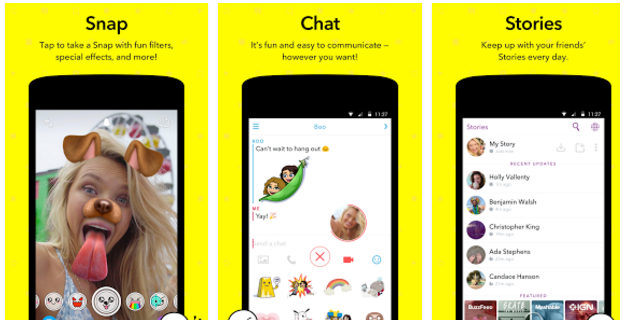 Snapchat is a popular Flipagram like app with 500 million active users. When it was first launched, the app had a single feature of sharing photos. The app got a significant makeover in 2016/2017, and now, it is a full-fledged social networking app. Snapchat provides four cool features – snap, moments, stories, and chat. The Snap feature allows you to share ephemeral photos. Moments lets you save a story or snap so that you can access it later. The "stories" feature is similar to the core feature of Flipagram. Stories created with Snapchat have a lifespan of 24 hours. They disappear automatically after 24 hours. Snapchat is a user-friendly application. Its APK's size is 67 megabytes.
Instagram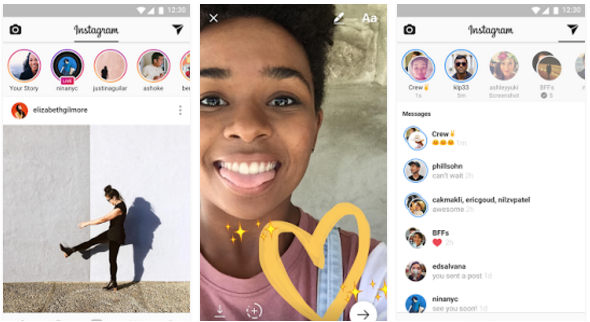 Owned by Facebook Inc, Instagram is the most popular photo-sharing service globally. Like Snapchat, Instagram allows you to create stories from your pictures. Instagram is known for its powerful photo editing tools and amazing filters. While creating a story, you can apply filters to your photos or edit them. Like Flipagram, the app allows users to select single or multiple pictures for their stories.
Instagram enables you to add a location to the story. You can also dedicate the story to a person or group of people by tagging them. Instagram provides an option to disable comments on a specific story. It lets you share video stories on Twitter, Tumblr, Facebook, etc. Instagram is a smaller app than Snapchat and Flipagram. It has up to a billion users.
Kwai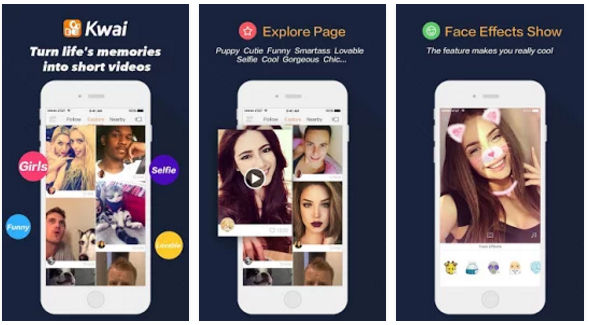 The application displays video stories on its interface when you run it. To create your profile and video stories, tap on the user icon located at the top left corner of the interface. When you're logged into the app, you can create a story by tapping on the camera icon. Kwai lets users record videos. It can also compile photos into video. It lets you add frames, stickers to photos, apply filters, attach background sound to the pictures. Kwai offers a freehand drawing tool. It allows you to put text on images. If you're looking for apps like Fliapgram to make videos, you can try Kwai.
PicMotion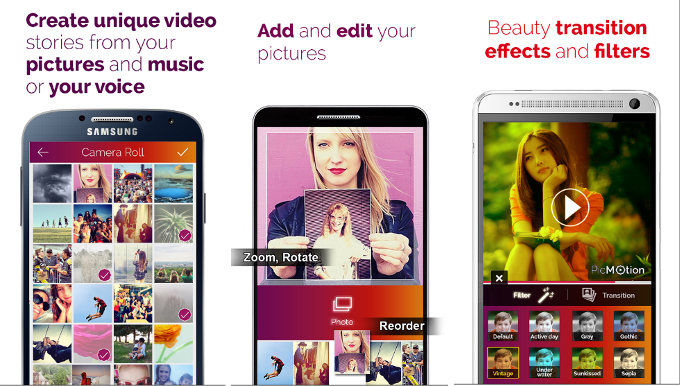 PicMotion is an app for people who want to create a video from their photos but don't want to quit their favorite social networking website. This app is easy to use, and it doesn't force you to register an account. To create a video from the pictures, run the app. Now select the photos which you want to add to the story. Then, edit the images and apply filters to them. Now, you must add background music to make the video more compelling. Once you do so, set a time duration for the slide. When your video is ready, the app will provide an option to share it on social networking portals. The application supports Instagram. Hence, you can easily create videos from photos saved to your Instagram account. PicMotion is one of the best apps like Flipagram to make videos with music.
Also read: Best photo editing apps
SlidePlus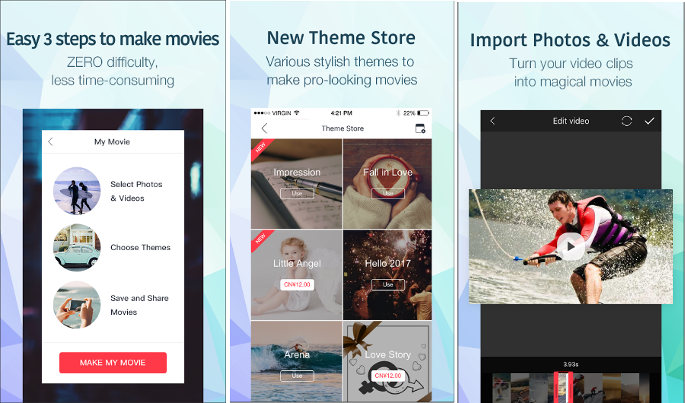 SlidePlus is yet another top app like Flipagram for iPhone and Android OS. This application allows its users to create high-quality video stories from pictures stored on their phone's storage memory. It creates stories when the user follows these steps. In the first step, you must select the photos. Then, you must choose a video theme and an audio file. In the last step, you must tap on the "Ok" button and wait for the app to create a video story. SlidePlus provides an intelligent cropping tool and has an option to fetch pictures from your Instagram or Facebook profile. Like PicMotion, SlidePlus lets you share the video stories on FB, Twitter, and other social media sites.
Final thoughts: Apps like Flipagram I've shared above have photo editing tools. Some of the applications work in offline mode, whereas some apps require an internet connection to function.