Wikipedia is one of the most popular apps in the world. It gives users access to a detailed explanation of everything they want to know about. Although Wikipedia is a great site, the content on its pages can be lengthy. If you don't have time to read long educational content, you should use the LinkedIn SlideShare app on your smartphone. For those who don't know, SlideShare is an online presentation-sharing service launched in 2006. LinkedIn acquired it in 2012. SlideShare and LinkedIn are now the subsidiaries of Microsoft Corporation.
SS is an excellent source of knowledge. According to its parent company i.e. LinkedIn, SlideShare gives you free access to over 15 million slideshows and has around 70 million users. Although this app is not integrated with LinkedIn, Microsoft has changed its name from SlideShare to LinkedIn SlideShare.
SlideShare is a 10-megabyte app that requires account registration. It also lets users log in with their Facebook or LinkedIn accounts. Registering a new account is easy with SS. Unlike other apps that ask you to enter a name, age, etc, SlideShare will request you to enter an email address, password, and verify your email ID.
After logging in for the 1st time, the first thing that users see is an interface that boasts a list of topics. You must select the topics you find interesting. When you do so, SlideShare will only display the slides that are related to the topics you have followed. There's no limit on the number of categories you can follow.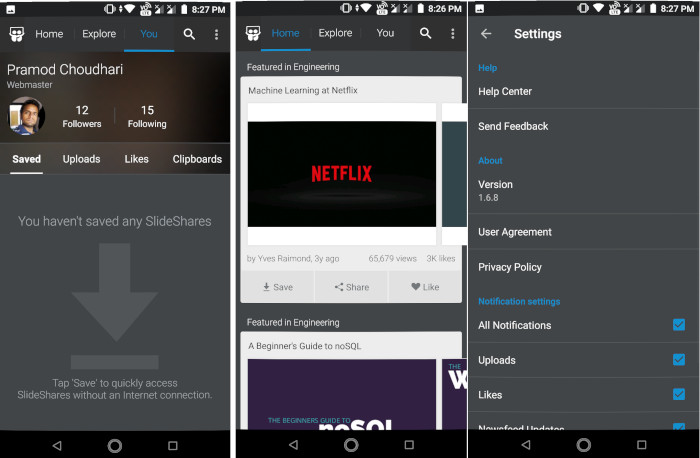 Once you select a category, LinkedIn SlideShare will display a tabbed interface. Here's the list of tabs you'll find in this interface:
Home: SS displays a list of the most popular and most viewed slideshows in its home tab. To open the next slide, swipe right, and to open the previous, swipe left. SlideShare displays the author's name, the estimated length of the slideshow, the number of times the presentation has been seen, and the number of likes it has got. SS lets users save the slideshow for later reading. It also has the option to share the slideshows on social media networks.
Explore: This section enables you to find interesting slideshows from topics you've not subscribed to.
You: Here, you'll find the number of people that are following you, the count of SlideShare users you are following, the list of slides you've saved, slideshows you have uploaded, etc.
Must read: Best learning apps for Android
Other features
Search: SlideShare provides a search tool to find slides containing specific words.
Settings: SS will display a notification when someone likes your presentation or when a user adds a new slideshow to the category you're following. The settings interface allows you to log out of the app and read the privacy policy, user agreement.
Things I liked about the app
Interface.
Categories.
Huge collection of presentations.
You can follow other users.
What I didn't like?
LinkedIn SlideShare doesn't have an option to rate slideshows. As anyone using this application can upload a presentation, a student may go through a slideshow that has been uploaded by someone who doesn't have good knowledge of the topic.
Final thoughts: SlideShare is a powerful slideshow-sharing application. It helps users in learning complex things quickly.
Must check: Best Android office apps