Audiobooks, aka talking books, are ideal for people who don't want to stress their eyes by reading books or wasting time watching movies. They can be a few minutes short or several hours long. Lengthy audiobooks are subdivided into tracks.
Although iTunes and Google Play Store have 100s of audiobook applications, most of the apps have harmful content that is generally shared or created by wannabe novelists/writers. If you're looking for genuine audiobooks, use one of the following six apps on your smartphone.
Best audiobook apps for Android and iPhone
Audible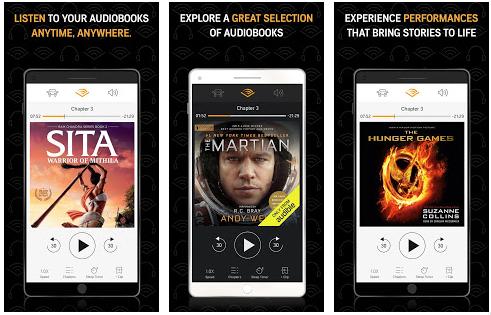 Audible is a service owned by Amazon. It has the most extensive collection of audiobooks. To use this app, you should log in with your Amazon account. Amazon offers 30 days free trial to the users that want to try out the app before buying a plan. When you buy a plan, Audible will assign your account one credit. You can use this credit to purchase an audiobook. If you don't like the audiobook you've bought, you can swap it at no extra cost. Audible displays the books you've purchased in an interface called "Library". You can configure it to save the audiobooks to the storage memory of your device or the cloud.
This audiobook app for Android and iOS provides a search utility. It also includes filters. When you're using Audible, you'll get a feeling that you're browsing the Amazon website. Audible has an interesting section called stats, where you can see the number of minutes/hours you've listened to audiobooks, badges you've earned, etc. The size of the Audible app is 74.43 Mb.
StoryTel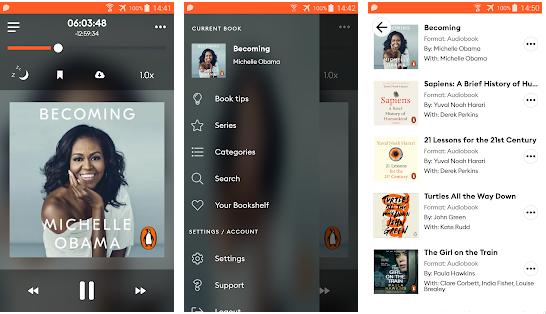 As in Audible, you should log in to the StoryTel app to use it. Optionally, you can log in to StoryTel with your Facebook account. You can preview the app before signing up if you want to see the features before sharing your email address with StoryTel. This audiobook player app lets you explore titles by category and save books for offline reading. Books you've saved are displayed in the "Offline Books" section. In addition to the downloaded books, this section shows the total size of the books.
StoryTel lets you filter and sort books. If a publisher has launched multiple audiobooks under the same title, you'll find the newly published books in the "series" interface of the app. StoryTel offers several audiobooks for children. To find these books without using the search option or exploring categories, you can turn on the "Kids mode" in this app. StoryTel provides a search tool. By default, it shows ebooks and audiobooks in the search results. You can configure the app to show audiobooks only. StoryTel consumes 39.68 MB of storage memory.
Must see: Best voice to text apps for Android
Google Play Books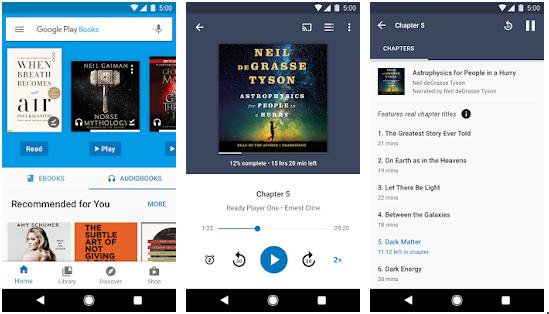 The Google Play Books app displays eBooks and audiobooks in different sections. It offers 100 free credits on eBooks priced above 100. It supports the voice search feature and can show downloadable books only. The Google application allows you to set the audiobook's playback quality. It enables you to skip the playback backward/forward by 20/30 seconds.
This audiobook player app may display notifications when your favorite authors publish a new book or when the price of a book you're planning to buy drops. GPB lets you switch from the read mode to listen mode with its "Read Aloud" feature. Turn on the mobile data or WiFi connection to make the eBook narrator sound like a human. This application requires 30.75 Mb of storage memory.
LibriVox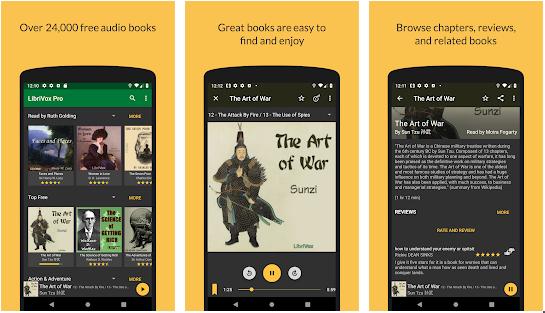 LibriVox doesn't require account registration, and it gives you access to free and paid audiobooks. Although registration is not required, you can log in to LibriVox with your Google a/c to sync your data or share books. The LibriVox app's interface employs a dark theme. It also offers a search utility. LibriVox enables you to post a review of audiobooks. It allows you to set a user name that should be displayed on the reviews you've published.
The app provides a filter to show only free books. It also provides an option to disable the explicit content filter. LibriVox lets you specify the duration for which it should play the audiobook. You can configure it to extend the playback time when you shake the phone. LibriVox includes an option to clear saved data. The app allows you to specify the location where it should keep the downloaded audiobooks. It lets you play, forward, resume the playback and requires about 18 MB of space on your phone.
AudioBooks Dot Com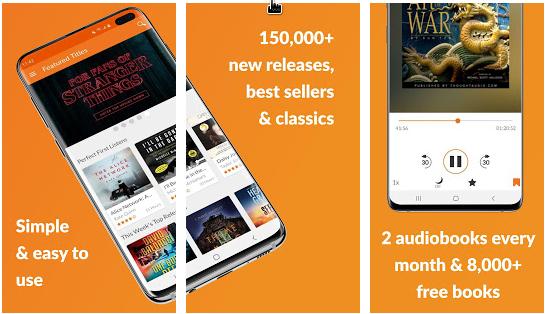 In addition to audiobooks, this app gives you access to podcasts. AB's premium version offers 2 books instead of one, which makes it an excellent alternative to Amazon's Audible. The app's library includes several free books that you can listen to without registering an account. It lets you add audiobooks to the wishlist. It can also generate a list of books you may like to listen to. This application enables you to increase/decrease the audiobook/podcast playback speed. It also allows you to change the track and create notes by copy/pasting text.
Also read: Best voice changer apps
Scribd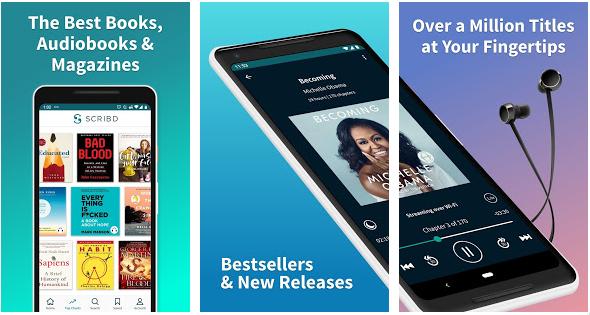 The premium plan of Scribd is similar to that of Audible. Like Audible, Scribd provides free 30 days trial to the users and access to a single audiobook + 3 ebooks. The only thing that differentiates Scribd from other apps is its monthly subscription fee of 8.99.
Scribd makes you aware of the top-selling titles and whether the eBook format of the audiobook you're currently listening to is available or not. It supports annotations and custom lists i.e. you can create a list of your favorite titles. You can make your lists private or public in Scribd. The size of this application is 45.6 megabytes.