Speech recognition technology is being implemented in many ways. Before the year 2006, it was used only in robots. Now, you'll find speech recognition systems in cars, airplanes, etc. SR engines in vehicles are complex and sophisticated. Traveling by plane and buying a vehicle is not possible for everyone. But most people on the planet do own a smartphone. Because of the tremendous efforts of Google to keep Android OS the best mobile phone operating system in the world, it is now possible to do things that were impossible when Nokia was the leading mobile phone brand.
Nokia phones had a narrator tool that converted text to speech. Android allows you to do the reverse of this i.e use your voice as input. Android OS features an inbuilt utility for the same. Modern phones running on Android have a speech recognition function built-in. They can use this feature to search on Google, make phone calls, send text messages, emails, etc easily.
Which is the best voice to text app for Android?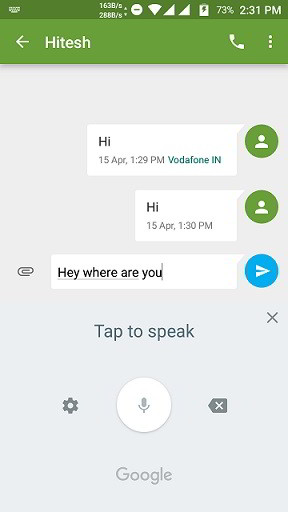 Many people don't know that Google Keyboard comes with a speech-to-text converter tool, and they waste their time searching for the best voice-to-text app. Google keyboard comes preinstalled on every Android phone, and it's pretty good at recognizing the words you speak. If your phone doesn't have this application, open the Play Store on your mobile device and install it.
Apart from its intuitive and smart keyboard functionality, the app converts voice to text. To use this feature, enable cell phone data connection and tap on the microphone icon, which appears on the top right corner of the keyboard.
The app will now request you to speak. Once you begin talking, the Google Keyboard will start updating the draft message with the words you've uttered. If the app has entered an incorrect term, you can easily replace it with another word.
Google Keyboard offers useful customization options. It supports offline speech recognition. To enable the offline mode, you'll have to download the language files. Google Keyboard can block or enable the usage of offensive words. It allows you to select a default voice input language. If you have connected a Bluetooth headset to your phone, you can still use the voice-to-text feature of the Google keyboard by enabling the headset option from the app's settings panel.
If you're searching for a standalone app that converts speech to text on Android, go through our below list:
Live Transcribe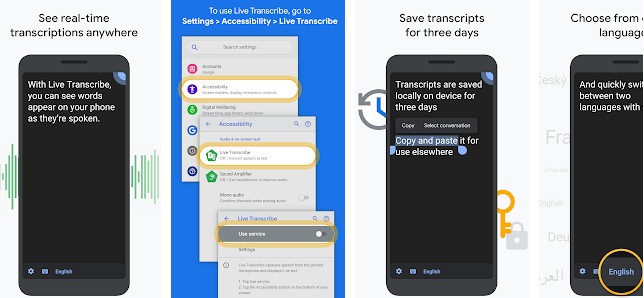 The Google Research Team has developed the Live Transcribe tool. The application requires microphone access permission, and it translates your speech into text. It detects the sounds nearby you and filters them. For example, if a strong wind is blowing near you, Live Transcribe will remove the wind's sound. LT displays the text on the screen as you speak, and it provides an option to change the text size. By default, LT won't save transcriptions on your device. You can configure this application to save transcriptions for up to three days. LT also supports several languages. It is one of the best voice-to-text apps for Android smartphones and tablets.
Say Hi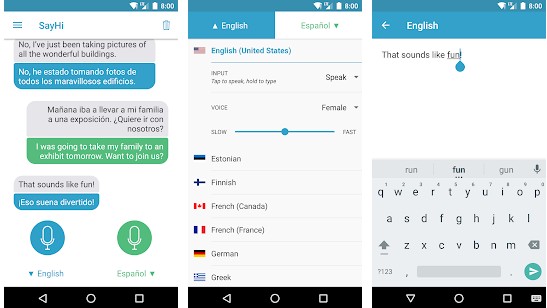 Say Hi is similar to Google Live Transcribe. It translates the words you speak in your local language into text and displays their meaning. Because of this feature, Say Hi is one of the must-have apps for travelers. SH can translate the text you copy to the clipboard. By default, SH converts the speech into the text until you stop talking. You can disable this feature from Say Hi's settings interface. Say Hi enables users to select their gender and talking speed. You'll not be able to use it unless you activate the "record voice" permission. This Android voice-to-text app is ad-free, and you'll have to keep the internet connection on the phone active to use some of its important functions.
ListNote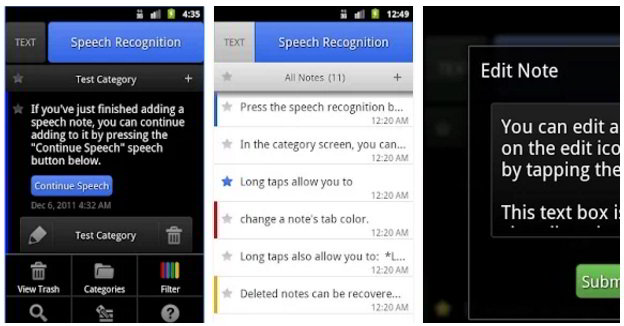 The first thing that you see after running ListNote is a popup that asks you to enable the light or dark theme UI. Once you select a theme, you can begin using the inbuilt voice-to-text converter tool of ListNote. To do so, tap on the speech recognition button and start speaking. ListNote has the option to pause and reset the speech recognition engine. The words the app recognizes will appear in the text area below these two options. Once all the words you've spoken have been converted to text, ListNote will save the contents of the text area in the form of a note. You can edit, lock, or even share this note with your phone contacts and with your friends on social networking apps.
Must read: Best reverse phone lookup apps to find, search or trace number on mobile
SpeechNotes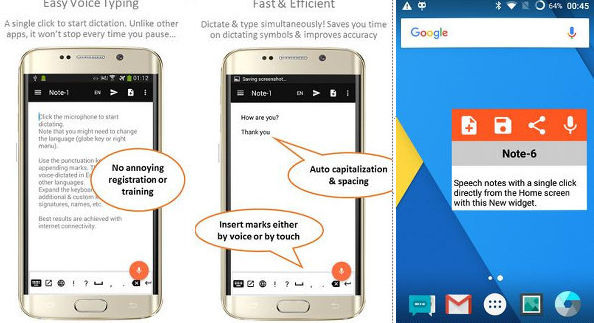 SN is an excellent alternative to the above applications. It allows you to create notes without typing a word. To use SN, you must install the Google app. This is the only drawback of SpeechNotes. SN provides an option to export the notes to the MicroSD card. It allows you to send notes to other users via email, Bluetooth, etc. SN has ads, and it supports voice commands. It can automatically capitalize the first letter of the 1st word of a new sentence. SN has a built-in punctuation keyboard. To insert punctuation, you can tap on the keyboard key or say the name of the punctuation you want to insert in the note.
Voice Writer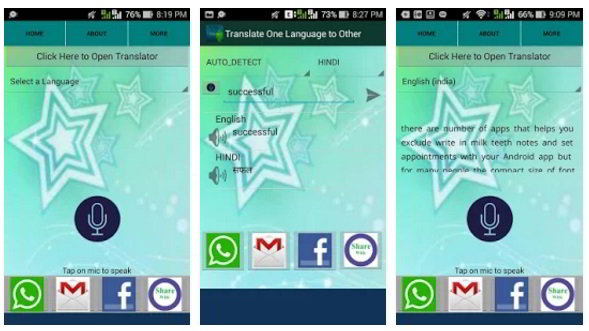 Voice Writer is not as famous as ListNote, nor does it have a perfect UI, but Voice Writer does the job very well. The application uses the Google speech recognition API. Thus, the translation from voice to text will be accurate. Apart from English (US, UK, AU) languages, Voice Writer supports various Asian languages, including Arabic, Bahasa Indonesia, Mandarin, and Hindi. It also supports European languages like Czech, Danish, Dutch, Greek, Finnish, German, Italian, Portuguese, etc.
VW also features a translation tool to convert text from one language to another. It has the option to send the output of speech to text converter to your Gmail, WhatsApp, Facebook, Google Hangouts contact, or to the user of any other messaging app on your phone.
I hope you've found the answer to the question which is the best speech to text app for Android in this article.