You may have listened to the prank call videos on YouTube wherein a person plays pre-recorded audio to the person who picks up the call or talks with them in a different voice. If such videos inspire you, and you think you can fool someone by changing the voice tone, you're wrong. After years of practice, voice actors perfect the art of talking in a different accent. Although you can change the tone of your voice, someone who is very close to you will be able to recognize you if you speak in a higher or lower tone. Well, in the age of iOS and Android, you don't have to train your voice. To surprise your friend or to change your voice, you can use one of the following applications:
Best voice changer apps for Android and iOS
Voice Changer With Effects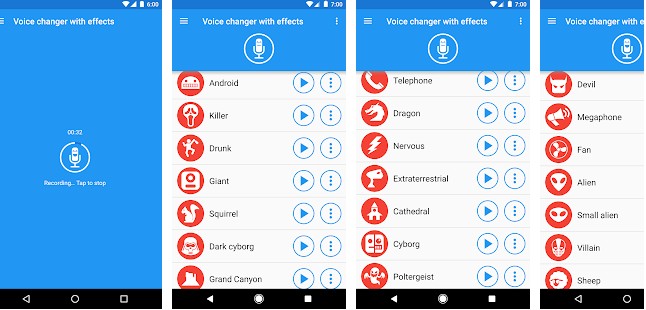 Voice Changer with Effects ships with several audio effects that you can apply to the existing sound files on your device. It also allows you to record the voice. Some of the effects you'll find in VCWE are:
Robot, alien, drunk, giant.
Squirrel, Chipmunks, Zombie, and 36 more.
Users can save the newly created audio file as the phone's ringtone or the notification sound for specific apps in VCWE. You can also attach the recorded audio clip to an image with this application. VCWE lets you delete the current recording. It has a built-in text-to-speech tool. In case you don't want to record your voice, you can make VCWE speak the words in the language of your choice.
Voice Changer Audio Effects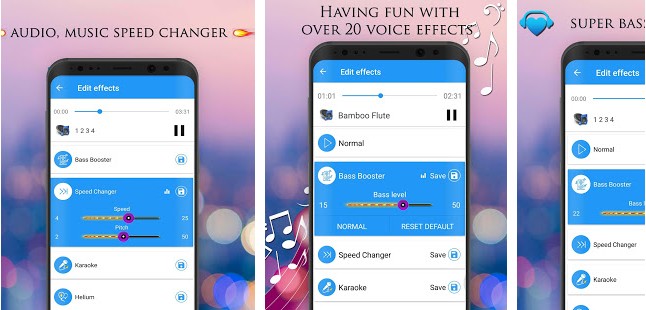 This voice changer app for iPhone and Android finds tracks saved on your phone and displays them in its "Library" interface. It also lets you find files by their name. VCAE can change the voice of the male to female. It allows you to adjust the "femininess" of the voice and its pitch. You can also change the playback speed of the voice in VCAE. This application can save the file in the MP3, M4A, OGG formats. While exporting the file in the format of your choice, VCAE will prompt you to choose the bitrate. VCAE doesn't have as many effects as the above application. Some of the voice effects, especially the female voice, sounds funny.
Also check: Best Android fun apps
Voice Changer by AndroidRock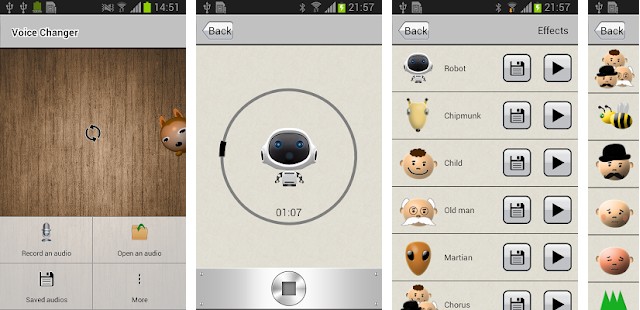 VCBA's interface looks outdated, but the audio file it generates after the user applies an effect sounds good. This voice changer application ships with many effects, including the effects you may not have heard of. For example, VCBA can convert your voice to a child's or a devil's voice. It also allows you to apply two voice effects to a single pre-recorded sound file.
Super Voice Editor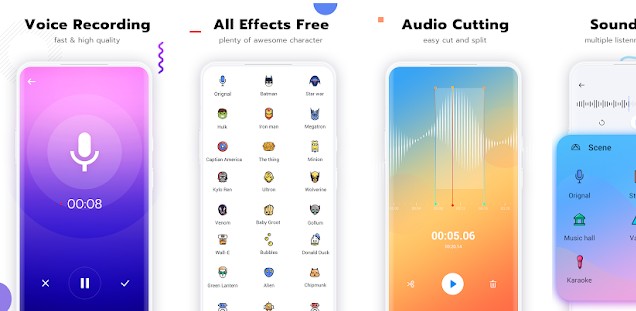 The Super Voice Editor app ships with a voice changer utility that allows you to change your voice to the Marvel/DC Comics superhero's or a popular cartoon character's voice. It also allows you to trim your voice. SVE can automatically increase the sound volume when it is playing an audio file. Before playing the file, it can also add a 1 to 7 seconds delay. SVE enables you to create a custom effect. It includes an equalizer tool and an option to apply a reverb sound effect to a prerecorded sound file.
Voice Changer by 302 Lock Screen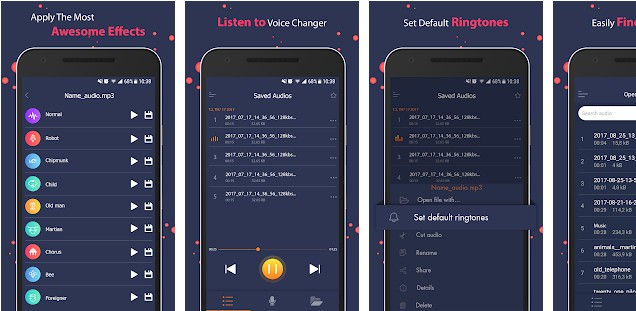 VCB302 has a nice UI, but it has several ads. The ads hurt the user experience. Once you've recorded your voice and applied an effect to it, you can open the recorded file with another application without closing VCB302. This tool supports custom effects and can rename the file you've recorded with it. It allows you to see the following details of the audio files:
Size, created time
Name, path, duration.
Must read: Best Android prank apps
Narrators Voice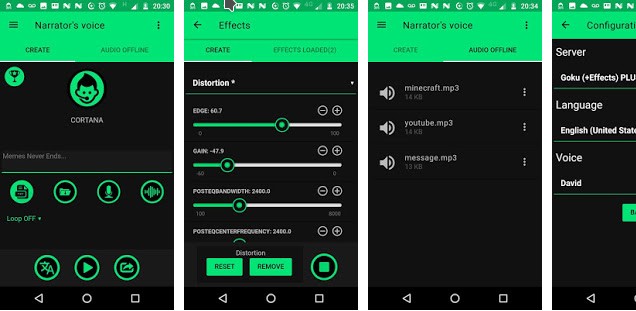 The Narrator's Voice app accepts text or voice as input. Then, it prompts you to choose a server, language, and gender. Once you select these three options, Narrator's Voice will display a "play button". When you tap this button, NV will make its built-in text to speech tool to speak the words you've entered. This voice changer app for Android, iPhone, and iPad lets you export the recording to your phone's storage memory. NV, by default, will stop playing the recording when it reaches the end of the file. You can configure it to play the recording in a loop. NV has many ads.
The above 6 voice changer apps for Android and iOS require the following permissions to work:
Microphone access: The microphone is a component that converts sound energy to electrical energy. To record your voice, the applications require microphone access permission.
Storage access: To save the file on which you've applied the voice effects, you should allow the applications to save the files on your MicroSD card or the internal storage memory.