Although the internet gives you access to 1000s of educational sites, you won't find a famous novel anywhere on the web. For example, you won't find J.K Rowling's Harry Potter book chapters on Wikipedia or other websites. To read novels or stories, you must buy the book from an online or offline bookstore. Should you buy an ebook or a paperback? The pages of a paperback may get dirty as the years go by. You may accidentally tear a page while flipping it. A large book may take a lot of space on your furniture. If you own several paperbacks/hardcovers and the furniture does not have enough space to accommodate new books, you may have to shift the old books to the garage or basement of your house.
To continue reading paperback from the point you've stopped, you must use a bookmark or remember the page number. One more disadvantage of paperbacks is that you can't read them in a dark room. Ebooks have many advantages over paperbacks. Phones launched these days have heaps of storage memory. Hence, you can keep as many ebooks as you want on the phone. The eBook reader apps have a night mode feature. They have a search function with which you can find a line or paragraph in a book in no time. Instead of buying a paperback, you can purchase or download ebooks from an online bookstore. Here's the list of best bookstore apps:
Best apps to buy or download books
GoodReads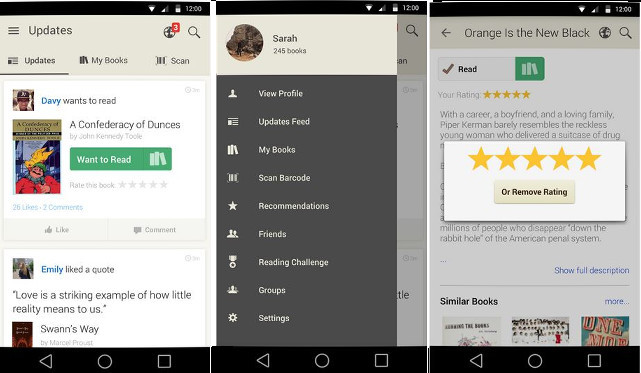 GoodReads is a top-rated bookstore app. It allows you to connect and engage with like-minded people i.e. other book lovers. The app lets you see the books your friend has finished reading or is currently reading. The app has a bookshelf module where you can add books that you'd like to read later. It has the option to buy books on Amazon. The best feature of this app is its ratings and review section. Users of this app can write a negative or positive review of a title they've finished reading.
GoodReads lets you scan the barcode printed on books. Once you scan a code, the app will add the book to your library. Before buying a book, users can read its few pages in the GoodReads app. Users can also follow authors and send messages to other users in this app. GoodReads is a must-have app for book lovers. The app doesn't have ads, and it is free.
Google Play Books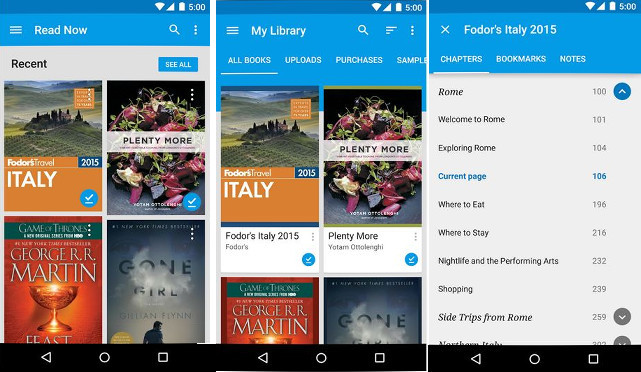 Google's bookstore app is available for download on Play Store and Apple iTunes. It comes pre-installed on Android phones. If your phone doesn't have this app, install it. When users run this app, GPB asks users to choose the categories of books they'd like to read. Once you select the category, the app will display a list of books.
GPB lets you rate, bookmark, and share the books you've discovered in this app. It has an option to zoom the page of a book. It has a page slider module and a book index. Users can mark the books they have read as "finished reading". Once you've marked a book as read, the app will remove it from your library. The app allows you to see the list of new and top-selling books. It has a filter to shortlist books by genre, price, etc.
Also read: Best Android dictionary app
Wattpad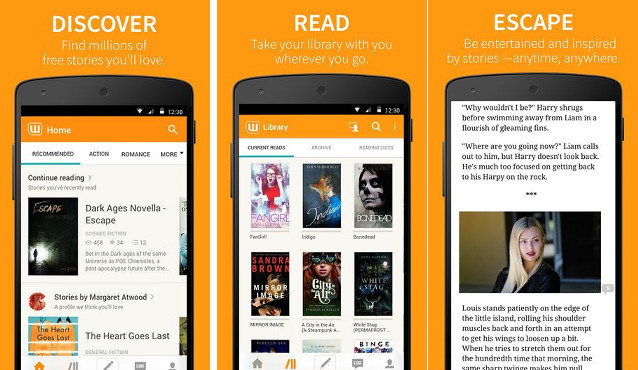 Wattpad is the 2nd most downloaded app on our list. It has 100+ million users and a massive collection of free books of various genres. Wattpad lets users bookmark books they find interesting. It allows users to comment on the pages of a book. It doesn't have a rating system, but you can appreciate the authors by voting their books.
Wattpad displays the number of times a book was read. It has a filter to display trending, new and hottest books. It can change the text size, background color, and font. Users of the Wattpad app can change the reading mode to paging or scrolling. They can use the phone's volume up/down keys as a page scroller. Wattpad lets you follow other users and copy texts/paragraphs on pages. You can also chat with other users in this application.
Also check: Best Android learning apps
Rakuten Kobo books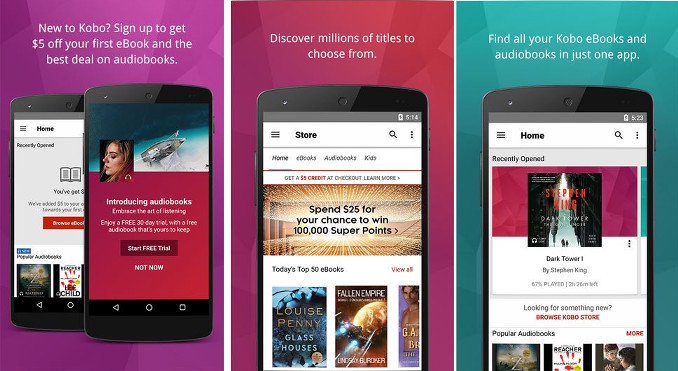 Kobo has an extensive collection of free/paid ebooks and audiobooks. The app downloads the books you've bought or have added to your library. Hence, you can read books offline. Kobo lets you go through the first two pages of a free book. To read the entire book, you must log in to the app. The Kobo app ships with three color themes – sepia, night, and classic. It lets you share the pages of books on Instagram, Facebook, and Twitter. It also allows you to change the text size, language, and font.
The app remembers the line and paragraph you were reading before closing the app. It features a beautiful page-turning animation. It allows you to share the text you've selected. When you choose a word, the app will display its meaning. The dictionary service is provided by Wikipedia. This online bookstore app features slider pagination. It is an excellent alternative to GoodReads and Wattpad.
Must check: Best app to learn English, Spanish and other languages
Amazon Kindle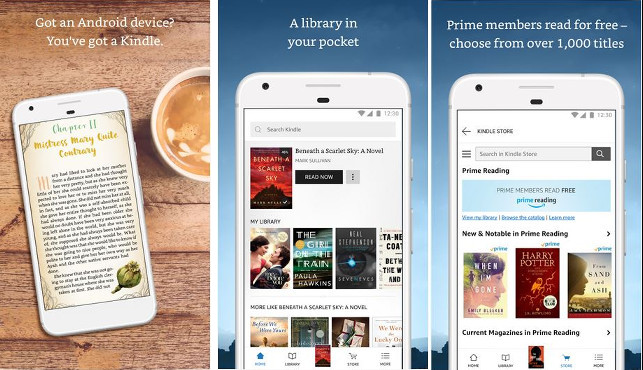 Kindle is Amazon's premium book subscription service with 10+ million titles. Along with paid books, the Kindle app features a free ebook section where you'll find 35000+ high-quality ebooks. Kindle offers monthly and yearly unlimited subscription plans. Users who sign up with any of the two plans can have up to 10 books in their library at a given time.
Kindle is a cross-platform service. Hence, users can access their books and manage their subscriptions on a mobile device or a PC. Like the Kobo app, Kindle supports offline reading by downloading ebooks the users have added to their collection. Kindle's built-in ebook reader module is powerful. It lets you find a paragraph or line containing a specific word. The reader allows you to change the text size and font. The app supports flashcards. It has a word runner function which will display the selected paragraph's words on the screen one by one. It is one of the best apps to buy books online.