PDF is one of the most widely used file formats. It is a popular format because you can easily create complex PDF documents embedded with charts, images, tables, etc without spending a dime. As PDF files are complex, you cannot open them in a normal text editor. Many popular office suite software supports the Portable Document Format files, but they provide limited features. For a better experience, you must use a special app called PDF reader.
Below, I've shared the best PDF reader apps for Android devices. If you want to edit or view Portable Document Format files on your Android smartphone or tablet, install and use one of the following applications.
Best Android PDF reader apps
Adobe Acrobat Reader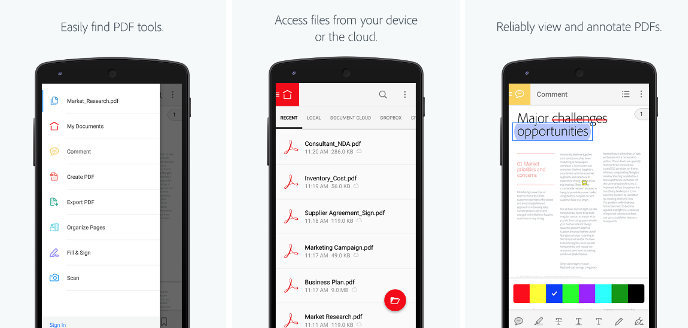 Adobe, the multinational software company had launched the first-ever PDF format file and a Windows software called Acrobat Reader in 1993. The software allowed users to read and edit PDF files. It is still being used by millions of people. Why this is so? Well, Adobe updates it on a regular basis. Adobe Reader offers several tools to make reading PDF files a pleasurable experience on desktops. It is available for Android devices too. The mobile version of Adobe Acrobat Reader features a beautiful tabbed interface that gives you access to recently opened PDF files, documents saved on the storage memory of the Android device, etc. It supports two reading modes. It lets users search for text inside a PDF file.
The Adobe application allows users to create a new PDF file online. It can prevent the phone's display from turning off when you're reading an eBook. The Adobe PDF reader app enables users to print the camera's output to a PDF file. Acrobat Reader supports Dropbox. If you've uploaded PDF files to your Dropbox account, you can edit them on your mobile device with it.
Google PDF viewer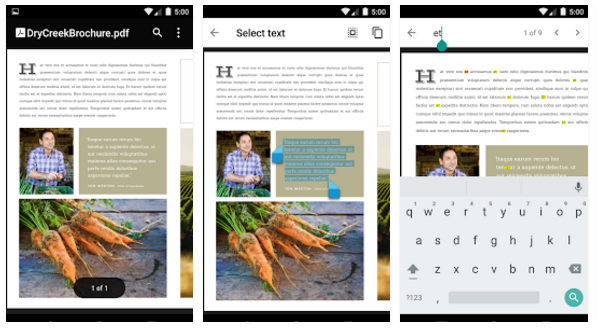 Searching for a lightweight tool to read PDF documents? Install the free Google PDF viewer application. The Google app will not add any shortcuts to the home screen when you install it. When you try to open a PDF file, the Android OS will display a list of apps that will let you open the file. The list will contain the Google PDF viewer utility. You should tap on the Google application's name.
XODO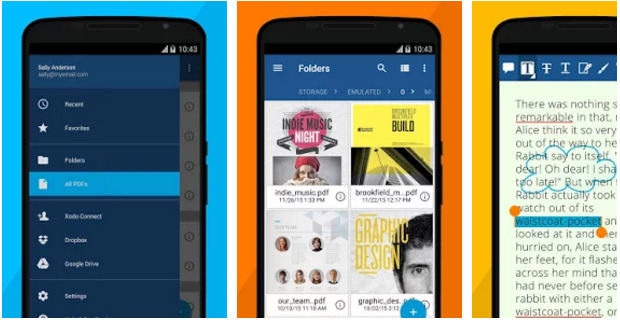 XODO is a free Android PDF reader app that ships with many features. It detects PDF files on your phone automatically and lists them on the main interface. It also displays the path where the file is stored. XODO enables you to sort PDF documents by their name or modification date. It also allows users to edit files saved on the phone's storage memory or cloud storage services such as Google Drive, Dropbox, Microsoft OneDrive, etc.
The app lets you bookmark and print PDF files. It offers a search tool. It supports five viewing and 16 color modes. When you're editing a file, XODO lets you create a copy of the edited file without changing the original one. XODO allows you to draw doodles on a PDF file's pages and add notes/comments to a paragraph of your choice. Other utilities that you'll find in the XODO app are as follows:
Clone stamp, screenshot, PDF flattening tool.
Rectangular selection, image inserter, etc
Foxit PDF Reader and Editor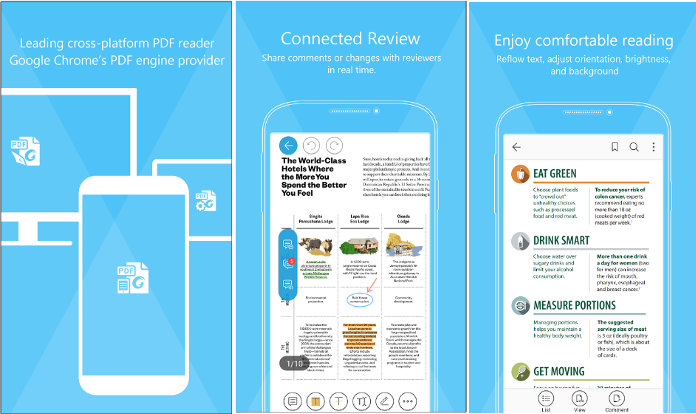 Foxit has 1+ million users. It has a nice user interface and numerous features. The Foxit PDF reader for Android lets you open, edit, and tag PDF files. It will scan the phone's storage memory and will display the files it has found on the main interface. To read the file, you have to tap on its name. Foxit supports three reading modes – continuous, single, and thumbnail. It adjusts the display brightness automatically when you're reading a PDF file.
The app allows you to change the background color of the pages of a PDF document. It lets you transfer files and has an option to enable night mode. It enables users to navigate to a specific page of a document and find a paragraph or a sentence containing a specific word. Foxit allows users to change the font size of the text within PDF files. It ships with a screen capture tool through which you can take a screenshot of a selected area on the page of a PDF file. It supports the following cloud storage services:
Google Drive, Box, Dropbox.
OneDrive Business, OneDrive
PDF Reader from Kdan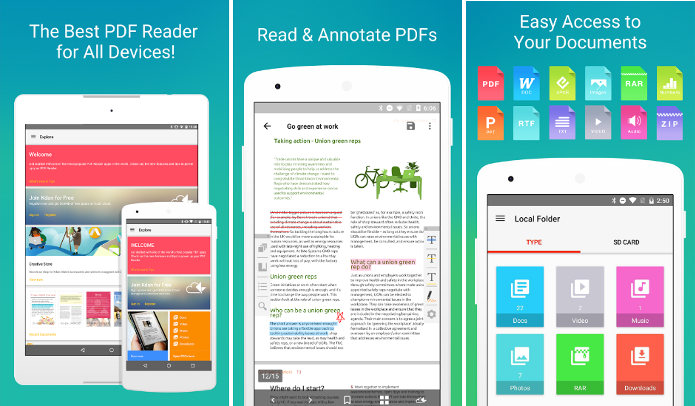 This free app from Kdan enables users to manage and view PDF documents stored on their devices. It ships with a file explorer tool that allows you to see the files present on the SD card or internal storage memory. It also allows you to find files by their name. The PDF reader app from Kdan allows you to sort files by their name, size, last opened date, etc. It has a document scanner tool through which users can create documents from images. It includes a page jump tool that users can use to switch between the pages of a PDF file quickly.
The app lets users scroll pages horizontally or vertically. It can highlight all hyperlinks embedded in the document. The Kdan Android PDF reader app supports 4 color themes and two views – single page view and continuous scroll. It lets users disable the page navigation buttons, highlight text, bookmark/print a PDF file, etc, and share files via the Kdan cloud service.
PDF Reader by Pickwick Santa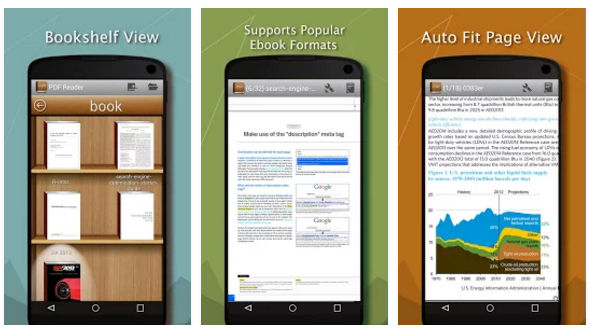 The app lets you navigate to the different pages of the PDF document. It provides a text to speech tool and has an option to enable night mode. This PDF reader app for Android allows you to find specific text on a page with its inbuilt search tool. It allows you to use custom fonts and has a utility to export the list of bookmarked files to a text file. Apart from PDF documents, this app allows you to open RTF, EPUB, DJVU, XPS format files.
Final thoughts: PDF reader is a must-have app for Android devices. If you don't install it, you won't be able to read PDF format eBooks and files. The PDF viewer apps I've shared above have a great interface and several features. Some of them support formats other than PDF and also allow you to edit portable document files.