Spreadsheets are one of the most important applications built to date. They help us to track expenses, work with numbers, etc. They are also used for various other reasons. "Formulas" and "charts" are the features that make Spreadsheets a powerful tool. These 2 features make the lives of mathematicians, statisticians, accountants, analysts, etc easy.
Before the smartphone revolution, it was possible to create and edit spreadsheets only on a computer. Today, anyone having an Android/iOS device can edit or create them with a spreadsheet application.
Best spreadsheet apps for Android, iPhone, or iPad
Microsoft Excel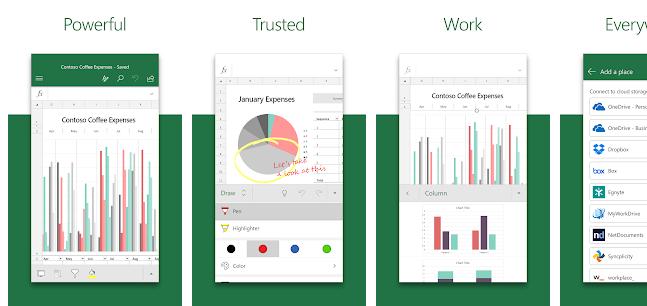 Excel is not only popular among Windows OS users, but it is also widely used on Android and iOS devices. According to the Google Play Store, MS Excel has 1+ billion users. One of the major reasons why Excel is widely used on mobile devices is its pricing. To use Excel on Windows, you must buy the Microsoft Office Suite. You won't be asked to purchase a license or application if you're using Excel for basic use. By default, Excel saves your spreadsheets to the "Documents" folder. You can change the location or save the document to Dropbox, Box, OneDrive, etc. Excel enables you to add a comment to the cell and share the spreadsheet as a PDF file. It ships with a search utility and "Find and Replace" tool.
The Microsoft spreadsheet app allows you to insert images, shapes, charts, text boxes, links, tablets, etc in the spreadsheet. It also enables you to bulk select cells and change the cell style. Excel has a numeric calculator built-in. Microsoft Excel is a great application to edit or create spreadsheet files, but it is very large. Its APK file size is 71 megabytes. The application is large because it has several features. The features may or may not be helpful for all users.
Google Sheets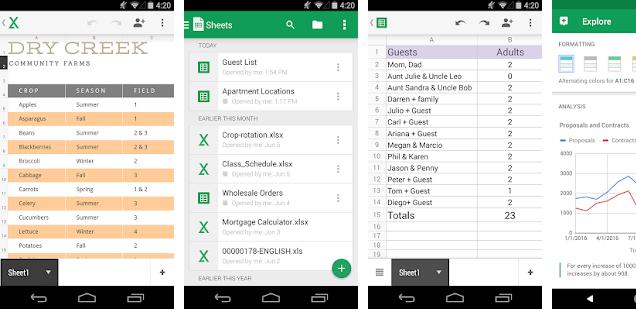 Google Sheets is the best Excel alternative spreadsheet app. It displays 1000 rows by default, and its columns are named a to z. You can add new rows by tapping on the plus sign icon and delete existing rows by tapping the minus sign. The Google application ships with text formatting tools. It lets you apply formulas to the cells. It allows you to set a custom color for a tab and hide the cell gridlines. This application can freeze the rows/columns and insert a chart in the spreadsheets. Like Excel, Google Sheets supports annotation.
Google Sheets allows users to work with multiple spreadsheet documents at a time. When you create or open new XLS format files, the application will show the name of the files side by side at the bottom of the phone's screen. MS Excel and Google Sheets have many features in common.
Size: 33 megabytes.
Excel vs Google Sheets: Which app is better?
In my perspective, both spreadsheet apps are ideal for working with complex or straightforward spreadsheet files. Although Excel was launched on the Play Store and iTunes in the early 2010s, the Excel software for Windows is being built since the year Microsoft had launched the first edition of its Office Suite software. Excel also has some features that you won't find in Sheets. For example, it can save your file to Dropbox, Box, etc. Google had launched Google Docs in 2006. Its Sheets application is 90+% similar to Excel for iOS/Android OS. Although Google Sheets and Microsoft Excel are the best spreadsheet apps for Android and iOS devices, in case you don't want to use them, use one of the following applications:
Must check: Best Android notes apps
WPS Spreadsheets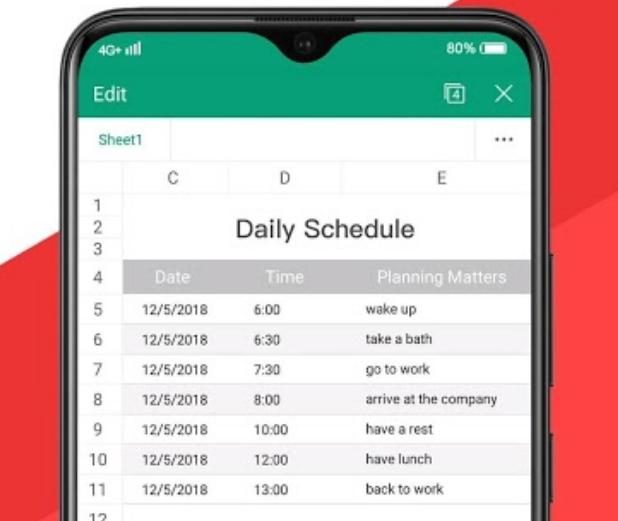 The WPS Spreadsheets app is a part of the WPS Office Suite. If you don't want to create a spreadsheet from scratch, you can use the WPS templates. You should log in to the application with your Google, Facebook, or Twitter account to use the template. If you choose the "blank template" option instead of a fancy template, you won't be prompted to log in to the application. In addition to the features that you'll find in Microsoft Excel, WPS Spreadsheets has a "smart reading" option that highlights all cells to the right and bottom of the cell you're currently editing. The application also enables you to add a custom border to a cell. It has ads. To get rid of the ads, you must buy the WPS Office subscription plan.
Size: 59 megabytes.
AndrOpen Office Calc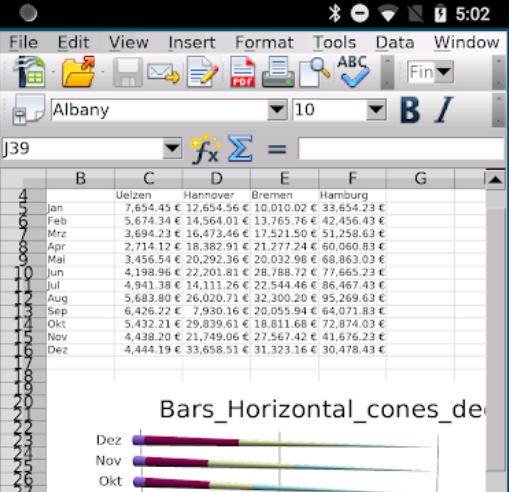 The developer of AndrOpen Office has somehow managed to port OpenOffice desktop software to Android. Calc is similar to the desktop version of OpenOffice (version 4.x), but its user interface is different. As in the desktop application, you'll find pop-up dialogs that resemble Microsoft Windows interface, wizards, advanced tools, etc in Calc. This spreadsheet app also ships with various fonts, a macro recorder tool, conditional formatting utility, etc. It is one of the top free apps like Excel.
Size: 76 megabytes.
Similar spreadsheet applications:
Why have I shared only 7 tools? Well, spreadsheet editors are complex and are difficult to build. This is the reason why you won't find many applications on the iTunes and Play Store. Even if you find an application that lets you edit XLS, CSV, etc format files, it might not be as good as the apps I've shared above.
Also see: Best Android Office apps