According to MayoClinic, your body burns calories when you walk. If your work doesn't require you to move around, you can use the step counter application to shed some weight or stay fit. The applications tempt you to walk by making you participate in challenges. They show a small bar on the notification pane. This bar will be updated with step counts and other useful calculations in real-time.
Best step counter apps for Android and iOS
Step Counter – Pedometer Free & Calorie Counter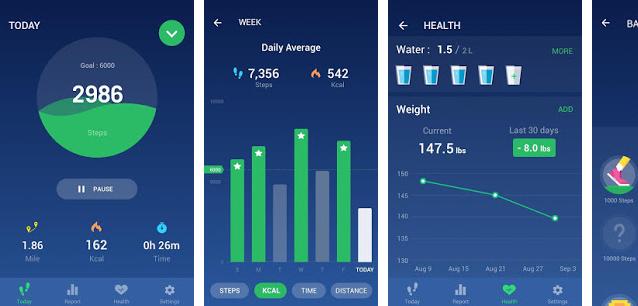 SCP asks users to enter their physique details before using the application. It calculates the strides based on gender. Once you pick your gender, you must enter your height and weight. SCP supports two-weight formats – lbs and kg. Once you tap the "Next" button, the app will get into action. The application's interface has four tabs – Today, Report, Health, More. In the reports section, you'll find a bar graph that highlights the steps you've walked in the week, month, etc. SC also enables you to see the bar graphs of the calories burned, distance, time for which you've walked, etc. This application will use its internal settings to generate the graph data by default. If you're using a wearable fitness tracker and your phone was switched off for some reason, you can enter the data manually in SCP. This step counter app for iPhone and Android has a BMI calculator. It enables you to create personal goals, change the movement sensitivity level used to record the step, change language/units, etc.
Pedometer – Step Counter Free & Calorie Counter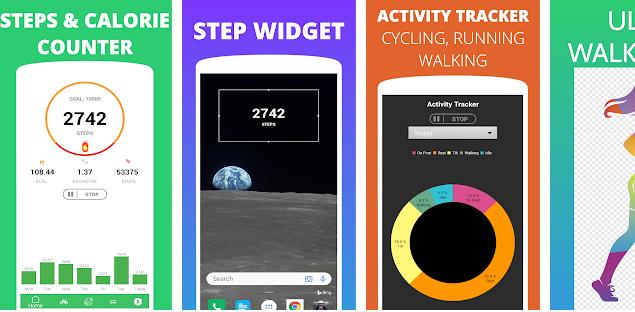 PSC lets you set the size of your step. In addition to counting steps, it suggests nine different exercises and shows their description. If you don't want this application to run in the background, you can run the step counter manually and turn it off when you're done walking. PSC has a mini activity tracker built-in. This utility creates a circle graph that indicates the time you've spent walking, resting, etc. Although registration/login is not required, you can see your position/achievements on the leaderboard if you log in to the application. PSC has an option to reset the day's data.
Also read: Best running apps for Android and iOS
Pacer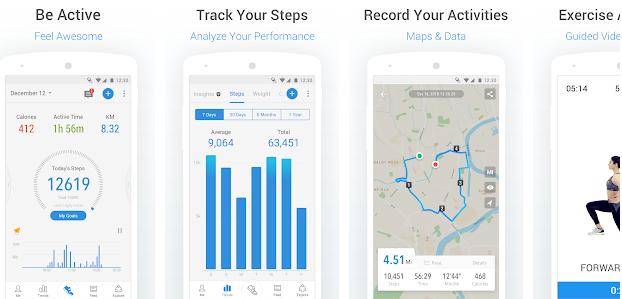 Pacer is a popular iOS/Android step counter app. You can use it by entering a challenge code, tapping the "Start tracking" button, or logging in with your Facebook or Google account. No matter what option you select, you must enter your height, choose your gender, and enter your weight. Then, you'll be prompted to select if you want to sync Google Fit data with the application or not.
Pacer allows you to see your routes on the Google Map and join walking programs that last for 8 minutes to 8 weeks. The application records all routes you've taken as long as you're using it. It enables you to set a different goal for each month of the day. Pacer displays the step counting data on the graph in real-time. You can share the step counter data with other users when you log in to it.
EasyFit Pedometer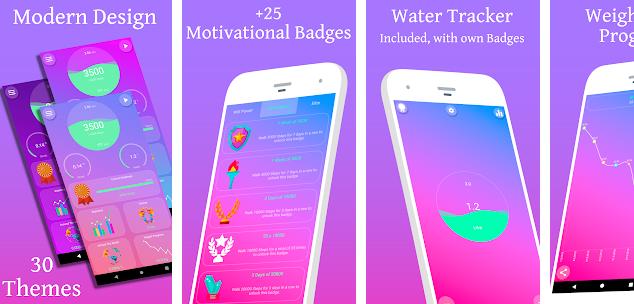 EasyFit Pedometer is a beautiful step counter app for Android and iPhone. Unlike the above applications, EasyFit won't ask you to enter weight, height, etc. It also provides an option to stop the counter and resume it. EF has pre-designed challenges that will be started and tracked automatically i.e. if you walk 3000 steps, you'll complete one challenge and earn a badge. EF rewards up to 25 badges to the users. To ensure that EasyFit doesn't drain the battery heavily when it is running in the background, it comes activated with a power-saving mode.
EasyFit ships with a History section where you can find the total steps you've walked, calories you've burned, and the distance you've covered. It includes an interesting feature called "Around the world" that calculates the percentage distance between two well-known cities on the basis of the number of steps you've walked.
StepsApp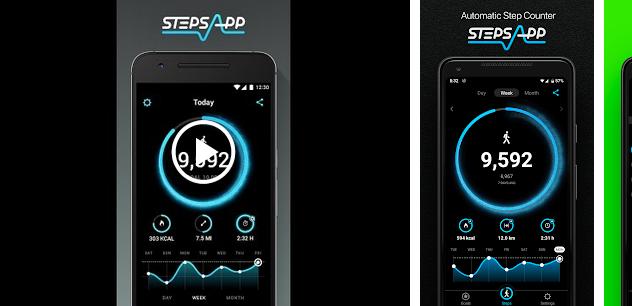 To use StepsApp, you must choose your preferred unit and enter the following details:
Gender, step length.
Bodyweight, year of birth, and height.
Like other pedometer applications I've shared here, StepsApp displays the total steps you have taken, calories you've burned, and kilometers you've walked in real-time. It also calculates the average of the total steps you've walked during the week and displays the same. Other features of StepsApp are the same as that of the above applications.
Must see: Best health apps for Android and iOS
Walk Tracker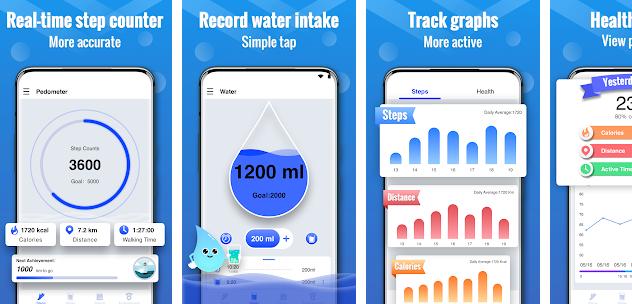 Walk Tracker prompts you to choose the goal you want to achieve and enter your height/weight when you run it. It also asks you to set the target steps you're planning to walk. Once you enter the details, the application will create a personalized program that you must follow. For example, you might be asked to walk N steps. Walk Tracker is one of the best step counter apps for iPhone and Android.
The body sweats when you walk for several minutes. Make sure you use one of the applications I've shared above if you want to be in shape or get rid of fat.