People dream of achieving something great in their professional life, but only a handful of people enjoy success. You can't see the future, but you can improve it by working on goals. Why are some people successful and others struggling? Well, I'm not a successful person, but I've read the interviews of people who began their entrepreneurial journey from scratch. During the interviews, the entrepreneurs uttered these two words frequently "hard work" and "planning". Successful people set goals and work hard to achieve them. They also track and analyze their achievements.
Wise entrepreneurs hire personal assistants. The PAs remind their bosses to complete tasks and attend meetings on time. As PAs demand and draw hefty salaries, only a person with deep pockets can hire them. Goal setting apps are great alternatives to PAs. They allow you to set goals and track your progress. They also display alerts/notifications for due tasks. The apps can help users stay focused on their goals. Here's the list of best free goal tracking/setting apps on the Google Play Store and Apple app store:
Best apps to track goals on Android or iOS device
Habitica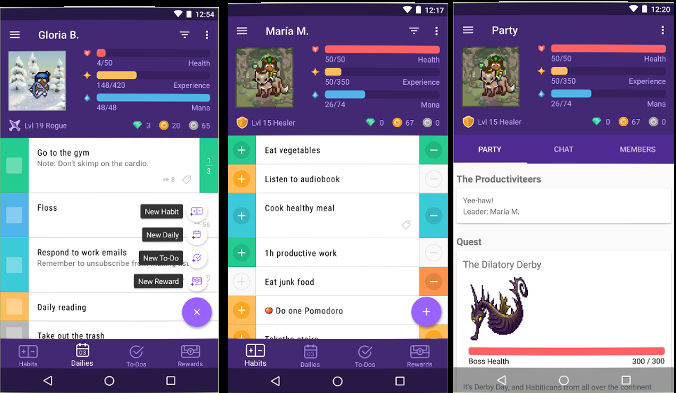 Habitica is a free Android and iOS goal-setting app used by half a million users. It develops the habit of completing tasks. Before you start tracking habits and goals with the app, you must create an avatar. Habitica lets you customize the avatar's body shape, skin tone, and hairstyle. You can also equip the avatar with various accessories. After creating the avatar, users must select their interests and add the tasks they want to complete.
Habitica enables you to add tasks/goals to one of these three categories – Daily, To-Do, Habits. Habits are subdivided into two categories – bad and good. Good habits will improve you as a person. For example, going out for a morning walk and meditating every day are good habits. Bad habits are the ones you're trying to avoid or cut down.
Adding tasks isn't enough. Users must complete the tasks they've entered into the app. If you don't do so, you'll lose points. Habitica will also reduce your experience, and your avatar will lose customizations. The application has excellent background music. It lets you change the audio theme and the interface language. You can enable daily reminders for tasks and set custom day time in Habitica.
Loop Habit Tracker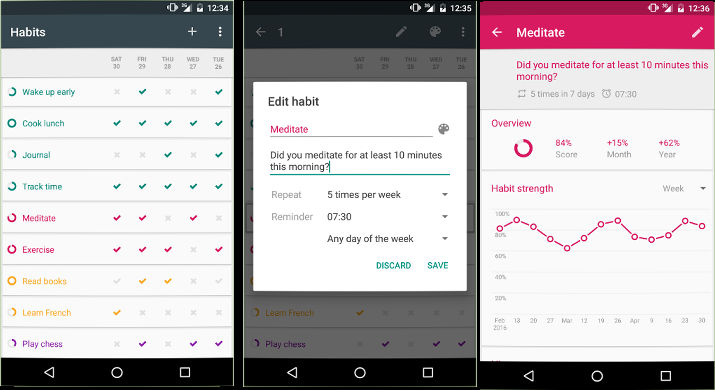 Loop is a free app that helps you build and maintain good habits. It is intuitive and doesn't require account registration. Loop's main interface boasts a top bar and a 5 column grid. To create a habit, you must tap the plus sign on the top bar. When you do so, the app will open a popup box that boasts options to enter a habit name, set a reminder, and repeat frequency. Fill in the text fields and tap the submit button.
Loop will automatically add a new row to the grid when you add a habit. The 1st column of the row flaunts the habit name. The remaining date columns are populated with a cross icon. To mark a task as completed, long-press the cross icon. Users must tap the habit to see its progress. Loop supports the dark theme. It can hide completed tasks and sort habits by name, color, score. It ships with a beautiful widget that boasts your goals tracking data. Loop lets you export the data to a CSV file. It also enables you to import the data from the exported CSV file. Loop is one of the best goal setting apps.
Also check: Best Android clock widgets
Goal and habit tracker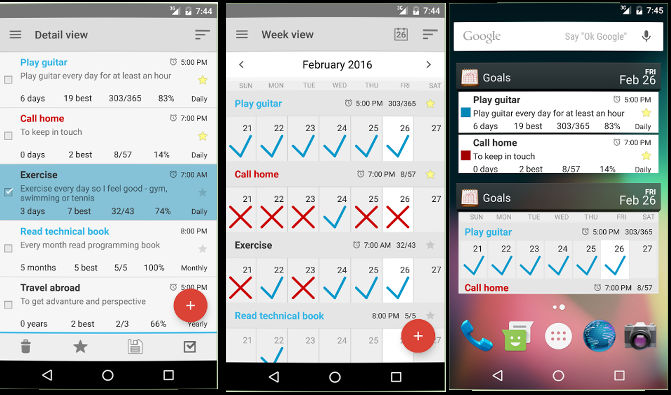 GAH is a beautifully designed goal setting app with plenty of options. It is lightweight and has a simple UI. GAH provides an option to export and import goals. You can configure this application to automatically backup your goals to the phone's storage memory. GAH lets you manually export the tasks and tracking data to Dropbox or Google Drive.
The app allows you to sort goals in 9 different ways. It has an inbuilt calendar, with which you can see the completed or pending tasks for the week or month. GAH supports popup notifications. You can set daily, weekly, quarterly, or yearly goal reminders with it. GAH enables you to bookmark goals/tasks.
Also see: Best apps like Dropbox
HabitHub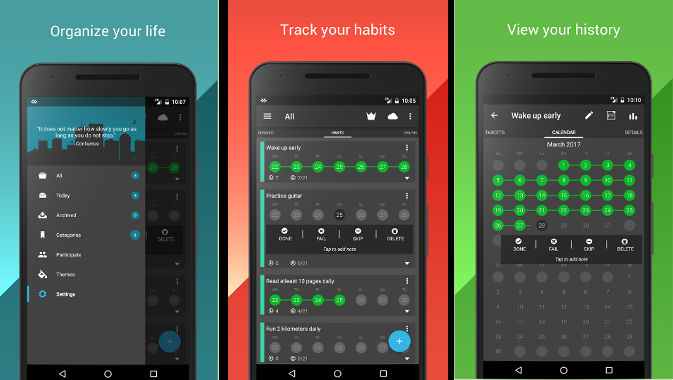 HabitHub is a goal setting app with an attractive UI. Unlike Habitica, HabitHub doesn't ask users to register an account or log in to the app with their FB or Google account. HH prompts users to add goals. It has an inbuilt calendar module. When you complete a goal, it displays a graphical link between the calendar's current and previous dates. The link will grow each time you complete a task. Users must grow the link as long as they can. To ensure that the chain/link doesn't break, you must complete the due tasks on time.
HabitHub enables users to stay focused on their goals by showing daily reminders. It generates various types of graphs. It allows you to see graphs for the data recorded between two dates. HabitHub has limited free features. The free version of this application doesn't let users back up their data. It also lacks a dark theme.
Strides (iOS)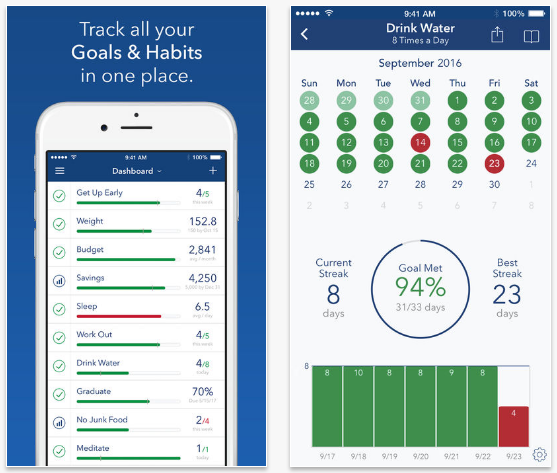 Strides is a top-rated iOS app that allows you to track all types of goals and habits. It enables you to create and categorize tasks. All goals in this app are displayed in a list so that you can focus on every goal and keep your life in balance. The Strides app displays a notification for every due task. It generates various types of graphs so that you can track your progress. This goals setting app lets you create a project for entering and tracking work-related tasks. Completed projects in Strides are called milestones. You can backup your data online with this app.
Must see: Best Android task killer apps
Productive (iOS)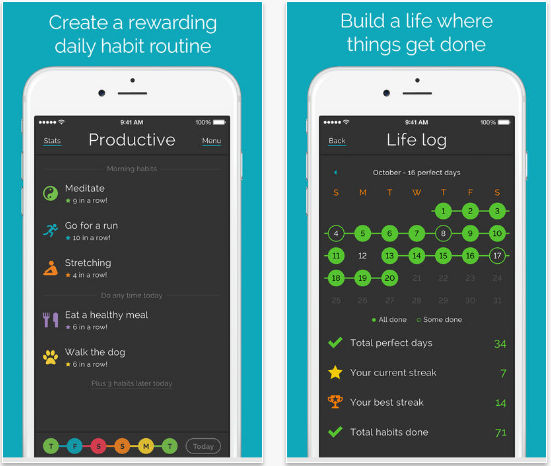 Productive is a dark themed iOS application with an intuitive interface. It allows you to add goals and measure your progress. This application ships with six predefined tasks – health, fitness, home, hobbies, social, efficiency. You can edit the default tasks and set reminders for them. Productive lets you set an icon for the tasks.
Must Read: Best Android calendar apps
Final thoughts: To achieve your 2022 goals, install one of the six goals setting apps I've shared above, open it, and set a monthly or yearly goal. Now, make sure that you use the application daily.