Play Store has hundreds of photo editing applications that let you add text to images, swap faces, apply filters, and more. Another exciting category of photo editing applications is the Android animation apps that enable you to create animations from scratch. Unlike desktop software such as PhotoShop, CorelDraw, photo editing applications are free and have basic but important tools for quickly creating beautiful and smooth 2D animations. Some of the apps let you convert animations you've built into videos and allow you to create and use cartoons in the animations.
Best Android animation apps
FlipaClip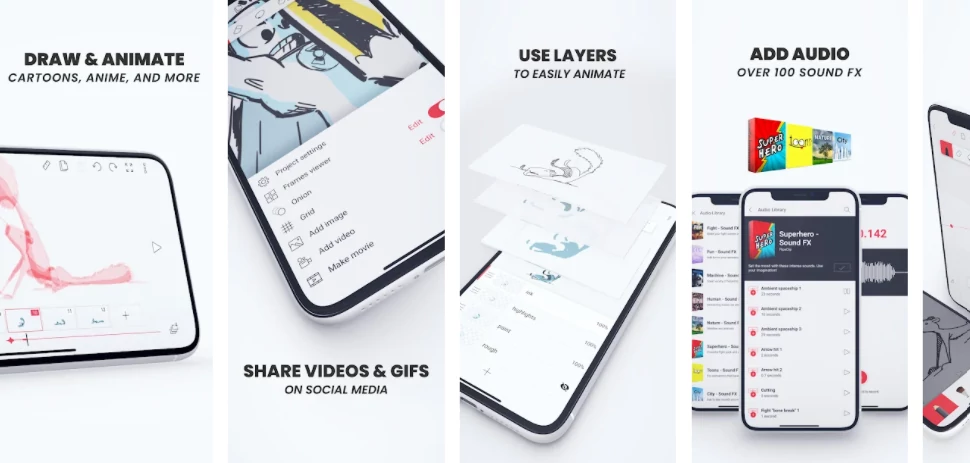 FlipaClip is the most popular animation app for mobile devices. When you run it, you will be prompted to choose your age. The application features two demo projects which you can edit or go through to understand how FlipaClip works. It also boasts a circular red-colored button. You can click this button to start a new project.
Once you click the button, you must choose a background image, canvas size and select the FPS for the animation. The app supports various canvas sizes. For instance, you can select the 4:3 size for creating a Tumblr animation or choose the 1080p size to build an animation for YouTube. FlipaClip also lets you create a custom canvas by setting the width and height for the canvas.
Once you enter the required details and click the create project button, FlipaClip will open its editor. The editor boasts a button to create a new frame or play the animation, eraser utility, option to choose the object you've drawn. It also shows the option to insert text on the frame, copy the selected object, open the ruler, and a paint bucket tool. FlipaClip lets users add an image, a video, or background music to the animation. When you're done creating the frames, tap the play button to see the animation. FlipaClip lets you convert the animation to a movie. The animations and movies will have a FlipaClip watermark. You can get rid of the watermark by buying the Premium version of the application.
Stickman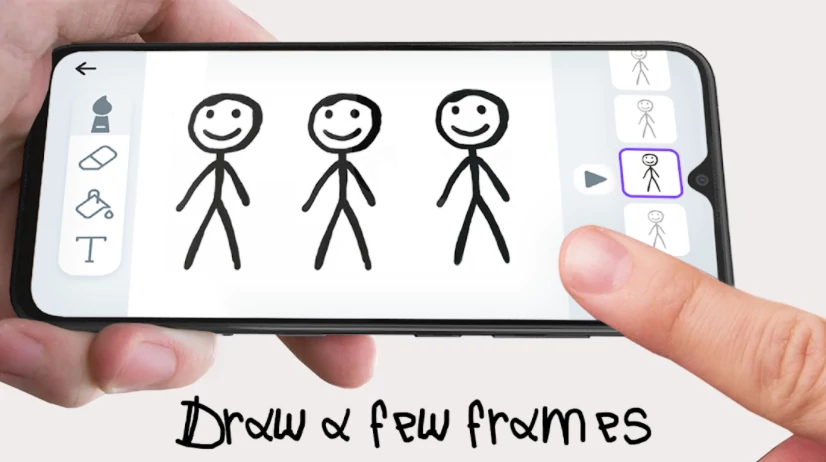 Stickman is a lightweight animation maker app. It is similar to Flipaclip but is smaller in size. As in the above application, you must create a project by selecting the background, specifying the frames per second, and selecting the canvas size. You can choose one of the pre-installed background styles or select an image stored on the phone and set it as the background for the animation.
Stickman comes with a paintbrush and eraser tool. You can change the size of the brush and insert these three shapes in the frame – square, circle, and line. Stickman also lets users insert stickers or a tiny gif in the frame. Once your frame 1 is ready, create the subsequent frames until your animation is ready. Stickman doesn't let you add background music to the frames/animations, nor does it allow you to insert videos or images.
Animatic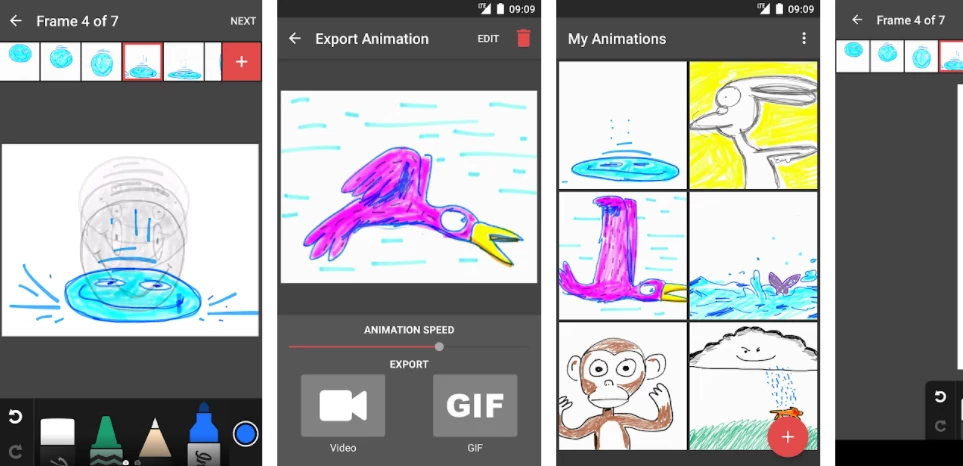 With this application, you can create a flip book like animations within a few minutes. The application features various styles of paintbrushes. To create an animation, you have to choose a brush, change its color as per your requirement, and draw on the frame. When your 1st frame is ready, create the next frame, and when you're animation is ready, export it to a video or as a GIF file. You can change the animation speed before exporting the animation.
TweenCraft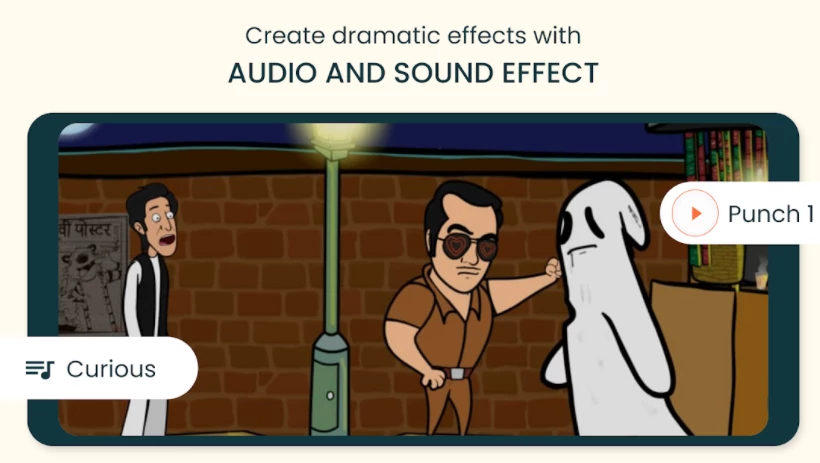 TweenCraft is a free application that enables users to create cartoon movies. It supports eight languages. Hence, you can use it in your native language. Instead of making you draw, TweenCraft lets you insert pre-designed downloadable characters. It also enables you to design a character. Once you choose and insert the character, you can adjust the character's hand, head, leg, etc by simply swiping on the screen. How many characters can you insert in one frame? There's no restriction on the number of characters a frame can have. TweenCraft enables you to add audio/background music or a text message to the frame. It also allows you to change the frame's background color. The size of the TweenCraft application is over 100 megabytes.
Animation Desk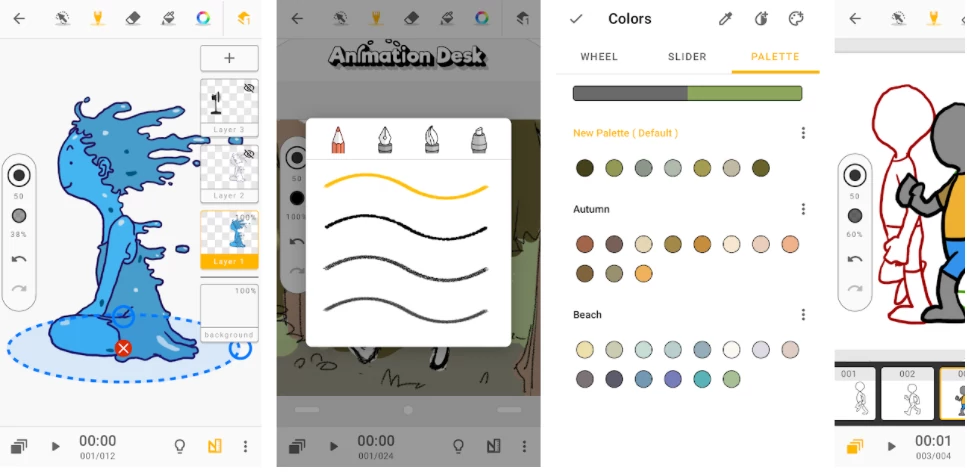 Animation Desk app comes with an eraser, paint bucket, and a color picker tool. It creates 24 frames and four layers and generates a blank background by default. As in the above animation apps, you can set a solid color or an image as the animation's background. AD ships with two types of rulers. It lets users insert audio or video in the frames and supports left-hand mode. This application comes with four styles of brushes. Each brush supports four drawing patterns.
Draw Cartoons 2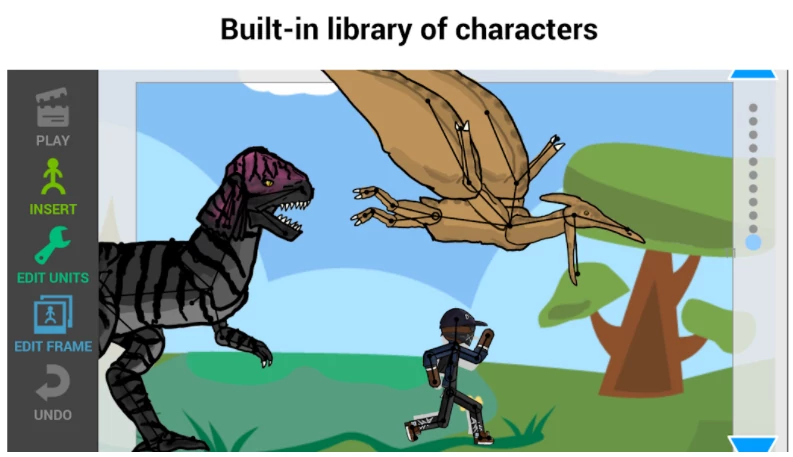 Draw Cartoons 2 is similar to TweenCraft but has more characters and objects. It also comes with exciting background photos and an Item Constructor tool that offers utilities such as an eraser, paint bucket, shapes inserter, paintbrush, and more. Not all characters/objects are free in Draw Cartoons 2. If the thing you want to use in the animation is locked, you can create it using the Items Constructor tool of the application. Draw Cartoons 2 lets you change the screen size, add sound to the frame, change the animation speed.
Stick Nodes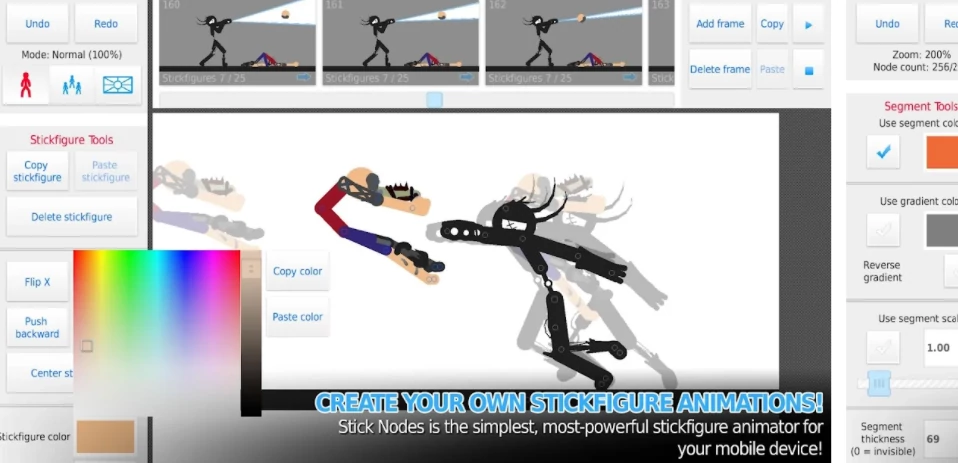 Stick Nodes lets you create looping animations, and it supports tweeting. Animations don't consume a huge amount of storage memory if it has a handful of frames, but if it comprises hundreds of frames, it may use more storage memory. StickNode allows you to set the quality of animation and its FPS. You can change the quality to low if you think Stick Nodes will create a large file. The application enables you to create stick figures from scratch. The stick figures in Stick Nodes have movable parts.