Best app to add text to photos
Nowadays, people use messaging apps to share their pictures with friends and relatives. Sometimes, you may want to add text to photo for making it more informational. Prior Android revolution, people used software like MS Paint, PhotoShop, CorelDraw or GIMP to accomplish this task. As Android mobiles launched these days have good hardware, you can easily put text on photos from your Android or IOS device with an app.
Believe me, it takes just a couple of minutes to put text on images with apps. The app will not make changes to the picture quality. It will save the photo on the storage memory so that you can easily share it with others.
The Play Store and iTunes have several applications that can add text to photos. Below, we've shared the 5 best apps you can use to insert text on images:
Phonto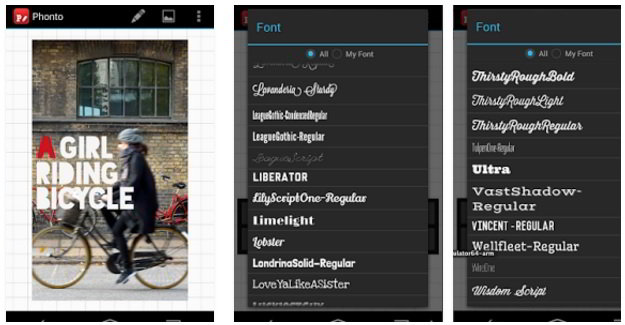 When you install Phonto and run it, the app will show a grid interface. The user must tap on the grid to load an image file from the device or use a plain picture. When you tap on the 1st option i.e. load image, Phonto will open the gallery app on your device. You must select the picture that you want to edit with the app.
Phonto will load the selected picture on the grid interface. It will show a toolbar with the below options:
Edit (pin icon): You must tap on this option for adding text to photos. Once you do so, Phonto will open a small dialog box that features a text field. You must enter the text in the text field. The box has the option to customize the font of the text. It also lets you specify the alignment.
Phonto supports more than 300 fonts. It enables you to use fonts saved on your tablet or phone. Once you enter text, tap the "Done" button. The text will now appear in the picture. You can place the message at any position on the image. To do so, tap on the message and swipe it.
Save: When you tap on the save button, Phonto will save the image you have edited.
Menu (three dots): Phonto provides the below options in its menu:
Load image.
Settings.
Rotate.
Preview.
Share.
Save
Phonto has a settings interface where you can specify the output image size and format. It contains in-app purchases and ads.
APK Size: 16 megabytes.
Also read: Best photo resizer apps for Android
Textgram X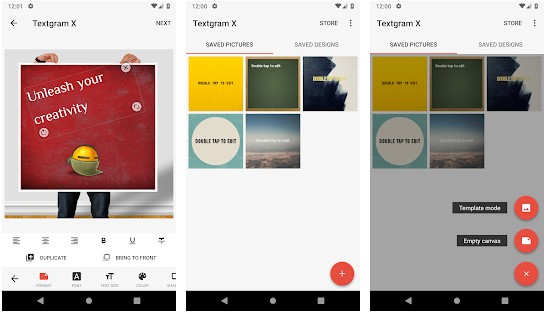 When you run Textgram X, you'll see a slideshow that explains the features of the app. Once you go through the slides, tap the "Done" button. You'll now see a circular red-colored button and two tabs – Saved Pictures and Saved Designs. If you tap the button, you'll see the following two options:
Template Mode
Empty Canvas.
Users who want to write text to their photos should choose the "Empty Canvas" option. If you want to edit an existing template, choose the "Template Mode".
Textgram X enables you to crop, flip, and duplicate pictures. You can add stickers, frames to the images. TX enables you to change the shape of an image. In case you don't want to edit your photo, you can choose the free backgrounds that ship with the app.
TX supports 18+ fonts. It supports system fonts as well. In case you don't like the existing fonts, you can download it from the Textgram store. To access the store, you should tap the "Store" option.
TX lets you make the text bolder. You can also apply underline, shadow effect to the text. TX lets you highlight a text with the background color. It enables you to adjust the space between the two lines. Textgram X is an awesome app. You can use it for various purposes.
APK Size: 17.1 Mb.
Download Textgram X for Android
Textgram X isn't available for the IOS OS but there's a similar app called Over available on iTunes. In addition to the features supported by Textgram X, Over offers templates that you can use to create beautiful Instagram/Facebook stories. The app also has a "Discover" section where you'll find interesting photography related stuff.
Download Over for IOS
Must Read: Best photo collage apps
Geulgram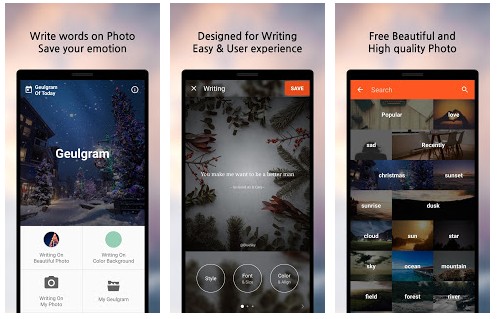 Geulgram is yet another popular app for adding text to photos. Its first-time users will see a dialog box that prompts you to enable "storage access" permission for the app. Make sure that you allow Geulgram to access folders in the storage memory of your Android device. Once you enable the permission, you'll see the following options on your screen:
Writing on a Beautiful photo.
Writing on Color Background.
Writing on My Photo.
If you tap the "Writing on Beautiful photo" option, you'll see several categories on the screen. Each category has a photo that describes the category. For example, if you choose the category "river", you'll see images of a river. Once you select a template, Geulgram will display a list of pictures. You should tap the photo to see the editing options. When you do so, Geulgram will show a popup menu containing the image formats, an option to download the picture and an option to customize the font. To add a custom text to a picture, choose the "User Customize" option.
Geulgram can blur the image and it enables you to add a border/frame to the text. It supports 15+ font styles and has the option to change the font size and color. The app lets you blur/rotate the text. It also allows you to add dates, signs to the text. Writing on your Photos and Color background is as easy as adding text to a beautiful photo.
Download Geulgram
PicSee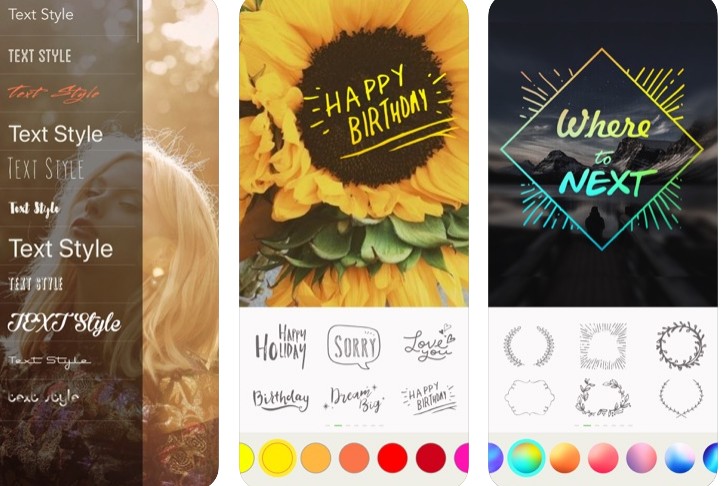 PicSee is an IOS app with which you can add stickers, text, emojis, borders, etc to your images for free. PS ships with several filters and fonts. It enables you to customize the text color and effects. PicSee is easy to use. Once you select an image, you'll see several options on a panel. You must tap the option you want to use. For example, while adding a border to the text, you'll see several types of borders on the screen. You should select a border you want to apply to your text.
Download PicSee
Also see: Best photo editing apps
Conclusion: If you are searching for the best app to place text on photos, download and use Phonto, Textgram X, Over, Geulgram, or PicSee. These three applications are free. They work with all popular formats of images. You can use their full features unlimited times without any restrictions.