The internet provides plenty of opportunities to earn money online. Today, I've shared some good apps with which you can always keep your phone balance in two or three digits by performing simple tasks. Hey, don't worry! You don't have to waste your precious time on this.
The tasks are so easy that you can efficiently complete them in one or two minutes. All you have to do is use the apps for a few minutes in your leisure time.
Benefits of using free mobile recharge apps
Immediate balance: Open the recharge apps and complete one or two tasks when you are free. The app features a wallet module that gets updated with points, aka recharge amount, each time you finish a job. When your phone runs low on balance, you can quickly recharge your mobile with the wallet balance. You don't have to use your debit or credit card to recharge your phone number.
An excellent alternative to loan amount: Most telecom operators allow users to get emergency balance by dialing a particular USSD number. Frankly speaking, not everyone remembers the USSD code. You can quickly recharge your phone with the balance you've earned with the free mobile recharge apps during an emergency instead of dialing the USSD number.
Here's the list of best phone recharge apps for your mobile device.
8 Best free recharge apps for Android
MCent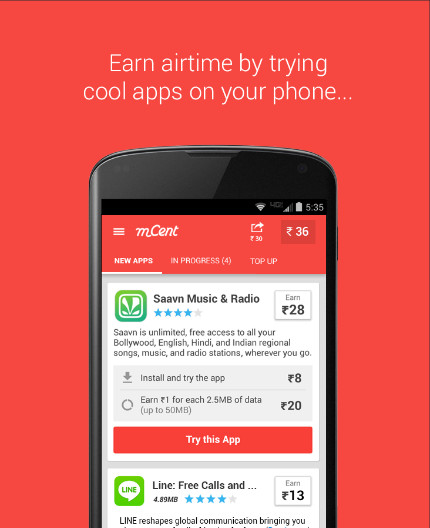 MCent is the most download app on our list. The app doesn't have fake offers. It has an awesome rating of 4.1 on the Google Play Store. The ratings prove that MCent provides ample opportunities to earn free recharge.
MCent displays the list of available offers on its main interface. You must tap on the offer you find interesting. If you do so, the application shows instructions on how to get free recharge for the selected offer.
Once you complete a task, MCent will refresh your balance. MCent app is easy to use. You can earn up to 500 INR every week with this free mobile recharge app.
True Balance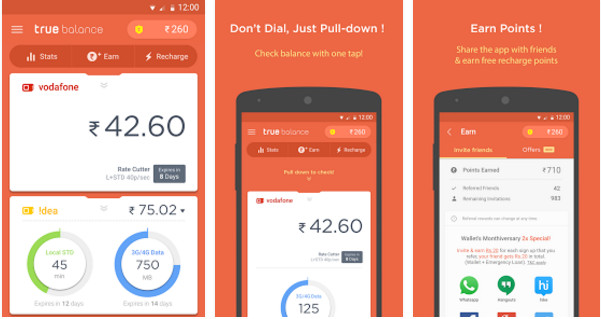 True Balance is the first app from Balance Hero. It provides Rs 10 free recharge to every user that creates a True Balance account. It supports eight local Indian languages and has a stunning interface.
Apart from making users earn recharge, the True Balance app makes users aware of their prepaid balance. The application dials the USSD code on your phone at regular intervals to get balance and validity details.
The app is highly recommended to people who want to earn free mobile recharge and keep themselves updated about the prepaid balance and validity.
To earn rewards/free recharge with the True Balance app, visit the Earn section and tap on the offers option.
Complete the task you see on the screen. Apart from downloading apps, you can earn free recharge with True Balance by inviting friends to download True Balance with a particular URL.
Ladoo
Ladoo enables you to earn loads of PayTM or PayPal cash by completing simple tasks. The app will show tasks as soon as you install and run it.
Ladoo app is available for users across six countries. Once you've earned enough points, you can redeem the points for free DTH or mobile recharge. The app has 10+ million users. The offers it displays are genuine.
Task Bucks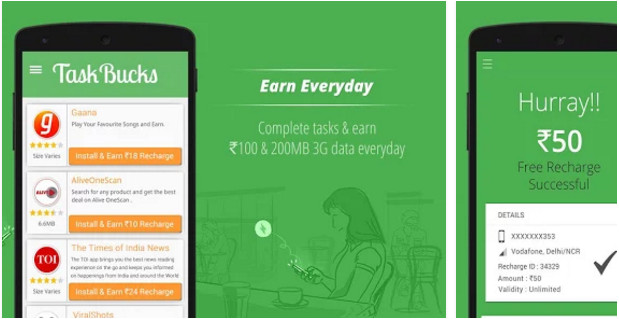 Task Bucks is one of the most popular apps for earning free recharge. It has many offers, aka tasks. The app rewards you with a point each time you follow the instruction it displays.
The app lets you discover new websites and top applications. Task Bucks enables you to transfer the money you've earned with it to your MobiKwik or PayTM wallet app.
Apart from a massive collection of various offers, the app lets you earn extra cash if you participate in the daily Task Buck contest. To win the money, you must emerge as a winner.
Pokkt aka Pocket Money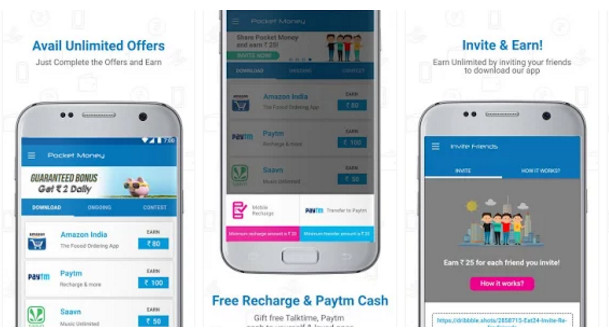 According to its official listing on the Play Store, users can earn up to Rs 3000 recharge amount every month with the Pocket Money app. The app asks you to complete simple tasks, including finishing surveys, downloading apps, watching videos, etc.
The amount earned with the Pocket Money app can be either redeemed as a prepaid recharge or a DTH recharge. The app keeps you updated with new and exciting offers through the Android notification system. Like other apps I've covered here, Pocket Money supports cash transfers to PayTM.
Free Rs 200 mobile recharge
You can easily earn up to 60 Rs for each lead with this app. The app allows you to recharge a phone number once your balance reaches up to 10. The application comes with special weekly contests. If you participate and win the competition, you'll be rewarded with a special gift hamper.
Slide and Earn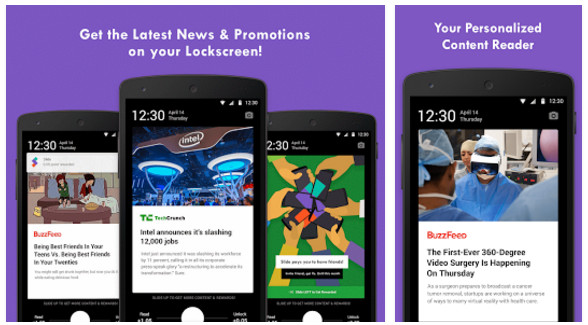 Once you install and run Slide Earn, you'll be prompted to register a free account. Unlike other free recharge apps I've covered here, the app asks you to register an account with an email address and prompts you to enter the name, gender, age, and location.
After you verify the account, log into the app. Now, you'll see a grid interface that boasts several categories. You must select categories of your interests. Slide Earn shows a list of apps belonging to the categories you've opted for. You must download the recommended applications to earn free recharge.
Free ATM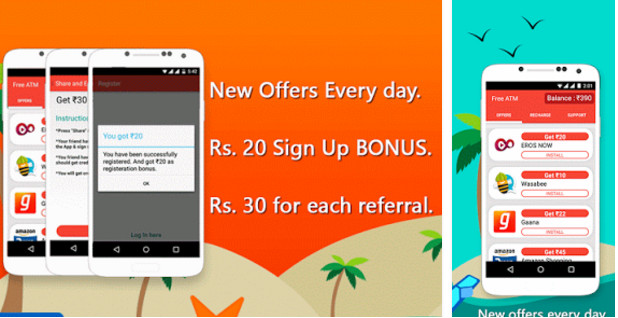 FreeATM is an app that pays 20 INR for first-time users. If you invite your friends and the friends register their account with this app, you'll earn Rs 30 per referral.
FreeATM covers new offers every day. It has a simple user interface. It supports postpaid, prepaid, and DTH recharge. FreeATM is a small app, and it lets you recharge other phone numbers.
Final thoughts: The above apps provide a brilliant opportunity to earn free mobile recharge online. They are free to download. If you use the applications regularly, you will save 100 to 1000 Rs every month. What are you waiting for?